FIFA World Cup 2018: Diego Maradona offers $10000 award to find source of Whatsapp messages claiming he died
Diego Maradona has offered a $10000 reward to anyone who can located the source of rumours circulated on Whatsapp that he passed away during Argentina's match against Nigeria.
Buenos Aires: Diego Maradona has offered a $10,000 reward to identify the source of reports he had died after Argentina's World Cup match against Nigeria, his lawyer said Thursday.
The reports, circulated via WhatsApp voice messages from a man with an Argentine accent, said the 57-year-old star had been hospitalized and had died of cardiac arrest.
"I gave instructions to make public the decision to offer a reward of 300,000 pesos (around $10,000) to anyone who can provide true and accurate information about the author of the audios," lawyer Matias Morla told Argentina's Clarin daily from Russia.
The Argentine star took ill at the end of the match and had to be helped from his seat. But he denied rumors of ill health the day after, telling reporters, "I'm perfect. I've never been better."
Morla said Maradona had suffered "a spike" in blood pressure. "It's a subject that at one time alarmed him. It's no secret how he lives through a game. How he lived them as a player is how he lives them as a fan," Morla added.
According to Morla, Maradona shouldn't even have been at the stadium for the second half of the game, in which a late goal secured Argentina's World Cup, with the lawyer saying, "the doctors told him to rest, not to stay for the second half of the Argentina-Nigeria match, but asking that of Maradona is like asking a son not to love his mother."
"For Diego, the team is Dona Tota (his mother), and he will never let her on her own," he said.
The audio messages spread on social media after the match. "Maradona's sisters heard the news, they could not communicate with me nor with their brother, and one of them suffered a weakness, and the truth is that we cannot let such an outrage go by," Morla told Clarin.
Click here for full coverage of FIFA World Cup 2018
Click here to view the full schedule of FIFA World Cup 2018
Find latest and upcoming tech gadgets online on Tech2 Gadgets. Get technology news, gadgets reviews & ratings. Popular gadgets including laptop, tablet and mobile specifications, features, prices, comparison.
Sports
Koeman said he understood why Messi was visibly angry when journalists asked him about the criticism directed at him by a former agent of teammate Antoine Griezmann when Messi arrived in Spain on Wednesday after a long flight.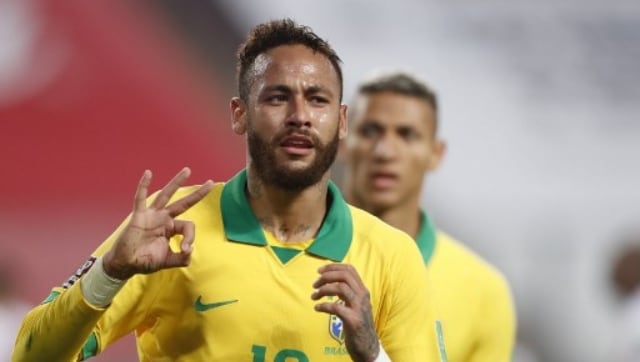 Sports
Despite his latest setback Neymar will still travel with the squad amid hopes that he may recover in time for the trip to Uruguay on 17 November.
Sports
Victory in Montevideo left Brazil on top of South America's qualifying standings on 12 points with four wins from four games. Argentina are second on 10 points after beating Peru, with surprise team Ecuador third on nine points.