FIFA World Cup 2018: Colombia coach Jose Pekerman confident ahead of decisive game against Senegal
Colombia coach Jose Pekerman is confident that the team will be able to handle Senegal, with morale soaring after their 3-0 rout of Poland.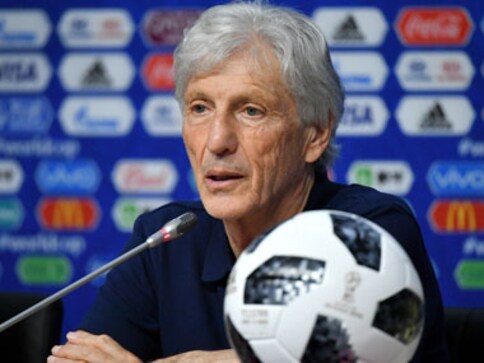 Samara: Colombia come into their decisive Group H clash against Senegal in Samara on Thursday full of confidence following their 3-0 rout of Poland last time out.
That win went a long way to making up for a loss to Japan in their opening match of the tournament. However, they need to beat Senegal on Thursday to guarantee they finish the job and progress to the last 16 for the second consecutive World Cup.
Boss Jose Pekerman says that he expects a tense encounter with the African side as so much is at stake but that his players are raring to go. "Morale is very high, and we need to be optimistic, especially if you look at what happened in the last match," Pekerman told reporters on Wednesday, adding, "we also need to remember that a World Cup is a short tournament and three points are important here. It could have been hard to turn it around, but we did get the win and now we have the strength and confidence."
"We now need to focus on what we can do so we can reach our full potential," said the 68-year-old.
Pekerman expects a tense, physical battle with the imposing Senegalese team, who will secure their own qualification with a draw. "At a World Cup, everyone is here to win and nobody will roll over so we know it could be very difficult," warned the Argentine.
"They have great individual footballers and are very strong physically. It is a very, very tough match because going through is at stake. There is going to be pressure, there is going to be tension and uncertainty," Pekerman opined.
Pekerman thinks his side have the intelligence to identify and exploit Senegal's weaknesses, just as Japan did in getting in behind the Senegalese defence on many occasions during their 2-2 draw. "We are going to try and find the weak points, where they might have problems," he added.
Pekerman stated that it was Colombia's match to lose, saying, "we will see how we react to a match that will be quite different, and that is the question mark of the match."
There was more positive news for Pekerman as key players Cristian Zapata and David Ospina are likely to be fit enough to start after recovering from minor injuries. Pekerman also suggested that midfielder Mateus Uribe could be handed a surprise start after his impressive performance off the bench against Poland. "Uribe came into a complicated match and lived up to expectations," he said, adding, "we very much like how he adapted to the team. We were very pleased with him, but we will have to see about this next match."
Japan face already-eliminated Poland at the same time on Thursday knowing that a draw will secure them a place in the last 16.
Click here for full coverage of FIFA World Cup 2018
Click here to view the full schedule of FIFA World Cup 2018
Football
The Asian Football Confederation has allocated three slots to India — one in the Champions League group stage, one in the AFC Cup group stage, and one slot in the AFC Cup Qualifiers.
Football
Qatar rejected the allegations, saying they were part of "smear campaigns" by European media.
Football
Third-placed Atletico Madrid moved three points clear of Real Sociedad in LaLiga table with their last-gasp victory at Montilivi.