Formula 1: FIA to clarify rules that led to Fernando Alonso chaos at Saudi Arabia Grand Prix
Fernando Alonso crossed the finish line third in Jeddah but was then handed a 10-second punishment that dropped him to fourth before a late-night appeal reinstated him.
Jeddah: The FIA said on Monday it intends to "address" the problems at last weekend's Saudi Arabia Grand Prix where Fernando Alonso was handed a punishment at the end of the race that was later overturned.
The Spaniard crossed the line third in his Aston Martin on Sunday but was then handed a 10-second punishment that dropped him to fourth before a late-night appeal reinstated him.
Formula One posted a message from a spokesperson for the FIA, the governing body of world motorsports, who said the stewards had been caught out by "conflicting precedents" on what constituted "working on the car" serving a penalty in the pits.
The message said the topic would be addressed at an FIA committee meeting on 23 March and promised "a clarification will be issued ahead of the… Australian Grand Prix" which is on 2 April in Melbourne.
Alonso was first punished for not starting from the right spot on he grid. He tried to serve his five-second penalty at the start of a pit stop, but a mechanic allowed a jack to touch the car.
After the race finished and Alonso had stood on the podium and given interviews, the stewards, who are nominated by the FIA, finally decided that the team had been working on Alonso's car during the penalty.
They hit the Spaniard with a 10-second penalty, dropping him to fourth behind George Russell.
Aston Martin appealed and produced videos showing that other competitors had done the same in the past without being sanctioned.
The decision "was the result of new evidence regarding the definition of 'working on the car', for which there were conflicting precedents, and this has been exposed by this specific circumstance," said the FIA spokesperson.
Read all the Latest News, Trending News, Cricket News, Bollywood News, India News and Entertainment News here. Follow us on Facebook, Twitter and Instagram.
also read
Sports
Verstappen struggled with his car in the opening practice but bounced back in the afternoon to go fastest ahead of Charles Leclerc's Ferrari.
Sports
Fernando Alonso and the engine maker had a nasty split in 2015 when the Spaniard was highly critical of Honda's F1 efforts.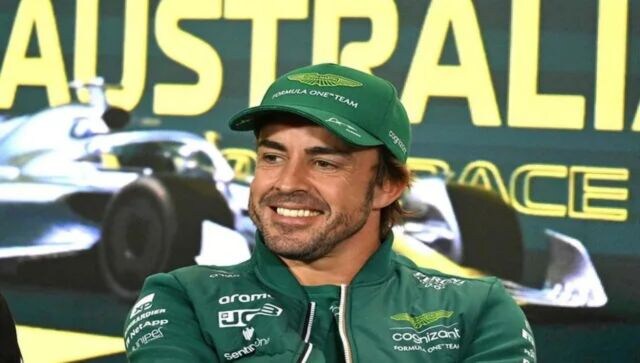 Sports
After four third-place finishes from five races, the 41-year-old Spaniard has emerged as not only the biggest threat to double champion Verstappen and his team-mate Sergio Perez.