Australian Open 2018, men's final preview: Marin Cilic stands in Roger Federer's path to 20th Grand Slam title
Marin Cilic has the physical weapons to trouble Roger Federer. Can he stop the defending champion from winning his sixth Australian Open title?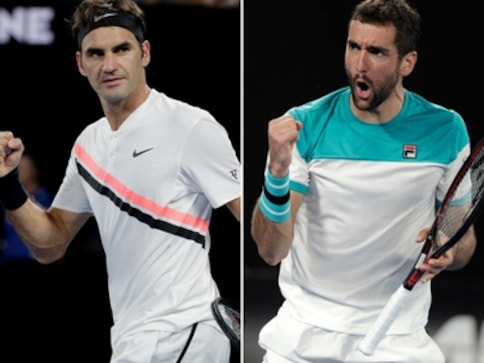 "Nice joke, Jim," said Roger Federer with a chuckle when Jim Courier asked the Swiss ace how he would have reacted a year ago if told he would be on the verge of a third Grand Slam title within 12 months. "Good joke, sir."
A year ago, when Federer was returning to the sport after a six-month hiatus, expectations were tempered. After all he hadn't won a Grand Slam in almost five years and was 35 years old. Even his staunchest fans would have laughed at the idea of Federer chasing 20 Grand Slam titles. By his own admission, Federer would have been happy with just one more title to add to his tally of 17.
But here he is. Twelve months after he won the Australian Open trophy for a fifth time, Federer is back in the final.
The 36-year-old has already created history by becoming the first man to reach seven finals at Melbourne but if he defeats sixth-seeded Marin Cilic on Sunday, he joins a very exclusive circle. Only three players in the history of the sport have won 20 or more Grand Slam titles — Steffi Graf (22), Serena Williams (23) and Margaret Court (24).
Victory on Sunday would also put Federer alongside Novak Djokovic and Roy Emerson with six Australian Open titles apiece. Such is Federer's legacy that every win at this point in his career sets some new records — he is the first man to reach 30 Grand Slam finals; he is the oldest finalist at Melbourne since Ken Rosewall in 1972 and he's also set to play an unparalleled 107th Australian Open match.
However, standing between Federer and Norman Brookes Challenge Cup is the 6'6-tall Cilic. This will be the Croatian's third Grand Slam final and the match itself is a repeat of last year's Wimbledon final. While Cilic tasted victory in his first Major final at the US Open in 2014, the one at Wimbledon probably left a bitter taste in his mouth. Suffering from painful blisters in his feet, Cilic was unable to perform well and surrendered meekly in straight sets.
"In one way, I had to taste one amazing experience in a final and one not so," Cilic said, comparing his contrasting experience of Grand Slam deciders.
Cilic also said that he isn't looking to get revenge and the Wimbledon loss was only pushing him to do better this time around. "It's big motivation for me to play the final and obviously to win, and I'm feeling really good with my game, and so hopefully I can have a great match and also great energy on the court," he told reporters.
The 29-year-old Cilic is looking to become the first Croatian to win the Australian Open as well as hold multiple Grand Slam titles. The way Cilic battled and pushed World No 1 Rafael Nadal to the brink in the quarters underlines how much he has improved as a player. His comfortable straight-set victory over Kyle Edmund in the semi-finals was another example of how much damage his big-serving and power-hitting game can cause.
The sixth seed, though, has been stretched to four sets by Vasek Pospisil, Pablo Carreno Busta, and Nadal, before the latter retired hurt in their last-eight clash. He's spent 17 hours and three minutes on court at this tournament, but is confident that the two-day break will ensure he is fit and fresh for the final.
"I'm feeling really, really good physically, even though I had few matches that went more than three hours. I think I played a great tournament so far with my level of tennis," Cilic said following his semi-final win.
"I'm playing much, much more aggressive. From the return, moving, forehand, backhand, serving, I think everything is in good," he added.
Meanwhile, Federer has breezed through to the final without dropping a set. From his opening round against Aljaz Bedene, where he lost just 10 games, to his semi-final against Hyeon Chung, where the Korean retired trailing 1-6, 2-5, Federer has not faced much resistance from his opponents. He has spent six hours fewer as compared to Cilic in the previous six rounds.
Federer said he was quite satisfied with his level of play and didn't feel he needed to improve anything in particular. "I think I've done everything pretty well. I just hope I'm going to have a good start to the final. I hope I can mix up my game. I hope I can start serving well from the get-go, not get into too much trouble early. I hope I can read his serve," he said.
The tall Croatian's serve will obviously be one of the keys to the match. Cilic has already served 107 aces in the tournament so far — 19 behind leader Ivo Karlovic's — while Federer has fired 71. Cilic will also rely on the 1-2 punch behind his first serve and his artillery of powerful groundstrokes. He needs to come out all guns blazing from the very first point to have a shot at winning the match.
For Federer, making Cilic move all over the court will be crucial. If the Swiss can use his variety of shots — from the sliced backhand to the chip and charge return — to put Cilic in uncomfortable return positions, he will have chances to break his opponent's formidable serve. Federer's serve is one of the most underrated but significant aspects of his game, and he needs it to click on Sunday to stay ahead.
Going onto the final, Federer is the heavy favourite. Their past head-to-head record is 8-1 in the second seed's favour. Cilic's sole win over Federer came at US Open semi-finals in 2014. In that meeting, Cilic played lights-out tennis to thump Federer 6-3, 6-4, 6-4. "He crushed me in the US Open. He beat me quite badly," Federer recalled.
Cilic's powerful serves and devastating forehands almost got the better of Federer in other clash — at Wimbledon 2016, the Croatian had match points against Federer in the quarter-final. But Federer eventually escaped with a 6-7(4), 4-6, 6-3, 7-6(3), 6-3 win.
On Sunday, Cilic has another chance to show that those matches were not anomalies. He has the physical weapons to trouble the 19-time Grand Slam champion. It remains to be seen if he can find the mental composure to back those up and repeat his US Open heroics.
Click here to follow our live blog on the Australian Open men's singles final between Roger Federer and Marin Cilic
Tennis
Among his 64 singles titles, Pete Sampras clinched 14 majors including seven Wimbledon, two Australian Opens and five US Open titles
Tennis
Germany's world number two Alexander Zverev says he is facing a battle to be fit for the US Open following surgery on torn ankle ligaments at the French Open
Tennis
Serena Williams indicated she is preparing to walk away from her professional tennis career as the start of the US Open approaches on 29 August and her 41st birthday next month nears