With an eye to unite opposition, Nitish Kumar, Lalu Prasad to meet Sonia Gandhi in Delhi
This will be the first meeting between the three parties in more than six years. Nitish Kumar earlier met Sonia Gandhi at an Iftaar ahead of the 2015 Bihar assembly polls
New Delhi: With an aim to unite the entire Opposition to counter the Bharatiya Janata Party (BJP) in the 2024 Lok Sabha polls, Bihar Chief Minister Nitish Kumar and Rashtriya Janata Dal (RJD) chief Lalu Prasad will meet Congress President Sonia Gandhi in the national capital on Sunday.
It is pertinent to mention that it will be the first meeting between the three parties in more than five years.
Both the leaders are arriving in Delhi to attend a rally to be held in Fatehabad district on the birth anniversary of Indian National Lok Dal (INLD) founder late Chaudhary Devi Lal by INLD leader OP Chautala.
Earlier on Tuesday, Lalu had said he, along with Nitish Kumar, will meet Sonia in Delhi.
"Everyone needs to be alert, BJP needs to be uprooted in 2024. I will go to Delhi and meet Sonia Gandhi soon. I will also meet Rahul Gandhi after the completion of his padyatra," said the RJD supremo.
However, Poll strategist Prashant Kishor said there is a need for a "credible face" and mass movement to seek people's vote in the 2024 Lok Sabha elections, and opined that meeting leaders of various political parties "would not make much of a difference".
He said such meetings cannot be seen as Opposition unity or political development.
He further said, "Those who don't believe this need to wait and watch. It will certainly happen. I won't comment on whatever someone says".
During his last visit to Delhi, Nitish Kumar met Congress leader Rahul Gandhi, Samajwadi Party leaders Mulayam Singh Yadav and Akhilesh Yadav, Communist Party of India (Marxist) general secretary Sitaram Yechury, and Delhi Chief Minister Arvind Kejriwal.
Kumar met with the Opposition leaders after he broke his alliance with the BJP and joined hands with Tejashwi Yadav's Rashtriya Janata Dal, the Congress and other parties to form a 'Mahagathbandhan' government in Bihar.
Earlier Telangana Chief Minister K Chandrashekhar Rao had also visited Bihar and met Nitish Kumar, and RJD leader Tejashwi Yadav as part of efforts toward forging opposition unity.
Meanwhile, various posters of Nitish Kumar projecting him as a prime ministerial candidate in the 2024 Lok Sabha election were seen in Patna last month.
The posters put up by JD(U) promised good governance, and gave the slogan 'Pradesh mein dikha, desh mein dikhega'.
Taking a swipe at BJP, another poster carried the caption, "Jumla Nahi Haqiqat Hai" (No lies only reality).
Additionally, Tejashwi Yadav had earlier stated that Kumar could be a "strong candidate" for the Prime Minister's post in the 2024 elections.
In 2020, the BJP-JD(U) fought election in an alliance and went on to form the government with Nitish Kumar being given the Chief Minister's post.
In less than two years' time, Nitish Kumar flipped his choices and in a surprise move went on to stitch an alliance with RJD and Congress to form a 'Grand Alliance' government in Bihar.
Read all the Latest News, Trending News, Cricket News, Bollywood News,
India News and Entertainment News here. Follow us on Facebook, Twitter and Instagram.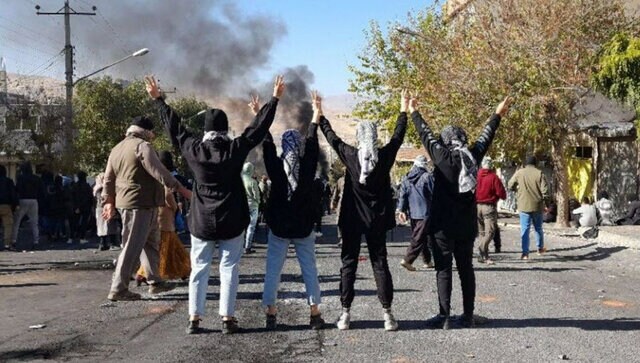 World
The Islamic Republic of Iran has been torn by over two months of protests sparked by the death in custody of 22-year-old Kurdish-Iranian woman Mahsa Amini
World
Ilya Yashin, an Opposition politician who went on trial in Moscow on Wednesday, risks becoming the latest in a long line of Kremlin critics sentenced to long prison terms. Some have been killed or narrowly avoided death, while others have gone into exile
Politics
Talking to reporters in Makhania village in East Champaran district, Kishor dared the CM Nitish Kumar to honour his assurance that he gave to the youths, after formation of the 'Mahagathbandhan' government in August.