The Kanimozhi defence: I'm just a girl!
Playing the gender card won't work for papa Karunanidhi's favourite little girl. Indian politics rarely reward defenseless damsels.
Kani is a good girl. We know this because she tells us so, over and again. Oh no, she doesn't care about politics or money or power. She's just daddy's little girl trying to do him proud. Why, she's even written a pretty little poem avowing the same: "I listened to my father. I went to school, combed my hair, avoided a few friends, wore a shirt, brushed my teeth, obeyed, got married. Now I am waiting. My chance will come."
The chance did indeed arrive: to become a member of the Rajya Sabha; DMK's anointed brand ambassador in New Delhi; and – as those infamous Radia tapes reveal – an A-list political operative with her hands in every lucrative pie.  Kanimozhi is so famous that she no longer needs a surname or even a nominal initial before her name. She is now a one-named super-celebrity a la Madonna or Cher – and by choice. Once asked if she is Kanimozhi Karunanidhi or Aravindan, she replied, "I just use Kanimozhi … Our name is our first identity. Why should we change it?"
And yet today she demurs, preferring to identify merely as a familial appendage of a man. "Is it my misfortune to be Karunanidhi's daughter?" demanded her suitably outraged lawyer Ram Jethmalani on her behalf as she awaits a court order on her bail application. All this as the alleged victim stuck strategically close to her long-separated husband, imported from Singapore for pure photo-op value.  It's hardly an accident that his face appears in every news photo taken of her on that day.
The Kanimozhi defence strategy is clear: let's play the gender card. Jethmalani certainly did his best in court. "As a woman, Kanimozhi is entitled to better treatment," he claimed, trying to argue that his client was entitled to special protection under the Criminal Procedure Code because she is a woman and an MP. A claim promptly pooh-poohed by special prosecutor U. U. Lalit.
Karunanidhi has been just as quick to recruit gender politics to her cause, though in his own indomitable style. When a woman reporter asked him about his alliance with Congress, hours before the CBI chargesheet naming Kanimozhi was released, he snapped, "A woman reporter should not ask such heartless questions."
The heartful questions the DMK prefers are of the gag-inducing kind put to party supporter Khushbu who was asked by NDTV what she felt about Kanimozhi's plight as "a woman and the mother of a daughter." Her enlightening reply: "I am sure Kanimozhi is undergoing lot of turmoil as a woman and as a mother … As a woman I really am with Kanimozhi." Kani's corruption scandal is now a feminist – or at least, a feminine – cause.
Certainly the media seems eager to play along. In another TV interview, the reporter asked Kanimozhi if her family was going to accompany her to the court hearing on Friday. "Who will be with you?" was the question put repeatedly to her. God forbid this 43-year-old babe in the woods be left to fend for herself alone in Delhi.
Kanimozhi may be happy to play up to the worst media gender stereotypes today, but this is the woman who told Outlook magazine back in 2005, "The media-triggered public debate on women and Tamil culture is depressing and distressing. From clothes to sexuality to social norms, why is it that only women are made to bear the burden of morality and what gets defined as 'Tamil culture? The media abets the process by using women's 'honour' to sell newspapers and magazines."
She was also anything but coy in her defence of Khushbu's then controversial remarks on premarital sex: "Anyway, what is Tamil culture? In the classical Sangam poetry in Agananooru, every second poem discusses female sexuality. In Kuruntogai, scores of poems discuss pre-marital sex. What should we do with these canons? Should we brand them as alien to Tamil culture?"
Playing the sweet little innocent may seem like smart strategy in the patriarchal landscape of the Karunanidhi clan, but Indian politics rarely rewards shrinking violets. Kani is better advised to take a closer look at her father's arch-rival who famously built her career as a feminist warrior.  Physically mauled by DMK supporters in the state legislature in 1991, Jayalalithaa came out all guns blazing, playing not chaste Sita but a vengeful modern Draupadi. She didn't need men to defend her honour. Revenge was all the sweeter because it was hers alone when she stormed into power five months later. The chances are she will win yet again on May 13.
We Indians may like our helpless damsels on-screen, but we prefer our female politicians ruthless, powerful and exceptionally strong.  Be it Indira Gandhi or her successors, Mamata, Mayawati or Jayalalitha, our pantheon of political goddesses are not women who hide behind their father's dhoti, or cling to their nominal husband's arm. As Jayalalithaa blithely informed an interviewer, "Nowadays most men are terrified of me. I don't take any nonsense from anyone nowadays. I am not the one who goes looking for a fight. Generally I am reserved. But if a fight comes my way, I will not run away. If someone gives me one blow, I will give 30."
Kanimozhi's legal fate will be decided in the courts, but her political fate looks dim in the long run until she learns to channel her inner firebrand. Whatever happened to the feminist who once told young college women, "Why do men take it upon themselves to protect women? This very thought restricts women's freedom and burdens them as well." Why indeed.
Find latest and upcoming tech gadgets online on Tech2 Gadgets. Get technology news, gadgets reviews & ratings. Popular gadgets including laptop, tablet and mobile specifications, features, prices, comparison.
Politics
The BJP asked if the lawmakers from TN, who opposed the three-language policy, would surrender the 10 Kendriya Vidyalaya seats allotted under the quota for Members of Parliament
Politics
The DMK leader alleged that the sweeping reforms were not a new education policy but 'a glossy coat on the old oppressive Manusmriti'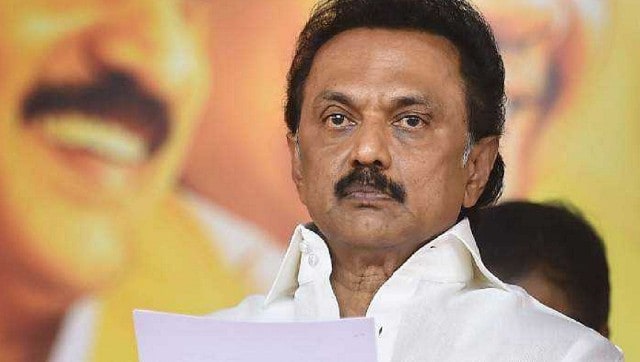 Politics
The MLA denied speculation that he will join the BJP after his visit, and said he went to meet Piyush Goyal to discuss projects for his constituency