Telangana Vidhan Sabha election gets new twist with talk of 'secret' alliances; also-ran BJP hopes to be 'kingmaker'
The only open and official alliance in Telangana is called the Mahakutami — or Grand Alliance — comprising the Congress, TDP, TJS and CPI
Will Narendra Modi attack HD Deve Gowda? This question was asked before the prime minister began his campaign for the May 2018 Karnataka Vidhan Sabha election. This was because of the talk doing the rounds at that time that BJP and Gowda's Janata Dal (Secular) might join hands to checkmate Congress in case of a hung Assembly in Karnataka.
Will Modi attack Telangana's caretaker chief minister K Chandrasekhar Rao (KCR)? This was asked before Modi launched his campaign for the 7 December Telangana Vidhan Sabha election. This was because of the possibility of KCR's ruling Telangana Rashtra Samithi (TRS) joining hands with BJP when the die is cast in future.
In Karnataka, although Modi first heaped praise on Gowda, he later advised people not to "waste" their votes by supporting the JD(S). This didn't stop the BJP from making an unsuccessful effort to get Gowda's support to form government after the election. But tge Congress beat BJP to it and teamed up with JD(S) and stole the government.
In Telangana, Modi didn't mince his words in attacking KCR. At a couple of election rallies this week, he tore KCR to pieces for having done nothing during his four-and-a-half years of "family rule" in the state.
The Karnataka-Telangana similarity doesn't end there. Like in Karnataka before, each party in Telangana accuses the others of having secret alliances. Before polling in Karnataka, Congress accused the JD(S) of having a covert understanding with the BJP. On its part, the BJP spoke of a sinister deal between the Congress and JD(S) during the run-up to the election.
Triangular confusion
It's worse in Telangana. The only open and official alliance in Telangana is called the Mahakutami — or Grand Alliance — comprising Congress, Telugu Desam Party (TDP) of Andhra Pradesh chief minister Chandrababu Naidu, Telangana Jana Samithi (TJS) headed by M Kodandaram, a key leader who had fought for the separate state of Telangana, and CPI. Ranged against this alliance is the TRS, with BJP being only an also-ran.
This is the official lineup. Now look at the allegedly unofficial ones.
Congress accuses TRS and BJP of having a hush-hush deal, an allegation that is not entirely without basis. In what passes off as sparkling wit and biting sarcasm in post-Modi elections, Congress president Rahul Gandhi dropped a pearl of wisdom saying that TRS meant Telangana Rashtra Sangh Parivar.
Mark Antony and Cleopatra
The case of TRS and BJP may be like the story of Antony and Cleopatra, two lovers with an on-again and off-again romance, whose future nobody was sure about till the end. Nobody can deny that it was only after a wink and a nod from BJP that KCR, in the first place, dissolved the Telangana Vidhan Sabha on 6 September and went in for elections that would have otherwise been held many months later along with the Lok Sabha polls. And nobody has forgotten that KCR supported the BJP in matters including demonetisation and the presidential election.
A key element of Modi's oratory in Telangana was an insinuation that meant indicated the Congress and TRS were hand-in-glove. This is a wild allegation, for which there is neither an ideological nor circumstantial basis, but in the ongoing season of post-truth polemics, decibels drown out facts.
That's not all. TRS has a "friendly" relationship — but no alliance— with the All India Majlis-e-Ittehad-ul Muslimeen (AIMIM), a rabble-rousing Muslim party led by Asaduddin Owaisi who, for the record, swears by nothing less than the world's finest secularism. Owaisi's party is contesting only eight seats, leaving most of the Muslim-dominated constituencies for TRS to win.
When Modi said the Congress and TDP were two sides of the same coin, he fired up the imagination of a Congress leader. He said that, if any coin could have three sides, that would be TRS, AIMIM and BJP.
Conspiracy theories
One conspiracy theory comes from KCR himself. According to him, Naidu has ganged up with the Congress (as part of the Mahakutami) with the nefarious design of remote-controlling Telangana, whose formation as a separate state the Andhra Pradesh chief minister had opposed. "Do we still want Andhra hegemony?" asks KCR, who had been at the forefront of the agitation for a separate Telangana state.
Yet another conspiracy theory is what Congress leaders toss around. It's that the BJP's attacks on KCR are aimed at dividing the anti-incumbency vote against his government and indirectly helping him come back to power.
That amounts to saying that BJP is campaigning against TRS to make sure that the TRS wins!
It's easy to see that a TRS victory would suit the BJP better than a win by the Mahakutami. That's only because, a triumph of the alliance could boost the morale of Naidu and others who are advocating a Congress-inclusive front to fight BJP in the 2019 Lok Sabha election.
But saying that the entire gamut of BJP leadership including Modi, Amit Shah and Yogi Adityanath are descending on Telangana only to indirectly ensure a TRS victory not only stretches our collective imagination, but even strains our sanity.
The only thing that can be said with any amount of certainty at this point is that KCR, who had opted for early elections with the brash confidence of expecting a cakewalk, is now clearly rattled by the coming-together of Naidu and the Congress, whose combined vote share of 39.5 percent in the 2014 election surpassed the 34 percent of the TRS.
BJP hopes to be kingmaker
Similarities between the Karnataka and Telangana Vidhan Sabha elections may even extend to the final result. That's what the BJP hopes. The party hopes that, like Karnataka, Telangana will turn out an uncertain election result, and if that happens, it wants to be the kingmaker.
But that hope of BJP rests on another hope: That the party will win a sizable number of seats, at least in double digits. In 2014, BJP won only five seats and 7.1 percent of the votes (in alliance with the TDP).
"What we are staring at," says BJP national spokesperson GVL Narasimha Rao, "Is in all probability a hung kind of an Assembly and the BJP emerging as a decisive player." The projection by Rao, a psephologist and politician rolled into one, is possible if not probable.
But what Rao doesn't talk about is that even for the kingmaker's position, BJP has competition. Owaisi's AIMIM also wants to be a key player in case of a hung result.
If that happens, there can be no doubt whom Owaisi will support. He has already declared that Telangana is doomed unless KCR returns as chief minister.
But who is the 'king' that the BJP will 'make'? If you rule out the Congress, will the BJP support KCR who is linked up with AIMIM, a Muslim party that the saffrons are dead set against? Politics is the art of the possible, but all this is still in the realm of speculation and will depend on the results and on which party gets how many seats.
But, for a party that spoke of "sweeping" Telangana as late as last year, it's a great come-down for the BJP now to aspire to become only a kingmaker.
The author tweets @sprasadindia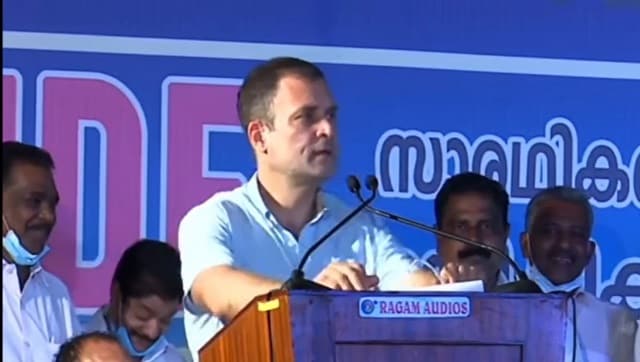 India
The meeting is likely to discuss preparations for the Assembly polls in Karnataka likely before May next year, and also the organisational matters. Gandhi will also attend former Chief Minister Siddaramaiah's 75th birthday bash
Sports
"In eight years PM Narendra Modi gave a 'Sarva Sparshi, Sarva Samaveshi' government to the country. There isn't any area where reforms didn't take place," Amit Shah said
Politics
Addressing the same event, Amit Shah emphasised on vital sectors of development and asserted that if the countrymen fulfil resolutions for the development of the country in the next 25 years, India will become a Vishwa guru