Tej Pratap Yadav scripts tale of thwarted ambition, but can he rock brother Tejashwi's boat in Bihar politics?
The recent averments of Tej Pratap manifest the fury of one who feels rejected by his own. They also indicate his refusal to play an understudy to Tejashwi.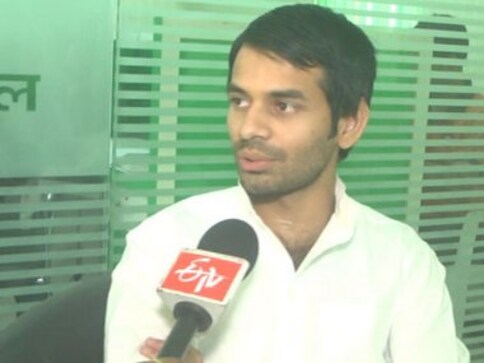 He played the chief minister of Bihar in the 2016 Bhojpuri film Apaharan Udyog. But in the real-life political drama unfolding within his family, Tej Pratap Yadav finds himself playing second fiddle to his younger brother, Tejashwi. And ever since he filed for divorce at a Patna court in October, the older of Bihar's former chief ministers Lalu Prasad Yadav and Rabri Devi's sons has been venting his rebellious streak. The marital discord has added an intimate contour to the political imbroglio emerging in the Lalu clan and a rivalry between brothers. Their quandary reflects the clash within the family and the changing perceptions in the state about key voters of the Rashtriya Janata Dal (RJD): Bihar's 14 to 16 percent Yadav population.
Tej Pratap's recent averments manifest the fury of one who feels rejected by his own. They also exhibit his strong will as he refuses, in his typical rustic style, to play an understudy to Tejashwi. Now party leaders say a fecund Yadav elite and middle class will reject Tej Pratap's unrefined ways. He has adopted the language and flair of politics of latter-day Yadavs, his father's traditional supporters. For instance, after the state's RJD-Congress-JD(U) coalition government fell in 2017, Tej Pratap blew the conch shell, referred to being a Yadav, and said at a public meeting: "Papa will say I'm stealing his speech—and I will!" In imitating his hugely popular father, regardless of the jail term Lalu is serving for the fodder scam, Tej Pratap lost the middle-class polish that tomorrow's OBC politics demands, giving Tejashwi the edge. "Bihar's Yadavs have become much more refined, socially and politically," says a Congress leader from Vaishali. "Yadav youth believe in the backward-forward dynamic, but not with the intensity of Lalu's heyday." Lalu's projection of his more urbane son, therefore, signals his rejection of his own political style.
The 29-year-old Tej Pratap is scripting a tale of thwarted ambition in public, displaying a personality closer than his brother's to their father. A third contender for the political crown in the family, Misa Bharti, has signaled support for Tej Pratap, giving critics more fuel. "The question of Tejashwi taking the lead has been settled by none other than Lalu Yadav," says Manoj Jha, RJD member in the Rajya Sabha. "The siblings are 100 percent united and any issues in Tej Pratap's marriage are personal."
Tejashwi was made deputy chief minister in 2015 when the RJD, Congress and Janata Dal (United) formed the government. Tej Pratap got the health ministry. After this government collapsed, Tejahswi became the leader of Opposition. Tej Pratap's sense of hurt over this is understandable—his outrage appears like rebellion because Tejashwi has been handpicked by their father.
Since then, Tej Pratap has displayed dissident individualism either in veiled barbs or direct allegations. For example, he once said, "Party people don't answer my calls because leaders have asked them not to." On a separate occasion, he said his relationship with Tejashwi is unbreakable, like Krishna's with Balaram, referring to the exemplars of filial ties from the epic Mahabharata—another way to convey his secondary status.
"Bringing up mythological figures is Tej Pratap's way of reconciling with his demotion," says Mohammad Sajjad, who teaches history at Aligarh Muslim University and is a commentator on Bihar politics. "It also sends a message to his voters that he's not out of the political game."
Tej Pratap is overtly religious since childhood, dressing up as Lord Krishna, whom the Yadavs revere. He also plays the flute and conch shells in public to forge a close connection with Yadav voters.
Yet, party leaders and allies find Tej Pratap too rough: in Hajipur in 2015, he is said to have yelled at a senior leader in Lalu's presence. "This was because Tej Pratap's photo was not put up on a public poster," says Sajjad. "Lalu looked on helplessly, but must have realised his son could antagonise party leaders." About a year ago, Tej Pratap threatened to "skin" Prime Minister Narendra Modi, in an angry reaction to the central government's decision to downgrade the security cover of his father.
In Mahua, the Assembly constituency in Vaishali from where Tej Pratap was elected in 2015, he has made the political mistake of going invisible. "Except when he arrives occasionally with two-three friends from Patna," says the Congress leader from Vaishali. "He doesn't know ten people here." Then again, Lalu's politically untested sons got votes primarily because he and Rabri campaigned for them, and JD(U) leader Nitish Kumar was a prominent alliance face.
RJD leaders say when Lalu became Member of Parliament in 1977, Yadavs were neither educated nor had a salient middle class. "That's why Lalu's politics was always dominated by the struggle of 'backwards against forwards'," says an old-time RJD member and former Bihar minister. "Forward-backward" politics symbolises the struggle of the numerous downtrodden against a smaller traditional or caste elite. However, times have changed. Tejashwi is a dynast who has gained initial acceptance in the party because of his father's clout. He has more political sense than his older brother, and wants to expand the RJD's Muslim-Yadav social base. But he is also hamstrung by corruption charges. Expanding the social base of his party will be a challenge for him as Yadavs are bound to resist, unlike the social engineering formula of Lalu that they could dominate.
Should Tej Pratap want, he can rock Tejashwi's political boat because his clout within the party persists, despite the sidelining. This makes his refusal to buckle under family pressure to reconcile with his wife, Aishwarya, significant. "The marriage will have a political fallout because there is a fight within the family," says Devesh Kumar, vice-president of the BJP in Bihar. Kumar's party also attacked Lalu for overlooking the principle of primogeniture in elevating Tejashwi, calling it contrary to Hindu tradition. "We raised that issue as we were trying to play one against the other in the family," Kumar says.
Obviously, this aspect of his demotion would not be lost on Tej Pratap, a man who repeatedly asserts his own will. He would be hurt by speculation that his father picked the educated, elite Aishwarya, possibly as his future political proxy. In choosing Aishwarya, Lalu broke with Rabri Devi's past averment that she wouldn't seek a "mall-going" wife for her sons, and Tej Pratap is said to be his mother's favourite.
Rai's family is a polar opposite to Lalu's: educated, wealthy and powerful since the pre-Mandal 1980s, when Yadavs neither enjoyed reservation nor dominated Bihar's politics. Lalu, an astute politician, perhaps sought to paper over his son's rough edges — he never finished school — by choosing a wife educated in elite institutions. But his son rejected this blatantly aspirational match, instead calling Rai and himself the "north and south poles". Thus, he demonstrated obstinacy and boldness, characteristics that made his father a totem for canny politics. But that may not be enough for the older son to outshine his sibling.
World
Some Tibetan activists lament what they see as a fading focus on alleged abuses in Tibet amid growing concerns in Washington and other Western capitals about China's expanding military, pressure on democratic Taiwan, and crackdowns in Hong Kong and on minority groups in China's Xinjiang region
Politics
Rahul Gandhi is Congress MP from Wayanad, Kerala. He has been disqualified as a Member of Lok Sabha following his conviction in defamation case over his 'Modi surname' remark
Opinion
The Congress leader wasn't dropping a 'truth bomb', he was name-calling and ridiculing a journalist who was trying to do his job