Shashi Tharoor's 'Hindu Pakistan' remark: Congress' defensive reflex encourages BJP, offers it space for aggrandisement
The Congress's unfortunate defensive reflexes, which come into play as it works out what it sees as ineluctable compulsions and calculations, encourages the BJP and affords it space for aggrandisement.
Shashi Tharoor's recent comments foreshadowing the spectre of a 'Hindu rashtra' should the Bharatiya Janata Party (BJP) win a majority in the 2019 Lok Sabha elections, have provoked predictable responses. The Congress Member of Parliament's clarifications served largely to underline his original statement.
In his earlier remarks, Tharoor had said on 12 July that the BJP would change the Constitution to make India a 'Hindu Pakistan' if voted back to power. It was only the lack of a two-thirds majority in the Rajya Sabha, he added, that prevented it from fulfilling this objective. Faced with a barrage of criticism and abuse, including a not-so-gentle admonition from his own party, which distanced itself from Tharoor's opinion, he iterated his position from another angle. Pakistan, he said, was created as a State with a dominant religion, which discriminated against its minorities. The BJP's ideal of a Hindu rashtra was a mirror image and if realised would turn India into a 'Hindu Pakistan'.
The BJP's parroted response was pro forma. Party spokesman Sambit Patra said Tharoor's statement had assaulted Indian democracy, and repeatedly denigrating one's own country, democracy and the Hindu religion was shameful. No surprises there. No surprise either that members of the BJP youth wing attacked and vandalised Tharoor's office in Thiruvananthapuram.
Though it is difficult to see why the Congress showed such alacrity in dissociating itself from Tharoor's statement, party spokesman Randeep Singh Surjewala's response had all the voiceprints of classic 'nationalist' rhetoric founded in a determinate historiography and ideology. Surjewala was confident that India's 'values and fundamentals' were an unequivocal guarantee of its civilisational role, which set it apart from Pakistan. He did not specify what this role was and what it was apropos of.
If you look beyond what Tharoor literally said, it seems to be quite clear that he was trying to point to the BJP's ongoing project of subverting democratic institutions, creating a political atmosphere inimical to maintaining the freedom of expression guaranteed by the Constitution, clamping down on dissent and making India a much, much more difficult place for its minorities to live in.
It is difficult to see what beef the Congress could have with that perspective, since its leaders say precisely the same thing all the time. The Congress' beef pertains to a matter of locution, specifically the juxtaposition of the words Hindu and Pakistan. Surjewala made that perfectly clear when he said that Congress leaders must choose their words carefully while rejecting the BJP's (politics of) hatred.
When read with the rest of his statement, the Congress' position, politically and ideologically, becomes clear. The Congress is cleaving to the idea that 'India', from time immemorial, has been a country in which people have practiced an exceptional tolerance, because Hinduism is an exceptionally tolerant religion.
This reading of 'Indian' history is profoundly ideological. It is true that people of many ethnicities, denominations and persuasions have co-existed amicably in the Indian sub-continent for thousands of years. It is also true that in the course of this co-existence a 'composite culture' was evolved, through the syncretism of the Sufis and Bhakti saints, miscegenation and the interpenetration of cultural practices.
Thus, Tamils and Gujjars, Bengalis and Marathas, Kannadigas and Gujaratis have shared proximate geographical space with Afghans and Turks, Arabs and the Chinese, Europeans and Persians. Thus, too, Hindus and Muslims, Christians, Jews, Buddhists, Sikhs and Jains. That scarcely means that people have lived without discord. The history of the Indian sub-continent has been scarred with violence between communities comparable with the history of any country, region or continent. Anything else would have been a historical impossibility in a sub-continent as diverse, and sometimes riven, as this one.
There is nothing in the history of India, which is also the history of Pakistan, lest we forget, that equips it to play a uniquely pacifist role in global affairs and human civilisational progress.
In this context, there can be an objection to Tharoor's clarification. When he said by way of clarification that Pakistan was created as a country with a dominant religion and that India 'never accepted the logic that partitioned the country' he was perhaps being just a touch disingenuous. It would perhaps be correct that the two-nation theory had no place in the Nehruvian consensus, in a fundamental, rather than purely instrumental, sense, but to the ideological forebears of today's Sangh Parivar, Muslims and Hindus clearly belonged to different social, cultural and political terrains, and the former can share 'India' only by submission, integration and on sufferance. And the Hindutva merchants are as unequivocally 'Indian' as their liberal enemies.
The real objection, then, to the phrase 'Hindu Pakistan' should be that it sets up an essentialist binary between a fundamentalist Islamic Pakistan and a tolerant 'Hindu India'. Pakistan may have been transformed by bigotry and fundamentalism into a basket case, but that hardly makes India an exemplar of tolerance. We live in times when the same kind of bigotry and intolerance are knocking insistently at our doors with the assistance of those who control the apparatuses of the State.
The BJP's objection to the 'denigration' of India, its democracy and Hinduism is, of course, ludicrous, but it is also of a piece with an essentialisation of India and Hinduism, which it uses as the thin end of a wedge it hammers relentlessly to prise open spaces which they would like to fill with a brand of muscular Hindutva that is as odious as any other form of fundamentalism and has no resemblance to the 'tolerant' Hinduism it celebrates in rhetoric.
In any case, Tharoor did not denigrate India, Hinduism or democracy. He made the perfectly acceptable, even commonplace, point that, given the opportunity, the BJP will Hinduise India and banish minorities to the margins of the nation in its drive towards majoritarian supremacism.
Patra's statement makes clear the manner in which the BJP tries to conflate itself with the nation: Thus, any criticism of the prime minister, the BJP or Sangh parivar is re-interpreted as criticism of India, democracy or Hinduism. Most people don't buy this conflation of a divisive, sectarian, majoritarian and supremacist political formation with the nation and the people.
The Congress and other secular, liberal forces shouldn't either. The Congress' unfortunate defensive reflex, which comes into play as it works out what it sees as ineluctable compulsions and calculations, encourages the BJP and affords it space for aggrandisement. It also inflicts incalculable damage on political processes and the people.
India
Day two of the Winter Session of Parliament could be a washout after 12 Rajya Sabha MPs were suspended for their 'misconduct and unruly behaviour' during the last day of the previous Monsoon session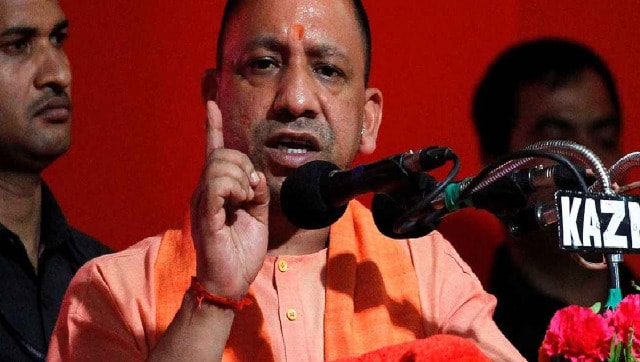 Politics
Yogi Adityanath has done well as chief minister of Uttar Pradesh and it is a matter of shame if the BJP cannot capitalise on that
India
The prime minister will hold a rally in the city and lay the foundation stone of projects worth Rs 26,000 crore and inaugurate projects worth Rs 4,000 crore