RK Nagar bypoll sees 77 percent voter turnout; TTV Dhinakaran says 2G spectrum scam verdict won't impact results
Voting for the high stakes bypoll in RK Nagar Assembly constituency, which fell vacant after the death of late AIADMK supremo J Jayalalithaa, saw 77 percent turnout till 5 pm.
Voting for the high stakes bypoll in RK Nagar Assembly constituency, which fell vacant after the death of late AIADMK supremo J Jayalalithaa, saw 77 percent turnout.
Polling began amid tight security on Thursday, with key contenders being AIADMK, the main Opposition DMK and sidelined AIADMK leader TTV Dhinakaran (also sometimes spelled as Dinakaran). Soon after polling ended, Dhinakaran addressed a press meet where he said neither the video nor 2G would have any impact on the results. He also said he won't respond to the allegations of "clowns" who said he had been distributing money and tokens on Thursday morning.
Asked about what he thought about the exit polls that predicted he would get 35 percent votes, Dhinakaran said he has no confidence in projections or exit polls or surveys. He and his people have been on the ground for 20 days and know the pulse of the public, he said. He added that they were all happy because they knew they would win by a huge margin.
Dhinakaran justified the video of Jayalalithaa in the hospital that was doing the rounds, saying: "It doesn't in any way diminish the prestige of Amma. Instead, Vetrivel had hoped that it was relief some of the pressure on Chinnamma. This emotional action by Vetrivel backfired by bringing more trouble."
He said he didn't condone Vetrivel's actions, but as a friend, he could understand his motivations. He doesn't fear repercussions from the Election Commission because he had nothing to do with its release, like Vetrivel had admitted.
Polling began at 8 am, with people arriving to exercise their franchise across booths in North Chennai, braving the misty conditions. This poll was seen as an acid test for the ruling AIADMK, as it is the first election since the death of former chief minister Jayalalithaa.
Though as many as 59 candidates are in the fray, the bypoll was mainly seen as a fight between the ruling AIADMK, its rival faction led by Dhinakaran and DMK.
While veteran ruling party leader and former MLA E Madhusudanan is the AIADMK nominee, Dhinakaran is contesting as an Independent for the first time.
The Dhinakaran camp is facing flak for the release of a video clip on Wednesday, purportedly featuring late chief minister J Jayalalithaa in a hospital bed. P Vetrivel, a Dhinakaran loyalist released the video, an act denounced by AIADMK, DMK and others.
The DMK candidate Marudhu Ganesh, seen as a dark horse, is a grassroots level party functionary. DMK candidate N Marudhu Ganesh was among the early voters. DMK also has the support of its allies Congress, IUML, MMK and an array of friendly parties, including the Left, MDMK and VCK.
The Delhi High Court on Wednesday declined to pass any order directing the Election Commission (EC) to put on hold the RK Nagar election.
Justice Indermeet Kaur also declined to pass any order directing a Central Bureau of Investigation (CBI) probe into complaints and allegations of widespread corrupt practices in connection with the bypoll.
RK Nagar has an electorate of 2,28,234 voters, comprising 1,10,903 men, 1,17,232 women and 99 transgenders.
Elaborate security arrangements were in place with about 2,000 state police personnel, 15 companies of Central Armed Police Forces, including CRPF deployed across 256 polling stations.
The polling process was monitored by nine observers, considered the highest for a single Assembly constituency. This included general, special, police and expenditure officials.
Ninety-six flying squad teams, 21 Static Surveillance Teams and 20 Video Surveillance Teams were deployed by election authorities. A total of 45 check points in and around the constituency were also manned by poll officials.
As polling was underway, cases of missing names emerged from RK Nagar. Revathy A, 42, a disappointed voter whose name was present in the list prepared for April was absent in the current list. This is her usual voting booth. Meanwhile, speaking to reporters DMK MP Kanimozhi, who was acquitted by the CBI special court in the 2G spectrum scam, said that the verdict would have no impact over the RK Nagar bypoll results as "the DMK is already winning in the constituency."
According to The Hindu, only voters were allowed to move freely within 200 meters of any polling station. On the other hand, police restrict vehicle movement near the polling stations. RK Nagar constituency registered 41.6 percent voter turnout till 1 pm, says the Election Commission. Tamil Nadu CEC Rajesh Lakhoni said this figure was from 174 polling stations. RK Nagar constituency registered a total of 41.6 percent voter turnout till 1 pm, said the Election Commission. Tamil Nadu CEC Rajesh Lakhoni said this figure was from 174 polling stations.
The Times of India reported that Independent candidate ML Ravi was collecting names of voters whose names went missing in the final list and that he would be filing a case against the Election Commission. Though the polling was largely peaceful, petty fights broke out among voters at Chennai High School on Tiruvottiyur High Road after the long wait in queues.
The Election Commission said that the voters who got into the queue by 5 pm were given tokens. After 5 pm, the polling was on in more than 60 booths where tokens were issued.
The run-up to the poll saw political parties and candidates holding as many as 152 public meetings and taking out 605 processions, campaigning ended on 19 December.
Till Wednesday and starting from November 24, a total of Rs 30,79,382 unaccounted cash was seized and 124 FIRs filed for election violations/offences.
Fifteen persons were remanded to judicial custody, 122 taken into preventive custody and 83 vehicles seized for violations.
Counting of votes will be taken up on 24 December and the results are expected to be out by afternoon that day.
With inputs from agencies
Politics
On Sunday, the DMK won a convincing victory while the AIADMK managed to emerge as a formidable Opposition
Politics
The DMK's vote share was 37.7 percent with an impressive performance in regions including southern and northern regions while the AIADMK sliced away 33.4 percent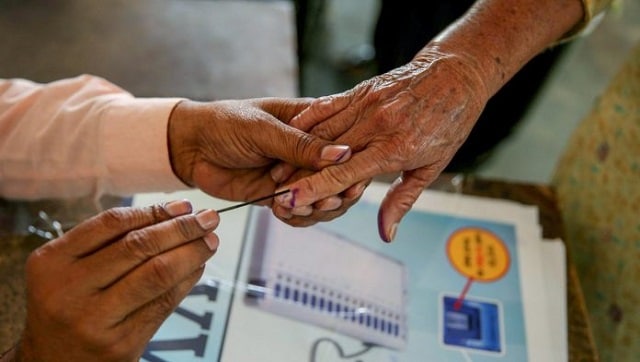 Politics
Tamil Nadu, Kerala, Puducherry Election Results 2021 Today Live Updates: In Puducherry, the NR Congress won 10 seats in and its ally BJP secured three while the Congress-led Secular Democratic Alliance emerged victorious in five seats as per latest EC data