RK Nagar Bypoll updates: 77 percent voter turnout recorded; TTV Dhinakaran says doesn't believe in exit polls
LIVE NEWS and UPDATES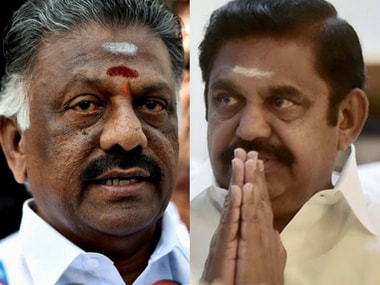 19:58 (IST)

Total Polled


Nos. Turnout

Male 84195 75.92
Female 92862. 79.21
Others 17 17.17
Total 177074 77.68

19:50 (IST)

77% voter turnout recorded till 5 pm, said Chennai district electoral officer D Karthikeyan

No confidence in exit polls, says Dhinakaran

Asked about what he thinks about the exit polls that predicted he would get 35 percent votes, TTV Dhinakaran said he has no confidence in projections or exit polls or surveys. He and his people have been on the ground for 20 days and know the pulse of the public. And they all happy because they know they will win by a huge margin.- Ayswarya Murthy

Dhinakaran says video does not diminish Amma's prestige

TTV Dhinakaran said, "It doesn't in any way diminish the prestige of Amma. Instead, Vetrivel had hoped that it was relief some of the pressure on Chinnamma. This emotional action by Vetrivel had backfired by bringing more trouble." He says he doesn't condone Vetrivel's actions, but as a friend he can understand his motivations. He doesn't fear EC repercussions because he had nothing to do with its release, like Vetrivel had admitted. - Ayswarya Murthy

19:23 (IST)

TTV Dhinakaran says neither the video nor 2G would have any impact on the results

At a press meet after the RK Nagar bypolls, TTV Dhinakaran said neither the video nor 2G would have any impact on the results. He also said he won't respond to the allegations of "clowns" who have said that he had been distributing money and tokens on Thursday morning.He had said earlier on Thursday that he was glad Raja and Kanimozhi were acquitted but he had only made the statement as a humanitarian who wanted justice to prevail. He was disappointed that his statement was construed by some as showing that he was colluding with DMK. - 101 Reporters/ Ayswarya Murthy

18:27 (IST)

Here's a chart showing polling percentage of RK Nagar in recent elections: CEC

18:22 (IST)

TTV Dhinakaran distances himself from Jayalalithaa's video

TTV Dhinakaran says that he as an extended family will not go out of his way to release a video of Jayalalithaa's days in the hospital. However, if the probe commission demands it, he would not shy away from submitting it.

18:19 (IST)

TTV Dhinakaran thanks supporters, says he does not need a video to boost his votes

18:02 (IST)

Voting has ended in RK Nagar bypoll.

17:44 (IST)

DMK welcomes 2g scam verdict

Madhavaram S Sudharsanam, DMK secretary for Chennai north district, said: "We are all very happy about the 2G verdict. I can't know how much it, but I am sure it would have impacted the voting on Thursday. We always had a good chance of winning the seat, which has now increased."

He alleged that that TTV Dhinakaran's people tried to coerce voters by giving them Rs 20 and a coupon. "They said that if their candidate won, the coupon can be reimbursed for Rs 10,000."

"This is was happening across the constituency and we have filed a complaint with the EC," he said.

Inputs: Ayswarya Murthy/101reporters

17:40 (IST)

AIADMK's Hari Prabhakaran says 68% voter turnout till 5 pm

68.71% polled as of 5 PM #RKNagarByPoll

— Hari Prabhakaran (@Hariadmk) December 21, 2017

17:36 (IST)

Subramanian Swamy hails exit poll results of Dhinakaran's lead

Exit poll in RK Nagar puts TTV Dinakaran ahead with 37 % votes and winner. Good news

— Subramanian Swamy (@Swamy39) December 21, 2017

Final percentage not yet known

The Election Commission has said that the voters who got into the queue by 5 pm have been given tokens. The polling is still on in more than 60 booths where tokens have been issued.

Inputs: Ayswarya Murthy/101reporters

17:05 (IST)

Three polling centres recorded voting percentage of over 90 as polling ends at RK Nagar.

16:56 (IST)

Petty fights broke out among voters at Chennai High School on Tiruvottiyur High Road after long wait in queues

16:45 (IST)

Veerasami, wife have been voting for same party for 10 years

Veerasami P and his wife, Jayalakshmi, have consistently voted for the same party over the years though they refused to reveal which one. They continue to vote despite grievances like not having received his pension for 10 months now. Image courtesy: 101 reporters/ Ayswarya Murthy

Saravanan P carries his 62-year-old grandfather to polling station

Veerasami P, 62 is a pensioner who has been disabled for five years now. He had to be carried into the booth by his grandson, Saravanan P, who has just turned 18. Saravanan didn't get to vote this time, but he says his loyalty would lie towards the party that can convert his temporary government job into a permanent one. Image courtesy: 101 reporters/ Ayswarya Murthy

15:57 (IST)

TTV Dhinakaran clicks selfie with fans at Tondiarpet polling station

AIADMK leader TTV Dhinakaran initially took selfies with young voters in Todiarpet polling station but later the Election Commission officials asked him to refrain from interacting with voters, The Times of India reported.

15:35 (IST)

RK Nagar has an electorate strength of 2,28,234, comprising 1,10,903 men, 1,17,232 women and 99 transgenders.

15:18 (IST)

DMK will win RK Nagar bypoll, Kanimozhi tells CNN-News 18

15:17 (IST)

MK Stalin meets press and supporters at his residence in Alwarpet.

"I humbly request the media persons present here spread the message of DMK's innocence to the general public with the same eagerness they showed in talking about the scam and piling on the blame," MK Staling told the media. Image courtesy: DMK

15:11 (IST)

57.16 percent polling recorded in 184 booths till 3 pm, CEC Rajesh Lakhoni said.

15:02 (IST)

Commission probing Jayalalithaa's death filed complaint against Dhinakaran aide for video

According to a police official, a complaint has been received from the Justice A Arumughaswamy Commission "seeking action against Vetrivel" on Wednesday even as the Commission has started the inquiry on Jayalalithaa's death, News 18 reported.

14:45 (IST)

Cash is still king in Tamil Nadu politics as bidding war between candidates turns election into auction

Christmas has come early to RK Nagar in north Chennai. The only difference is that the Santa Claus here in attired in a white veshti. And the gifts come in the form of Rs 2,000 notes.

Between April, when the by-election to this constituency was rescinded because of rampant bribing of voters, and December, the rate for a vote has increased by 50 percent. Going by anecdotal evidence, it has gone from Rs 4,000 for a vote to Rs 6,000.

Read TS Sudhir's full report here

14:44 (IST)

Independent candidate to file case against EC

The Times of India is reporting that one Independent candidate ML Ravi is collecting names of voters whose names went missing in the final list. Ravi says that he will be filling a case against the Election Commission.

14:24 (IST)

2G Spectrum verdict may be a shot in the arm for the DMK

With DMK leaders A Raja and Kanimozhi being acquitted in the 2G spectrum scam, the political fortunes of the DMK might improve in the future, claimed a News18 report. The judicial win on Thursday is also likely to pave way for a strong performance in the 2019 Lok Sabha and the 2021 Assembly polls.

"Now, Modi can go and ally with DMK in Tamil Nadu," was one of the WhatsApp message doing the rounds right now, the report said.

The verdict is also likely to boost the chances of the DMK in the RK Nagar bypoll. Speaking to News18, Manu Sundaram said, "It's not an election issue for this constituency per se, but the verdict vindicated our party's stand and reaffirmed all that the party has said about the case — that the real scam was to have ever called this a scam for political gains."

14:09 (IST)

Police complaint against TTV aide for releasing Jayalalithaa video

The one man Commission probing the circumstances leading to hospitalisation and medical treatment provided to late J Jayalalithaa till her death last year filed a police complaint today against an aide of TTV Dhinakaran who released a purported video of the late chief minister.

According to a police official, a complaint has been received from the Justice A Arumughaswamy Commission "seeking action against Vetrivel" even as the Commission has started the inquiry as per its terms of reference. The official declined to divulge details of the complaint.

PTI

Meanwhile... Stalin visits his father M Karunanidhi after 2G verdict

Media frenzy ensues as Stalin exits Karunanidhi's house in Gopalapuram. Stalin said he briefed the veteran leader on the 2G verdict. "Injustice will fall and justice will prevail," he said in Tamil.

Input from Ayswarya Murthy, 101 Reporters

13:47 (IST)

Caste angle in the TTV Dhinakaran, EPS and OPS tug of war

Then, there is the caste angle to the tug of war within the AIADMK as well. Ever since the ascension of EPS to the top job, the Gounder community has come to dominate the politics of Tamil Nadu. That is not music to the ears of the Thevar community that has held sway since the time Sasikala came into Jayalalithaa's life. Both Sasikala and OPS are Thevars, because of which the AIADMK was spoken of as a Thevar party.

Should Madhusudanan not put up a credible performance, Dhinakaran could act as the rival Thevar magnet for the fence-sitters from his community. The community realises that it needs a strong leader at the moment to take on EPS and his Gounder support system and the jury is out on whether OPS has the calibre to be that person.

Read TS Sudhir's full piece here

13:37 (IST)

Subramanian Swamy had predicted Dinakaran vs DMK fight

I learn from some BJP activists that the Chennai RK Nagar poll has narrowed to DMK vs Dinakaran. Obviously then Tamils must vote for TTVD.

— Subramanian Swamy (@Swamy39) December 18, 2017

13:28 (IST)

Who is E Madhusudhanan?

​Madhusudhanan is an MGR loyalist and a long-time critic of the Opposition DMK party. He also enjoys a good rapport with political representatives of all parties.

The report added that in 1991, Madhusudhanan had won the RK Nagar by-election and served as handloom minister during the chief ministership of J Jayalalithaa. Earlier, O Panneerselvam had announced Madhusudhanan as the candidate before the merger with E Palaniswamy.

In 1991, Madhusudhanan was convicted in the free sari and dhoti scam,although he was later acquitted in the case.

13:21 (IST)

RK Nagar bypoll announcement came after Madras HC's order

The announcement came days after the Madras High Court said it expected the EC to hold by-election in RK Nagar by 31 December. Chief Justice Indira Banerjee and Justice M Sundar made the observation on a plea of a DMK leader RS Bharathi.

13:11 (IST)

Voter turnout update

RK Nagar constituency registers a total of 41.6 percent voter turnout till 1 pm, says the Election Commission. Tamil Nadu CEC Rajesh Lakhoni said this figure is from 174 polling stations.

Traditional AIADMK voter may now vote for TTV Dhinakaran

K Dastagir, 42, auto driver is a traditional AIADMK voter. J Jayalalithaa's death and the subsequent development within AIADMK had left him confused. The video released yesterday, he feels, vindicates TTV and Sasikala. He might go vote for him when he goes to the booth at 2 pm today to cast his ballot. His son, first time voter, wants him to vote for seeman of Naam Thamizhar Katchi though.

Input from Ayswarya Murthy,101 Reporters

13:06 (IST)

Ruckus over 'cash distribution' resurfaces as Rs 13 lakh seized in Korukkupet

Election officials on Saturday seized Rs 13 lakh from a premise in bypoll-bound RK Nagar which witnessed chaotic scenes with some men accused of trying to distribute cash to voters being chased by police and DMK cadres.

On Saturday, in locations including Korukkupet at RK Nagar allegations of cash distribution were made against some men, whose identity was not known immediately.

PTI

12:40 (IST)

Day before RK Nagar bypoll, AIADMK's Dhinakaran camp releases footage of Jayalalithaa in Apollo Hospital

A day before by-elections are to be held in RK Nagar, the one-time constituency of late Tamil Nadu chief minister J Jayalalithaa, a video has been released purportedly showing the former AIADMK chief spending her last days in Chennai's Apollo Hospital.

The video has been released by the TTV Dhinakaran-VK Sasikala camp of the AIADMK party, and comes at the end of what has been a very bitter electoral campaign battle for the prestigious Assembly constituency in north Chennai.

12:32 (IST)

Strict police restriction around polling stations

According to The Hindu, only voters are allowed to move freely within 200 meters of any polling station. On the other hand, police restrict vehicle movement near the polling stations.

12:24 (IST)

Why a big win is all that AIADMK may be hoping for

Should the AIADMK be unable to retain the seat and worse, lose to Sasikala's nephew TTV Dhinakaran or if the margin of votes between the two is insignificant, it will mean the two leaves symbol achieved zilch for the party. That could set the cat among the pigeons with many wondering if staying invested with EPS will fetch handsome returns in 2019 and 2021.

I will vote for good politics, says a voter

"I expect a good regime and expect a good candidate to win the election. I am a simple auto driver. I do not know anything about the cash-for-vote scam or late Chief Minister J Jayalalithaa's hospital video. I vote for good politics," he says.

Video courtesy: Ayswarya Murthy, 101 Reporters

DMK workers celebrating in RK Nagar

Image courtesy: Ayswarya Murthy, 101 Reporters

DMK workers celebrate in RK Nagar after A Raja, Kanimozhi are acquitted

DMK party workers distribute sweets and burst crackers on Rettaikuzhy Street after the 2G verdict was announced.They were quick about it and dispersed soon.

Inputs from Ayswarya Murthy, 101 Reporters

The BJP factor in RK Nagar bypoll

The BJP is not seen as a serious player in the contest, but is the punching bag for both DMK and Dhinakaran. Both point out that a vote for Madhusudanan is a vote for the BJP that is hoping to cash in on the resentment against the national party for meddling in the internal affairs of the AIADMK. But given the demographic profile of RK Nagar and the emphasis on cash-for-votes, it is anyone's guess as to how much this will be a factor for the voters.

11:38 (IST)

2G scam verdict will help improve our winning margin in RK Nagar bypoll, says DMK

DMK leader Manu Sundaram told News18, "Regardless of what the judgment was, we were always well poised to win the RK Nagar bypoll, but now with this positive verdict, the margin of our victory will be much more."

11:32 (IST)

TTV Dhinakaran reacts to the verdict on 2G scam case

"Congratulations to all those who have been acquitted," says Independent candidate and disgruntled AIADMK leader TTV Dinakaran.

11:27 (IST)

DMK already winning in RK Nagar bypoll, says Kanimozhi

Speaking to reporters DMK MP Kanimozhi, who was acquitted by the CBI special court in the 2G spectrum scam, said that the verdict would have no impact over the RK Nagar bypoll results as "the DMK is already winning in the constituency."

11 am Update

23.74 percent voting recorded from 166 booths across RK Nagar constituency.

Input from Asywarya Murthy, 101 Reporters
AIADMK candidate E Madhusudhanan is confident of winning the RK Nagar bypoll which is currently underway. As of 3 pm, the polling percentage in over 184 polling stations is 59.24 percent, Chief Electoral Officer Rajesh Lakhoni said. He said, "God and Amma's grace with us". Chief Minister E Palaniswamy and Deputy Chief Minister O Panneerselvam are banking on him to bring home the constituency, which was twice represented by former chief minister J Jayalalithaa.
Madhusudhanan is squaring off against sidelined party leader TTV Dinakaran who is contesting as an Independent, DMK's N Marudhu Ganesh and Bharatiya Janata Party's (BJP) K Nagarajan.
The high stakes bypoll in RK Nagar constituency is currently underway. The bypoll was first scheduled to be held in April this year, but was cancelled due to complaints of large-scale voter bribery. The seat fell vacant upon Jayalalithaa's death on 5 December 2016.
Campaigning for the bypoll came to an end on Tuesday, with the election being seen as a litmus test for the AIADMK-led Tamil Nadu government. The bypoll will also settle the dispute over the late Tamil Nadu chief minister's political legacy within the AIADMK.
AIADMK coordinator Panneerselvam and co-coordinator Palaniswamy, DMK working president MK Stalin and sidelined AIADMK leader TTV Dhinakaran had hit a blazing campaign trail to ensure victory for their respective candidates.
It is the first election to be held in the 'post Jayalalithaa era', and necessitated following her death last December.
The bypolls will be seen as a report card of the 17-month-old AIADMK government, which itself underwent a tumultuous phase dominated by a rebellion and patch-up involving O Panneerselvam.
Chief Minister E Palaniswami and deputy Chief Minister O Pannerselvam urged voters to elect Madhusudhnanan to take forward the work initiated by Jayalalithaa.
In a joint statement, the leaders recalled that the late leader served people with a "motherly" attitude and that she had many plans for the constituency as its MLA.
People of RK Nagar were aware of her developmental work for the constituency, which was being taken forward by the ruling AIADMK, they said, while pointing out that this was the first hustings faced by AIADMK in her absence.
"Madhusudhanan will aid the government in implementing every other welfare measure with the blessings of Amma", they added.
Jayalalithaa is addressed as Amma, meaning mother in Tamil, by her supporters.
Stalin, on his part, vowed to unravel the 'mystery' behind the late AIADMK supremo's demise and assured to put behind bars those 'found responsible' for her death in the event of DMK coming to power.
During one of his stopovers during the campaign today, he said there was a "mystery on how Jayalalithaa passed away and what kind of (medical) treatment was provided" to her during her 75-day hospitalisation, as he dismissed as an 'eyewash' the inquiry ordered by the state government into her death.
"The first job of the DMK rule will be to find out who is responsible for Jayalalithaa's death and lock them up in prison," Stalin, Leader of the Opposition in the state assembly, said.
The campaign saw old rivals Stalin and MDMK founder Vaiko share the stage for the first time in many years. The opposition is putting up a united show in a bid to snatch victory in this city segment. There were also allegations of money distribution, with DMK levelling charges against the ruling AIADMK.
Many opposition parties, including the Congress, the VCK and the Left have backed DMK candidate Ganesh.
Dhinakaran, who fell out of favour with Palaniswami and also lost the battle for the party's 'Two Leaves' symbol to the latter, is fighting as an independent and has expressed confidence that he can spring a surprise against the AIADMK's E Madhusudhanan, as well as the DMK.
With 59 candidates in the fray, the bypoll is virtually confined to old warhorse Madhusudhanan, DMK's greenhorn Ganesh and Dhinakaran.
Polling will be held on 21 December while the votes will be taken up for counting on 24 December.
Meanwhile, with campaigning coming to an end, the Election Commission has now barred all other related activities as is the rule. Liquor shops in the constituency will remain closed from 5 pm on Wednesday till 5 PM on the polling day, as well as on 24 December.
With inputs from PTI
Your guide to the latest seat tally, live updates, analysis and list of winners for Lok Sabha Elections 2019 on firstpost.com/elections. Follow us on Twitter and Instagram or like our Instagram or like our Facebook page for updates from all 542 constituencies on counting day of the general elections.
Updated Date: Dec 21, 2017 20:15:15 IST