Rajasthan polls: Congress promises loan waiver and pension for farmers, unemployment allowance for youth in manifesto
Other key promises made by the Congress in its Rajasthan manifesto include a monthly allowance of Rs 3,500 to unemployed youths in the state, and free education for women.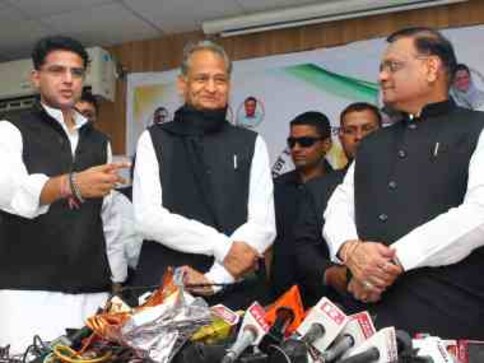 The Congress on Thursday released its manifesto for the Rajasthan Vidhan Sabha polls, slated to be held on 7 December, and promised free education to women as well as jobs to youth, among other promises. Approximately 400 announcements were included in the document.
AICC general secretary Avinash Pande, Pradesh Congress Committee president Sachin Pilot, former chief minister Ashok Gehlot and chairman of the manifesto committee Harish Choudhary released the manifesto, titled 'Jan Ghoshna Patra'.
Speaking at the launch event, Gehlot said the party's manifesto was based on "Rahul Gandhi's model" as people's suggestions were taken before drafting it. He said that the ruling Bharatiya Janata Party (BJP) government had closed universities set up by the earlier Congress government, and promised that those universities will be opened again.
Pilot then addressed the gathering and said that the manifesto was prepared after taking into consideration around two lakh suggestions from the public through various mediums and platforms.
Pilot reiterated the Congress' promise to waive the loans of farmers if voted to power, an announcement that party president Rahul Gandhi had first made during an election meeting in Jaisalmer's Pokhran constituency on Monday.
"Within ten days of government formation, Congress will waive farmers' loan in the state," Rahul had said, adding that he does not make false promises. "Whatever I say, I do. We will do what we are saying from this stage," he said.
Gandhi's comments had garnered sharp criticism from Union finance minister Arun Jaitley, who on Tuesday said that the Congress is resorting to such slogans as it knows it is not going to come to power.
Apart from the promises to waive farmers' loans, the Congress has also promised pension for farmers in the state, and has announced that a separate board will be set up for administering 'gau char (cow grazing)' land in the state.
Additionally, Pilot also drew attention to the state government's increasing debt. "Five years ago, when Vasundhara Raje took over as the chief minister of Rajasthan, the debt was Rs 1.4 lakh crore and today it is Rs 3.3 lakh crore," Hindustan Times quoted Pilot as saying. He added that the party's "big focus is on social sector schemes and also how to enhance the government's revenue".
In the manifesto, the Congress said that it will exempt agricultural equipment and tractors from the Goods and Services Tax (GST).
Promoting organic farming, pension to elderly farmers, promoting export of crops like onion, garlic, gwar and cotton, development of dairy industry, push to fisheries, Wi-Fi and internet facility to every panchayat, linkage of maximum villages with eastern Rajasthan canal project, free education to girls or women in government institutions were made.
The party promised to ensure quality health services to citizens, availability of wheat to BPL families at Re 1 per kilogram, easy monetary loans to youths and no fare in state-run buses for candidates travelling to appear in competitive exams.
It also announced to expedite work on rail connectivity in Dungarpur, Banswara and Tonk districts by working on Ajmer-Tonk-Sawaimadhopur, Dungarpur-Banswara-Ratlam railway line projects. The railway line is a prominent poll issue in Tonk, where Pilot is contesting elections.
To push industrial growth, the party said, companies working in the area of robotics, artificial intelligence, nanotechnology, quantum computing, fifth generation wireless technologies will be promoted.
It has also promised new industry and tourism policies, promotion of local art, culture and heritage; a 24/7 women helpline, women's ITI and polytechnic college in every district, increase in pension scheme for elderly people, Journalists' Protection Act, Advocates' Protection Act, Implementation of Accountability Act, steps for the security of temples, mosques, churches and all other religious places.
Other key promises made by the Opposition outfit in the Rajasthan manifesto include a monthly allowance of Rs 3,500 to unemployed youths in the state.
The Congress manifesto comes days after the ruling BJP released its manifesto, or 'Gaurav Sankalp Patra', on Tuesday. The BJP claimed that the party's work in the last five years has been better than the work done by other governments in the past 75 years.
The saffron party has promised a monthly allowance of up to Rs 5,000 in its manifesto released on Tuesday.
With inputs from PTI
India
Meena claimed that most sarpanches and other public representatives are with the government and the agitation is being held by a faction
India
Seers in Rajasthan have been self-immolating or dying by suicide demanding protection of the religiously significant Aadibadri and Kanakanchal hills in Bharatpur district from illegal miners
India
Punjab, Rajasthan, Uttarakhand, Gujarat and Andaman and Nicobar Islands have been hit by the outbreak of the disease