Rahul Gandhi vs Narendra Modi: The anatomy of the most competitive hug known to man... or something like that
Congress president Rahul Gandhi and Prime Minister Narendra Modi sharing a lighthearted moment certainly succeeded in taking the sting, albeit temporarily, out of an acrimonious situation that was brewing in the Lok Sabha
By now, everyone — at least that chunk of the populace that is even mildly curious about Indian politics — has seen that hug to end all hugs. Congress president Rahul Gandhi and Prime Minister Narendra Modi sharing a lighthearted moment certainly succeeded in taking the sting, albeit temporarily, out of an acrimonious situation that was brewing in the Lok Sabha ahead of the no-confidence motion vote, which is expected to take place at 6 pm.
It's expected to take place at 6 pm, which means it could easily be delayed till 8 pm, 9 pm or even Monday, if every one of the remaining MPs (BJD and Shiv Sena, we're looking at you) decides to take a leaf out of Rahul's book and go around hugging one another.
There's going to be a lot of discussion and chatter about the implications of this embrace, so we at FP Special Forces decided not to bother with all that, and instead look at the anatomy of this hug. And so, here's a play-by-play rundown of just what transpired on Friday afternoon.
But first, it's a good time for a little self-promotion:
Now where were we?
Ah yes, no-confidence motion. Two speakers had spoken and it was Rahul's turn.
After delivering a fiery speech, brimming with rhetoric, swipes, jabs and uppercuts, comes to a close and in a split second, Rahul steels his nerve and decides to venture into the unknown — enemy territory, if you will. Watch as the determination fills his every bone, sinew and muscle before he strides out to meet his nemesis. It's such a groundbreaking moment, that we decided to document it in sepia tone.
Speaker Sumitra Mahajan doesn't know what to make of all this. She laughs nervously. She doesn't deserve sepia tone.
Back to Rahul, who strides towards the Treasury bench like a proud wildebeest out on the Serengeti. Also note the reactions of LK Advani — apathy and boredom turns to shock — and Jayant Sinha, who to be honest, seems to be loving it. And then, Modi and Rahul come face to face, hand to hand, seena to seena. It's poetic is what it is.
Now that the hugging is over, Rahul makes his way back. But wait! There's a twist in the tale. "Aise kaise?" the prime minister seems to be asking his younger rival.
The prime minister isn't willing to let Rahul have the last hug, as the Congress president realises. The battle is well and truly on. He returns to speak to Modi and they share another physical exchange — the prime minister will have the final say on the matter.
"You? Prime Minister of India in 2019?" Modi seems to be saying to Rahul with a broad grin on his face, before sending him off with a warm pat on the back.
Unsure of what to make of all this, Rahul decides to call it a draw. And heads back to his seat with his head held high. "Boys played well" and all that.
So who won?
Hard to say, so we'll agree that cricket politics was the winner.
also read
India
Rajya Sabha Deputy Chairman Harivansh added that the 'day is an important milestone as it will prove to be a source of inspiration in the Amritkaal'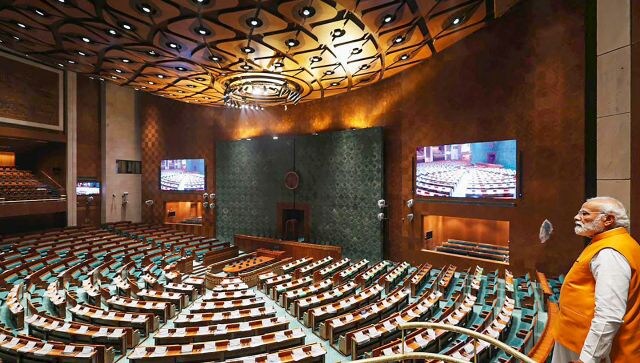 India
The new Parliament building can comfortably seat 888 members in the Lok Sabha chamber and 300 in the Rajya Sabha chamber. The current Parliament building was built in 1927. It will be converted into a museum
Opinion
The party and the government it led in Karnataka not just failed to protect Hindutva activists, but also didn't do enough to look after the families of those killed during the previous Congress dispensation