Rahul Gandhi appeared pleased with own show in Parliament, but Speaker Sumitra Mahajan didn't approve of theatrics
Congress president Rahul Gandhi would perhaps be the first leader of prominence who patted his own back on the floor of Parliament.
In politics, several leaders privately pat their own backs and boast about having made a great speech, and claim that many people, including some rivals, complimented them. Some also boast about the size of the crowd and the way it responded to their speech.
Congress president Rahul Gandhi would perhaps be the first leader of prominence who patted his own back on the floor of Parliament. On Friday, he said that during a break in proceedings (due to repeated interruptions), many leaders complimented him for delivering a superb speech. He claimed that some of those who complimented him for his then-unfinished speech were from the BJP. The Congress president didn't stop there. He pointed to Union food processing minister Harsimrat Kaur Badal and said, "This Akali Dal MP was looking at me with a smile."
Rahul was obviously very pleased with himself, and he didn't hold back from expressing his sentiments.
For the purposes of analysis, one can divide the Congress president's speech in two parts. The first part was the one in which he made one allegation after another against Prime Minister Narendra Modi, raised the issue of the Rafale fighter aircraft deal, and so on. When defence minister Nirmala Sitharaman tried to counter his claims while he was still speaking, Rahul did not allow her to speak. However, as soon as he concluded his address, Sitharaman gave a strong rebuttal. She told the House that the government is bound by an agreement of secrecy over the pricing of the fighter jets and that this was signed on 25 January, 2008 by the then defence minister AK Antony, when a Congress-led government was in power.
The second and more interesting part was when Rahul did what was so far unthinkable in parliamentary procedure. In the middle of his speech, he walked to the treasury benches and asked the prime minister to get up from his seat. When the latter did not rise, he surprised Modi — and everyone else in Parliament — by giving him a hug.
Even more interesting was what he said: "For you, I am Pappu. You can call me names. I am the Congress...I don't have the slightest anger or the slightest hatred against you. I will turn you all into the Congress."
Rahul had earlier asserted that if he were to be allowed to speak in Parliament for 15 minutes, an earthquake would take place and Modi would flee. As it happened, he did shake the House with what some described in Hindi as a 'jhappi ka bhoochaal' (hug quake)
The Congress chief appeared to be enjoying all of this. On returning to his seat, he took over from where he had left off earlier, saying that this is what Hinduism is. However, that invited a sharp remark from Speaker Sumitra Mahajan, who said, "This House runs according to certain rules and norms. This is not acceptable." Later, she raised the issue again and expressed her displeasure over Rahul's actions, remarking, "Kya naatak chal raha hai?" (What is this drama?)
Rahul's wink as soon as he finished the speech was another debatable issue.
These unprecedented actions by Rahul diluted the seriousness of the discussion. Whether they enhanced or diminished his image will be a matter which will be debated for a long time to come.
To return to the allegations made by the Congress president on the Rafale deal, it was interesting to see the response of the government. Rahul's claim is that the French president told him that there was no secrecy clause in the Rafale deal. He repeatedly named the defence minister, alleging that she intentionally misled the nation at the behest of the prime minister. In response, Sitharaman quoted from an interview that French president Emmanuel Macron gave to India Today, albeit without naming the media house. India Today had asked Macron, "Why can't the details of the deal be revealed and the air cleared up rather than have accusations flying around?" To this, Macron said, "First of all, you have these commercial agreements, and obviously you have competitors and we can't let them know details of the deal. Secondly, there are some discussions to be organised by the Indian government, and they will have to consider which details they would want to be revealed to the Opposition and Parliament."
Another interesting development from the proceedings on Friday was that after Sitharaman demolished Rahul's allegations, the party that came to the latter's rescue was the Trinamool Congress. The TMC raised a point of order against the defence minister for laying a 'secret document' on the table of the Lok Sabha.
India
The finance minister said there needs to be a sense of caution about the new variant, and protocols need to be followed. Sitharaman was speaking at the Hindustan Times Leadership Summit on Saturday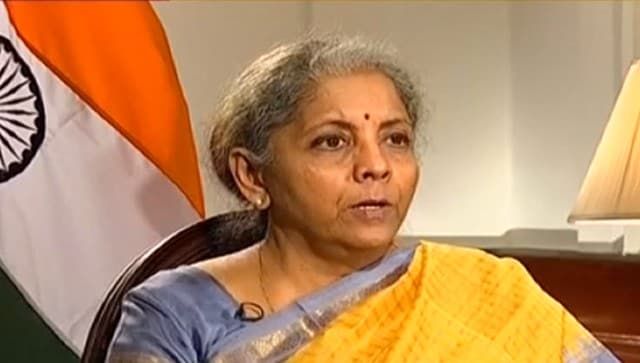 India
The finance minister was addressing a function after launching new schemes and handing over orders to various beneficiaries under the financial inclusion and credit outreach programme
Business
The increased amount of devolution in November is an advance release, and final adjustments will be made in March 2022