The final result of the Madhya Pradesh election was declared by the Election Commission on Wednesday, with the Congress managing to win 114 seats, just two short of the majority mark in the 230-seat Assembly. The Bharatiya Janata Party (BJP) won 109. The Bahujan Samaj Party (BSP) won two and Samajwadi Party (SP) won one seat. Four Independent candidates have also managed to win seats.
Elections in the state were held on 28 November, and counting began on Tuesday.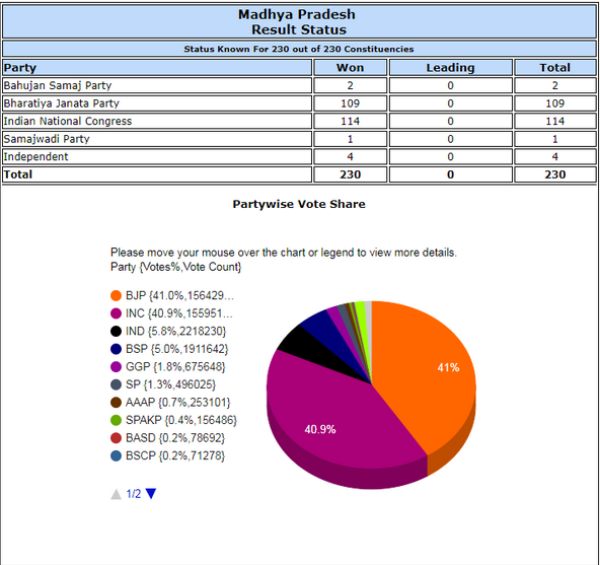 Following the Congress' win, the party thanked the people of Madhya Pradesh for "trusting us during the Assembly elections and giving us the responsibility to develop Madhya Pradesh."
मप्र की जनता का आभार :

—विधानसभा चुनाव में कांग्रेस पर विश्वास करने एवं कांग्रेस को मप्र के पुनर्निर्माण का दायित्व सौंपने के लिये हम जन-जन के आभारी हैं।

ये जीत मप्र की जनता की जीत है, हम मप्र की जनता की अपेक्षाओं और आकांक्षाओं को पूरा करने वाला मप्र बनाने के लिये वचनबद्ध हैं।

— MP Congress (@INCMP) December 12, 2018
A resurgent Congress on Tuesday made significant gains in not just Madhya Pradesh but also in two other state Assembly elections, dealing a body blow to the Bharatiya Janata Party (BJP) in Chhattisgarh and Rajasthan.
With Congress set to form governments in Chhattisgarh and Rajasthan, alongside the neck and neck fight in Madhya Pradesh, party president Rahul Gandhi said the selection of chief ministers in the three states will be done "smoothly".
"We have defeated the BJP in Madhya Pradesh, Rajasthan and Chhattisgarh... There will be no issue the over the selection of chief minister. It will be done smoothly."
Rahul on Tuesday also said that the drubbing faced by the BJP in the Assembly elections was a message to Prime Minister Narendra Modi that he had failed to fulfill his promises. He further asserted that a united Opposition will defeat the BJP in the 2019 Lok Sabha polls as well.
Addressing a press conference in Delhi, he said that "it is time for a change" and that the Congress will provide a new vision to the country to address the problems like unemployment, agricultural crisis.
Rahul said while the Congress was determined to fight the ideology of BJP, it did not want the country to be "mukt (free) of anybody," in an apparent swipe at Modi, who has been talking of "Congress Mukt Bharat".
Updated Date: Dec 12, 2018 09:24:49 IST