MK Stalin takes charge of DMK after 51 years in politics: Fighting a dynastic battle, the 65-year-old learnt it the hard way
MK Stalin on Tuesday was appointed as the president of Dravida Munnetra Kazhagam (DMK), a seat that was left empty after the death of DMK patriarch and Stalin's father, M Karunanidhi who held the post for 49 years.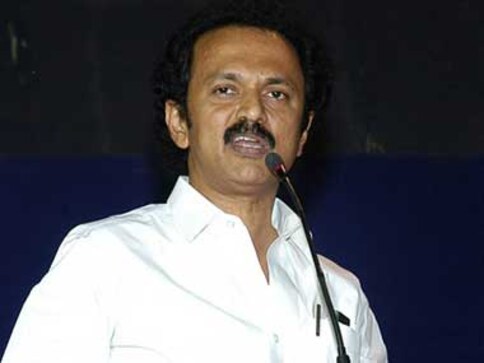 After 49 years of MK Karunanidhi at the helm of things at Dravida Munnetra Kazhagam (DMK), his son MK Stalin was elected as the party president. Stalin was appointed as the working president in January 2017 when Karunanidhi's health started declining. Stalin became the second DMK president since the party's inception.
Chants hailing Stalin as 'Thalapathy' rented the Kalaignar Arangam where the meeting was underway even as the General Council members cheered with loud applause. DMK principal secretary Duraimurugan was elected Treasurer, succeeding Stalin, a post he vacated recently in view of his proposed elevation.
The election of Stalin as DMK chief was merely a formality till his elder and estranged brother Alagiri threw his hat in the ring. Alagiri was expelled from DMK in March 2014 by Karunanidhi for slanderous attacks on senior party members and carrying out anti-party activities.
Stalin's political journey
Stalin was named after Soviet dictator Joseph Stalin. On 1 March, 1953, Karunanidhi was addressing a condolence meet for the Soviet dictator when he was told about the birth of his second son from his second wife Dayalu Ammal and Karunanidhi named him Stalin.
Stalin's political journey began at the age of 14 when he campaigned as a school student in the 1967 elections. In 1973, when he was 20, Stalin was elected to the General committee of the DMK. He came into the limelight when he was jailed under Maintenance of Internal Security Act (MISA) for protesting against the Emergency.
Stalin then formed the DMK youth wing and was became youth wing secretary in 1984, a post that he held for almost four decades. In 1996, he was elected as the mayor of Chennai. Stalin's administrative mettle was proven during this period. This is when he reinvented himself and focussed on modernising the administration.
However, then chief minister J Jayalalithaa enacted the Tamil Nadu Municipal Laws (Amendment) Act, 2002, a law that prevents a person from holding two elected posts in the government, leading him to leave the post of Mayor.
He became an MLA for the first time in 1989 from Thousand Lights constituency from where he was relected thrice. In 2003, Stalin was elected deputy general secretary of the DMK. He was elected as the party treasurer in 2010 and re-elected in 2015. In 2017, he was elevated as the DMK's working president, when Karunanidhi effectively withdrew from active politics.
Ditching the veshti, Stalin wore formal shirts and pants, and rode a bicycle wearing a pair of sports shoes and sunglasses. While the DMK lost the 2016 elections, it became the single-largest party.
2016 election campaign
Stalin's 2016 election campaign is one that is widely remembered. He conducted a massive voter outreach programme "Namakku Naame Vidiyal Meetpu Payanam" (We for ourselves, journey to retrieve dawn). The campaign saw Stalin in bright colours, and westernised clothes giving up the trademark attire of Dravidian politicians of dhothi and shawl. The reach out plan covered all the 234 assembly constituencies. He made it a point to directly interact with people holding a string of programmes and rallies like the Vidiyal Meetru Perani.
It is maintained that Karunanidhi did not coddle Stalin. When the DMK came to power with just 96 MLAs in 2006, Karunanidhi did not offer Stalin any 'lucrative' portfolio but was given the local administration portfolio that required lots of review meetings and field visits, according to The Week.
Though his father had made it clear that Stalin was to be his natural heir, he stopped short of formally handing over the reins of the party to him. Karunanidhi's response to why he would do so was that "nature would decide in its course".
In 2016, Stalin was criticised for his inability to get the party back to power and make Karunanidhi chief minister for the sixth time. He was also blamed for failing to take advantage of the fissures within the AIADMK.
Stalin-Alagiri-Kanimozhi
After Karunanidhi's death, Alagiri's remarks about returning to DMK sparked a brief controversy, however, no drama was witnessed during the election at the general council meeting of the party on Tuesday.  Alagiri had announced his plans to hold a rally in Chennai early next month to show his strength.
The political battle between the brothers got intense after Alagiri on claimed, "All the supporters in Tamil Nadu are on my side and are encouraging me only. Only time will give the answers; that is all I am willing to say now."
In the rivalry of the two brothers, their half-sister Kanimozhi has been largely ignored by the media. Kanimozhi who is a Rajya Sabha MP from Tamil Nadu was charged by the CBI in the 2G spectrum case for the alleged scam in the dealings of Kalaignar TV, a television channel owned by the family. But she was later acquitted in 2017 by a special CBI court along with former MP A Raja.
There has been a constant debate on 'dynasty politics' regarding this political family, which was revived when Udhayanidhi Stalin, Stalin's son, in January announced that he would join active politics. His cousins, Arivunidhi (Muthu's son), Durai Dayanidhi (Alagiri' son) also harbour the dream of entering politics soon. Kayalvizhi (Alagiri's daughter) is reportedly all set to make her political debut.
Stalin and controversies
Stalin was not unknown to controversies. In 1980, it was reported that Stalin kidnapped Doordarshan news reader Fathima Babu. Fathima set the record straight in April this year, stating that nothing of the sort had happened.
In 2015, Stalin made it to headlines for slapping two men on different occasions. In one incident, he slapped an auto driver for clicking a selfie with him in Gudalur in Tamil Nadu. He was also caught on camera slapping a passenger in Chennai metro in July 2015.
There was uproar surrounding Stalin's visit to the Sri Sowmya Narayana Perumal Thirukovil temple in Thirukoshtiyur with his wife Durga and his party members. The temple visit stirred controversy since DMK is an atheist party. Stalin later clarified that he went only went to see the ancient sculptures in the temple.
Stalin recently got caught in a controversy for a remark he made on the idea of a "Dravida Nadu" - a hypothetical federation of India's southern states, reported India Today. He then insisted he made no demand for a separate state.
India
The Railways ministry said on Thursday that around 84 per cent of work has been completed on Pamban Bridge -- India's first vertical lift sea bridge. A special feature of this state-of-the-art bridge is its 72-metre-long vertical lift that can rise to a height of 17 metres to allow ships to pass
India
The applicant submitted that the single judge was not justified in law to defeat the route march that was a constitutional right of the party
Explainers
There's 'egg'cellent news for India from Qatar. Amid the FIFA World Cup 2022, the host nation has turned to Tamil Nadu to fulfil the growing demand for eggs. Those from Turkey, its major supplier, are more expensive than India's Namakkal variety