Kartarpur Corridor: Weeks after BJP, allies criticised Navjot Singh Sidhu for 'politicising' project, Cabinet approves it
While most of the criticism was directed at Navjot Singh Sidhu for hugging the Pakistan Army chief, he was also accused of politicising the Kartarpur Corridor issue.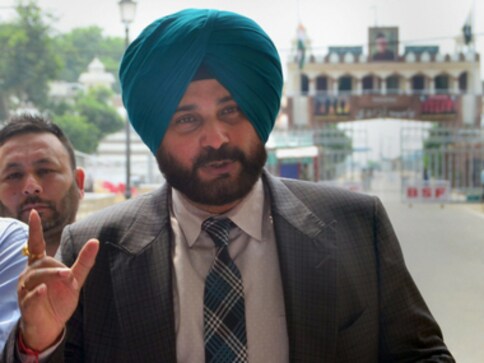 The Union Cabinet on Thursday approved the construction and development of the Kartarpur Corridor from the Dera Baba Nanak gurdwara in Punjab's Gurdaspur district to the India-Pakistan border, two months after the ruling BJP had attacked Congress leader Navjot Singh Sidhu for announcing that Pakistan had decided to allow Sikh pilgrims direct access to the gurdwara, clubbing it with its criticism of the Punjab minister for hugging the Pakistan Chief of Army.
The decision was made at a meeting of the Union Cabinet chaired by Prime Minister Narendra Modi in view of the 550th birth anniversary of Guru Nanak Dev in 2019. New Delhi said it will request Islamabad to recognise the sentiments of the Sikh community and develop a corridor with suitable facilities in their territory, as well, as the corridor will facilitate the movement of Sikh pilgrims visiting Gurdwara Darbar Sahib Kartarpur on the banks of the Ravi river in Pakistan.
The corridor had made headlines in August after Sidhu visited Pakistan to attend Prime Minister Imran Khan's swearing-in ceremony. During his visit, Sidhu had hugged Pakistan Army chief General Qamar Javed Bajwa and claimed to have done so because Bajwa had told him Pakistan may open a corridor to the Kartarpur Sahib shrine.
Sidhu's visit to Pakistan had caused a huge outcry among rival parties and garnered criticism not only for the hug, but also for the fact that he had attended Imran's ceremony when others from India had declined the invitation. Former Indian cricketers Sunil Gavaskar and Kapil Dev, whom Imran had invited to his oath-taking event, had given it a miss.
The BJP had used the opportunity to attack Sidhu, asking Congress president Rahul Gandhi whether the Punjab minister had his permission to attend Imran's event and whether he would suspend him immediately for his remarks. While a majority of the criticism was directed at him hugging the Pakistan Army Chief of Staff, he was also accused of politicising the subject of the route to the Kartarpur shrine, which is of great religious significance for Sikhs.
After his trip to Islamabad, Sidhu had claimed that he had taken the first step towards peace. He had also written to External Affairs Minister Sushma Swaraj to take up the subject of the Kartarpur Corridor for Sikh pilgrims from Punjab.
Reports said that Swaraj had, in fact, reprimanded Sidhu and told him that his behaviour in Pakistan went beyond the purpose of the visit. Swaraj is also believed to have said the Kartarpur Corridor matter should not be politicised as it was a sensitive one.
Shiromani Akali Dal chief Sukhbir Singh Badal had earlier criticised Sidhu on his actions, even calling him "mental" and accusing him of having "close relations" with Pakistan and its spy agency, the Inter-Services Intelligence (ISI). However, he lauded the Cabinet's decision on Thursday, making no mention of Sidhu.
"It's a historic day for the entire Sikh community, and we would like to thank Prime Minister Narendra Modi and his Cabinet. This has been a wish of each and every Sikh," he said.
Furthermore, Union minister Harsimrat Kaur Badal had earlier flayed Sidhu for "lying" on issues related to the Sikh faith, claiming that his actions were aimed at furthering his political agenda. While Sidhu had claimed that the Pakistani government was waiting for an official request from India to open the route, Badal said Sidhu had deliberately made it appear as though Islamabad was all ready to let in Punjabi pilgrims, and that the delay was from New Delhi's side.
She also said that Swaraj had replied to her letter, saying that the Pakistani government had, so far, neither agreed to include visits to Kartarpur by Indian pilgrims under a bilateral protocol, nor had it sent any official communication to establish the corridor on its side of the border.
On Thursday, however, Badal welcomed the decision of the Union Cabinet, hoping Pakistan would cooperate in the matter.
Making no mention of the earlier criticism he faced on the subject, Sidhu, too, on Thursday, expressed his satisfaction with the Cabinet's decision, also urging Imran to take reciprocal steps in Pakistan.
I humbly request the Government of India to dispense their duty towards 12 Crore 'Nanak Naam Laivas' world over, by writing to the Pakistan Government. I hope the draft for the letter is ready as promised by Hon'ble EAM Sushma Ji.

— Navjot Singh Sidhu (@sherryontopp) November 22, 2018
With inputs from agencies
World
Supporters of Khan's party, the Pakistan Tehreek-e-Insaf (PTI), clashed with police in the city of Lahore last week as they attempted to arrest him at his home, and later with police in Islamabad as he arrived to appear before a court on Saturday.
World
Imran Khan said that the rule of law is the fundamental right of the nation. He urged judges to take notice of the government's moves. He said that Pakistan is going through a decisive phase. He also asked the legal fraternity to protect the Constitution
World
Pakistan Tehreek-e-Insaf (PTI) chairman Imran Khan stressed that what is most crucial to his party is whether elections will take place according to the Constitution's provisions or not