Kartarpur corridor: Harsimrat Badal flays 'Pakistan agent' Navjot Sidhu, claims Congress leader lying about Sikh issues
When Navjot Singh Sidhu met Sushma Swaraj and urged her to help initiate dialogue with Pakistan on the opening up of the Kartarpur Sahib corridor the MEA 'reprimanded' the Punjab Congress minister for 'messing up' the issue of the Kartarpur Sahib corridor dialogue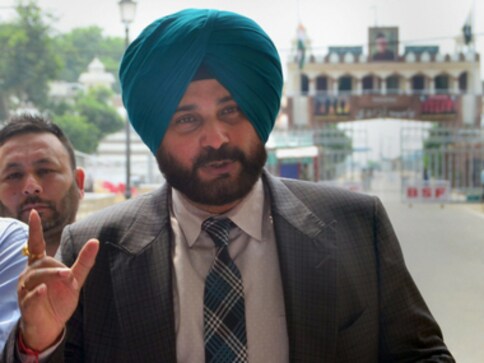 The controversy over Navjot Singh Sidhu's Pakistan visit drags on even almost a month on from the Punjab minister's cross-border visit to attend Pakistan prime minister Imran Khan's swearing-in ceremony.
In the latest development, Sidhu and Shiromani Akali Dal leader and Union Minister for Food and Processing Harsimrat Kaur Badal sparred over the former's visit and his claims relating to the opening of the Kartarpur Sahib corridor.
Sidhu, in a press conference, claimed that he had taken the first step towards peace and asked External Affairs Minister Sushma Swaraj to take up the issue of Kartarpur Sahib corridor for Sikh pilgrims from the Indian state of Punjab. However, Badal, in an almost parallelly held media address, flayed Sidhu for 'lying' on issues related to the Sikh faith to further his political agenda.
While Sidhu said that the Pakistan government was waiting for official request from India to open the route, Badal claimed that Sidhu deliberately made it to appear like Islamabad is all ready to let in Punjabi pilgrims and the delay is from New Delhi's side.
"I had written in my letter to EAM that 'kindly send a formal request from MEA to Government of Pakistan requesting an early agreement and opening of the Kartarpur passage after current monsoon season... A formal request should go from India's side. EAM said to me, 'the draft is being prepared and I will write a letter'," Sidhu told reporters.
However, Badal in turn wrote to the external affairs ministry and was seen citing another letter in her presser.
"I wrote to the externa affairs minister that it's being portrayed that Pakistan government gave a green signal over Kartarpur corridor but our government is doing nothing from its side. However, I was shocked when I received the minister's reply stating that there's nothing like that. There is no official communique from Pakistan on this," Badal said.
"He (Sidhu) said he hugged General (Qamar Javed Bajwa) as he said the Kartarpur corridor will be opened. But the truth is that no Pakistani government has so far communicated anything on this... Weeks passed, but the Congress minister couldn't produce any document to support his claim," Badal said.
Challenging Sidhu, Badal said, "He is such a close friend (of Pakistan prime minister) that out of the entire cricket team only Navjot Sidhu was invited. Let him produce a letter from Pakistan granting this. The moment that letter is produced, within 24 hrs, I'll have the corridor put up by Government of India."
Badal said, "I think he is a new agent that Pakistan has found and they are using him as a puppet and he is dancing to their tune. Let him dance and deliver to our people."
Badal also claimed that Sidhu did not have a proper appointment with Swaraj and went into her office along with another senior Congress leader MS Gill.
The controversy around Sidhu's visit was rekindled Monday when Sidhu met  Swaraj in New Delhi and urged her to help initiate dialogue with Pakistan on the opening up of the Kartarpur Sahib corridor. Badal, however, claimed that Swaraj "reprimanded" Sidhu for "messing up" the issue of the Kartarpur Sahib corridor dialogue.
Badal also said that Swaraj accused him of "misusing" the political clearance granted to him in visiting Pakistan recently to attend Imran Khan's swearing-in as prime minister. Sidhu had kicked up a row by hugging Pakistan Army chief Qamar Javed Bajwa and claimed that he did so as Bajwa told him that the Pakistan government was working out the opening of the Kartarpur corridor for Sikh pilgrims from the Indian state of Punjab.
The Indian Express reported that even though the Kartarpur issue had been discussed by Swaraj and Sidhu, the Indian government was waiting for an official statement on the matter from Pakistan. The report also said that Swaraj had, in fact, reprimanded Sidhu and told him that his behaviour in Pakistan went beyond the purpose of the visit. Swaraj also said the Kartarpur corridor matter should not be politicised, as it was a sensitive one.
Times Now quoted Minister of State for External Affairs VK Singh saying that, "Nothing has come from the (Pakistan) government's side. This issue has been going on for a very long time. If anything comes about, we will let you know."
Sources said Sidhu met Swaraj along with another senior Congress leader and a former Rajya Sabha MP to discuss the issue with her.
Meanwhile, senior Congress leader Pratap Singh Bajwa on Monday urged Prime Minister Narendra Modi to initiate talks with Pakistan to transfer the Kartarpur corridor to India in return for an alternate piece of land.  In a letter to the prime minister, the Rajya Sabha MP of the Congress asked him to show commitment to Sikhs across the country and give a "worthy gift" to them on the occasion of 550th birth anniversary of the founder of Sikhism — Guru Nanak Dev, that falls next year.
"It is my request that you, Sir, initiate bilateral talks with Pakistan on this issue and propose to transfer the Dera Baba Nanak-Kartarpur Sahib corridor to India, in return for an alternate piece of land," he told the prime minister in his letter.
Pratap Singh Bajwa, a former president of the Punjab Congress, said such a deal has historical precedent as in 1962, India swapped land for the area around Hussainiwala in Punjab, which housed the cremation site of Shaheed Bhagat Singh, Sukhdev, and Rajguru.
With inputs from PTI
also read
World
BRICS, an economic bloc that includes Brazil, Russia, India, China and South Africa, was formed on June 16, 2009. South Africa was the only country to join the block after its formation in December 2010.
World
'Today, Pakistan is releasing 200 Indian fishermen and 3 civilian prisoners. Earlier, 198 Indian fishermen were repatriated on May 12, 2023. This is in line with Pakistan's policy of not politicizing humanitarian matters. Compassion should take precedence over politics,' Bhutto tweeted
World
The Counterterrorism Department of Pakistan made several requests to the Federal Investigative Agency for the closure of the accounts in question. They also provided the details of these accounts, along with screenshots of illegal activities