Karnataka political crisis: BS Yeddyurappa confident of proving majority ahead of sixth floor test since 2007
As Karnataka prepares for a floor test at 4 pm on Saturday to ascertain whether the newly elected chief minister BS Yeddyurappa has the majority, this will reportedly be his fifth one in 11 years.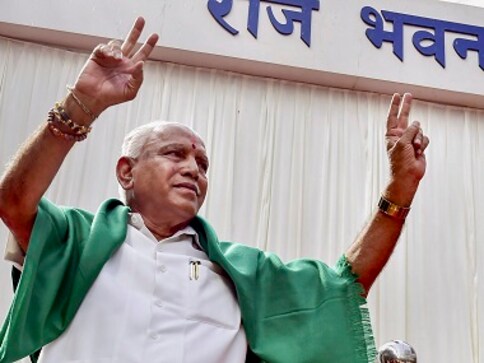 As Karnataka prepares for a floor test at 4 pm on Saturday to ascertain whether the BJP has the majority in the legislative Assembly, newly sworn-in chief minister BS Yeddyurappa will undergo his sixth floor test in 11 years. However, he said he was confident of a victory, saying that the BJP will have "absolute majority".
In 2007, Yeddyurappa faced his first floor test when his eight-day government collapsed after alliance partner JD(S) withdrew its support, according to Deccan Herald.
Six months later, the Deccan Herald report pointed out, the BJP came back to power and Yeddyurappa became chief minister again.
In June 2008, the then governor Rameshwar Thakur ordered a floor test. BJP won the trust vote in the Karnataka Assembly after the Congress staged a walk-out. According to Rediff, Yeddyurappa had requested that the vote of confidence be held immediately, but the Congress insisted that a debate be held before the vote of confidence takes place.
Soon after the debate, the Congress staged a walk-out following which the trust vote was held and the BJP won through a voice vote, the report added.
Yeddyurappa had to face another floor test in 2010. On 11 October, 2010, the Yeddyurappa government survived a test of strength, with a confidence motion being passed by voice vote. This came after then Speaker KG Bopaiah disqualified 11 dissident BJP MLAs and five Independents hours before the crucial vote of confidence, bringing the numbers to favour the BJP, according to an NDTV report. It further said that the Opposition parties called the disqualification "anti-democratic".
Just days later, the then governor HR Bhardwaj declared the 11 October floor test a "farce". He had recommended the Centre to impose President's Rule in the state, but gave "another opportunity" to Yeddyurappa to prove his strength in the Assembly.
Then in June 2011, the BJP Government in Karnataka headed by Yeddyurappa won the confidence vote in the Assembly 119-0 amid a walkout by the Congress and Independents and a boycott by the JD(S), reported PTI.
Saturday's floor test in Karnataka is also crucial for Yeddyurappa and the BJP, as the JD(S)-Congress combine has also staked a claim to form the government.
With inputs from PTI
World
Lawmakers have been arguing for years that Congress has ceded too much authority to the president over whether troops should be sent into combat, by passing and then failing to repeal open-ended war authorizations that presidents have then used for years to justify military action around the world
World
TikTok has come under increasing focus over fears that user data could end up in the hands of the Chinese government, undermining Western security interests
Explainers
A foie gras war is raging in New York, one of the world's most celebrated culinary centres, pitting the city, backed by animal rights activists, against duck farmers and restaurant owners, whose position is supported by the state