Karnataka govt formation: Opposition comes together in Vidhana Soudha; what should and shouldn't worry BJP
There are a few reasons why BJP leaders should not feel disheartened
Sonia Gandhi and Mayawati held hands and affectionately put their arms over each others' shoulders like old friends. They didn't try to patronise each other. After the swearing-in ceremony ended at the Karnataka Vidhan Soudha, the former Congress president asked Rashtriya Lok Dal (RLD) chief Ajit Singh to make way for the BSP chief to stand next her for an even better photo op.
Moments later, Rahul Gandhi and Chandrababu Naidu were seen standing next to each other on another part of the dais and exchanging notes. This picture was simply unthinkable until recently given that Congress and TDP are arch-rivals in Andhra Pradesh.
But, with BJP trying to make its presence felt in the state and YSR Congress posing a threat, old notions are changing. Though Naidu faced some awkward moments on the dais while walking just behind Sonia and Rahul and their Special Protection Group cover, there are times when such uneasiness doesn't matter much, especially when the abiding mantra is 'the enemy of my enemy is my friend'.
In yet another corner, Sitaram Yechuri and Mamata Banerjee faced each other cordially. It was interesting to watch Mamata, the foremost advocate of a "regional front" or "federal front" (not to be confused with erstwhile Congress-led UPA) interacting with other regional players as if she was a playing role of a co-host but not making an effort to be seen close to Gandhis. It was only towards the end, when leaders were about to disperse that Sonia was seen with Mamata. Mayawati was, once again, in the frame.
The swearing-in ceremony of HD Kumaraswamy as Karnataka chief minister and G Parameshwara as deputy chief minister turned into a virtual show of strength for anti-Modi forces, kind of an Opposition unity index guided by singular motive: Keep Modi and BJP away in 2019.
See the line up at lawns of Karnataka Vidhan Soudha: Sonia and Rahul, HD Deve Gowda, Sharad Pawar, Mayawati, Akhilesh Yadav, Tejashwi Yadav, Yechuri, Naidu, Arvind Kejriwal, Mamata, Sharad Yadav and others. It is not yet clear how some of these parties would come together — like the TDP and Congress in Andhra Pradesh or a TMC and CPM in West Bengal — but given the kind of political re-alignment that has been seen recently (SP-BSP in UP, Congress-Janata Dal (S) in Karnataka and RJD-Janata Dal United in Bihar even if for a brief period) sworn enemies have come together when faced with a certain existential crisis in face of brute force of Narendra Modi- Amit Shah's BJP.
While likes of K Chandrashekhar Rao's TRS, Naveen Patnaik's BJD, DMK and AIADMK may have opted out of the show of strength in Bengaluru, Shiv Sena may be feeling left out.  Sena is consistently targetting Modi and BJP, at times more aggressively than Congress or TMC, but it is yet to get an invite to the Opposition high table.
The pictures from Bengaluru should worry BJP strategists. If some regional enemies come together, it changes electoral arithmetic.
However, there are a few reasons why BJP leaders should not feel disheartened:
First, because elections are not about simple arithmetic but also about chemistry of the leader with the masses – Indira Gandhi with her "woh kahten hain Indira hatao main kahtin hun garibi hatao" slogan in 1971 and Narendra Modi with "achhe din" or "abki baar Modi sarkar" slogan in 2014.
Second, none of the parties and leaders on the podium in Bengaluru are in position to help each other: Say, SP in Karnataka or West Bengal or TMC in Uttar Pradesh or Bihar, or TDP in Madhya Pradesh, Congress and CPM, though have some national footprint. However, no one would know better than Akhilesh Yadav whether an alliance with Congress helped him improve or diminish his performance.
Third, the Opposition leaders have no programmes or policies to offer the people to seek a mandate for an alternative government in 2019. The only thing which brings them together is that they are faced with an existential crisis. Standing together brings them the psychological comfort they need: That they have a chance to survive. Anti-Modism or anti-BJPism is their only guiding mantra. The big question: Will people buy their completely negative agenda against incumbent prime minister?
Fourth, there is no leader of all the parties that gathered for a show of strength at Vidhan Soudha. Rahul appeared to be stiff, and didn't come across as a natural communicator with other regional leaders. In fact, his mother Sonia moved freely and chatted with various leaders. Even while Sonia and Mayawati were engaged in an extended conversation that looked to be in a most friendly spirit, Rahul stood there quietly.
Regional leaders were not falling over each other to meet and greet him, least of all the important ones with a mass base such as Mamata Banerjee or Sharad Pawar. Rahul's leadership position has been further altered after his "PM in 2019" remark in the run-up to Karnataka polls and after kind of drubbing Congress saw when the results were announced on 15 May.
Fifth, remember 3 June, 2017, when a whole host of Opposition leaders gathered in Chennai to celebrate DMK patriarch K Karunanidhi's 93rd birthday. It was hyped as one of the biggest show of strength in the run-up to presidential and vice-presidential election. The end result is known to the world.
More so, immediately after that, Bihar chief minister Nitish Kumar parted ways with Mahagathbandhan and once again joined hands with BJP in Bihar.
In 2019, "Modi versus rest" or "Modi versus who?" promises to be the battle of past few decades.
India
PM Modi's retort followed Rahul's recent lecture at the prestigious Cambridge University where he claimed that the basic structure of the Indian democracy was under attack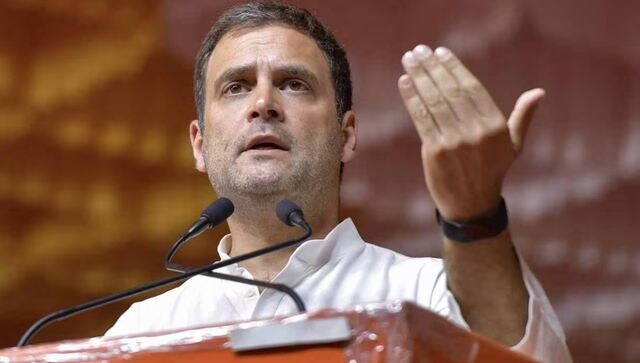 World
The BJP has accused Gandhi of maligning India on foreign soil while praising China.
Opinion
Rahul Gandhi genuinely aspires to become India's Prime Minister no matter the method or the cost