Karnataka election results: Bengaluru outcome reflects the state's emerging political balance
Of the 26 seats for which Assembly elections were held in Bengaluru urban district, the Congress won 13 seats, the BJP 11 seats and the JD(S) two
Bengaluru: Of the 26 seats for which Assembly elections were held in Bengaluru urban district, the Congress won 13 seats, the Bharatiya Janata Party (BJP) 11 seats and the Janata Dal (Secular) two. The election to the Jayanagar Assembly segment was postponed due to the death a candidate while that for Rajarajeswarinagar was deferred to 28 May following allegations of electoral malpractice.
By and large, voters in Bengaluru chose to re-elect most of the incumbent MLAs, with 22 of them winning their seats this time around. Considering only 94 MLAs across the state found themselves re-elected back into the Assembly, this is a resounding endorsement of the city's lack of appetite for change.
Congress candidate R Roshan Baig romped home by defeating BJP candidate Katta Subramanya Naidu, who had left the constituency more than a decade ago to contest from Hebbal. Baig, already a seven-time MLA, played a key role in constructing new blocks at Lady Curzon and Bowring Hospital and Ghosha Hospital in Shivajinagar, from where he has been elected five times. He has represented Jayamahal constituency twice.
R Akhanda Srinivas Murthy, a JD(S) rebel who contested on a Congress ticket, has retained the Pulakeshinagar constituency polling 97,574 votes as against Prasanna Kumar B of JD(S)' 15,948 votes and BJP candidate Susheela Devaraj received 9,479 votes. Development work, implementation of welfare schemes, facilitating widow pensions and easy access to the people all contributed to Srinivas Murthy's win.
KJ George, who served as home minister and minister for Bengaluru development, retained the Sarvagnanagar constituency by a margin of 53,304 votes. George, who was mired in controversy, toured the constituency extensively and commenced many developmental projects including strengthening of storm water drains, asphalting roads and providing drinking water.
Karnataka Pradesh Congress Committee (KPCC) working president Dinesh Gundu Rao retained Gandhinagar by a margin of 10,070 votes beating AR Sapathagiri Gowda of the BJP. Rao proved popular, especially with the Tamil-speaking population. BZ Zameer Ahmed of the Congress romped home by defeating nearest rival M Lakshminarayana of the BJP by a margin of 33,137 votes. Ahmed was with JD(S) and got elected from Chamarajpet in 2013. He shifted his loyalty to the Congress by cross-voting in favour of its candidate in the Rajya Sabha election.
In Mahadevapura, incumbent MLA Aravinda Limbavali of BJP won by a margin of 17,784 votes beating Congress candidate AC Srinivasa. Money and cadre helped Limbavali's campaign in a constituency reserved for scheduled castes. Home Minister Ramalinga Reddy has proved his mettle by winning from BTM Layout for the third time. Reddy won from this constituency by a margin of over 20,000 votes over Lallesh Reddy of BJP. His accessibility to constituents and simplicity are said to have worked in his favour. This is Reddy's seventh time as an MLA. He has earlier been MLA from Jayanagar on four occasions.
B Shivanna of Congress just about retained Anekal in the face of stiff competition from A Narayanaswamy of the BJP, winning the seat by a margin of 8,627 votes. But, BJP candidate S Muniraju lost the Dasarahalli seat to JD(S) candidate R Manjunatha by a margin of 10,675 votes. Congress retained its grip on Yeshvanthapura. JD(S) candidate TN Javarayi Gowda was defeated from this constituency by incumbent MLA and Congress candidate ST Somasekhar by a margin of 10,711 votes.
BJP candidate Dr CN Aswathanarayana defeated Kengal Shreepadarenu of Congress by a margin of 54,000 votes. Congress candidate M Krishnappa has retained the Vijay Nagar constituency by a margin of 2,775 votes. Money, caste and cadre are said to have worked in his favour.
Priya Krishna of the Congress lost Govindarajanagar to BJP candidate V Somanna by a margin of over 11,000 votes. Expectedly, BJP candidate and former deputy chief minister R Ashok retained Padmanabha Nagar by a margin of 32,166 votes. S Suresh Kumar of the BJP retained Rajaji Nagar assembly constituency by defeating his nearest rival G Padmavati of Congress by a margin of 9,453 votes.
NA Haris retained Shantinagar by a margin of over 18,000 votes against his nearest rival K Vasudeva Murthy of the BJP. Despite the adverse publicity over his son's involvement in an assault case, money and other allurements are said to have worked in the Congress candidate's favour. BJP candidate S Raghu retained CV Raman Nagar by defeating his nearest rival R Sampath Raj of the Congress, who is also the Mayor of Bengaluru. Raghu defeated Raj by a margin of 12,227 votes. Development of infrastructure and number of parks worked in favour of the incumbent MLA in addition to the deflection of Congress' P Ramesh to JD(S) when he was denied a ticket by the party.
Agriculture Minister Krishna Byre Gowda of the Congress retained Byatarayanapura constituency, however with a margin of over 7,000 votes over his nearest rival A Ravi of BJP. Ravi contested against Gowda for the third time and lost. Ravi Subramanya of BJP retained Basavanagudi by defeating his nearest rival K Bagegowda of JD(S).
Eleven candidates contested the polls in Bengaluru on the Aam Aadmi Party (AAP) ticket. All of them lost their deposits. AAP state convener Prithvi Reddy, got 1,755 votes. The spirited campaign by its cadres seem to have not mattered in the end. Another party whose large advertising budget didn't translate into votes was the All-India Mahila Empowerment Party (AIMEP), whose candidates also drew a blank.
Many of the urban voters Firstpost spoke to on polling day had made it clear that rather than the constituency, they were focused on the larger picture, casting their vote for a stable government. This has worked against smaller parties, who were hoping to win at least a couple of constituencies where they could demonstrate their capacity for development work.
Bengaluru, India's IT capital, saw a 51 percent voter turnout in the elections, significantly lower than the 57.33 percent tally in the 2013 Assembly elections. The BJP lost up to eight seats here by relatively small margins of less than 10,000 votes and that cost it a clear majority in the House. Despite having a large base of supporters among the city's techies, whom the party mobilised, it proved unable to convert middle class frustrations into votes.
With inputs from Ayswarya Murthy
Maheswara Reddy and Ayswarya Murthy are Bengaluru-based freelance writers and members of 101Reporters.com, a pan-India network of grassroots reporters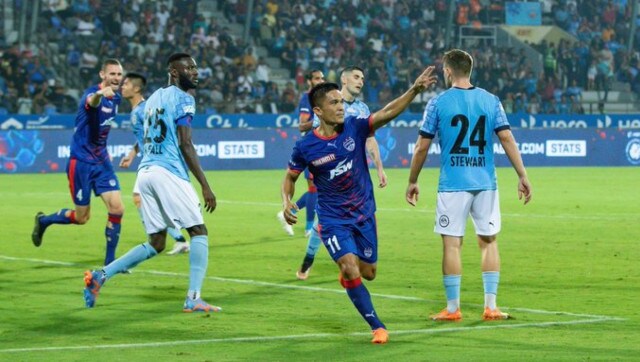 Football
Before the hour-mark, Bengaluru FC brought on Chhetri to replace Sivasakthi Narayanan, and the veteran India captain made the difference for his side for the second game in a row.
Football
Kerala Blasters, who controversially walked out of their ISL match against Bengaluru FC last week, were placed along with the same opponents in Group A which also has newly-crowned I-League champions RoundGlass Punjab FC.
Football
ATK Mohun Bagan defeated 2018-19 champions Bengaluru FC 4-3 on penalties after a tightly-fought contest between the two sides ended at 2-2 at the end of 120 minutes.