In a dramatic turn of events in the course of counting of votes for the Karnataka Assembly Election, the Congress on Tuesday announced its backing to the Janata Dal-Secular (JD-S) to form a government to prevent the BJP from regaining power in its only southern bastion.
After the initial euphoria of the Bharatiya Janata Party crossing the half-way mark in the 224-member Assembly where two constituencies didn't vote on Saturday, Election Commission data showed the BJP could end up with 104 seats. This would be eight seats short of a simple majority in a House where no one else appears ready to back the BJP.
Through the ups and downs of election results day, several big winners emerged – Congress candidate Siddaramaiah emerged victorious in a tight contest in Badami but lost out in Chamundeshwari; Janata Dal (Secular) state chief HD Kumaraswamy easily won from both Ramanagara and Channapatna; BJP's chief ministerial candidate BS Yeddyurappa won in his constituency of Shikaripura.
Here are some of the biggest winners of Karnataka Assembly Election 2018: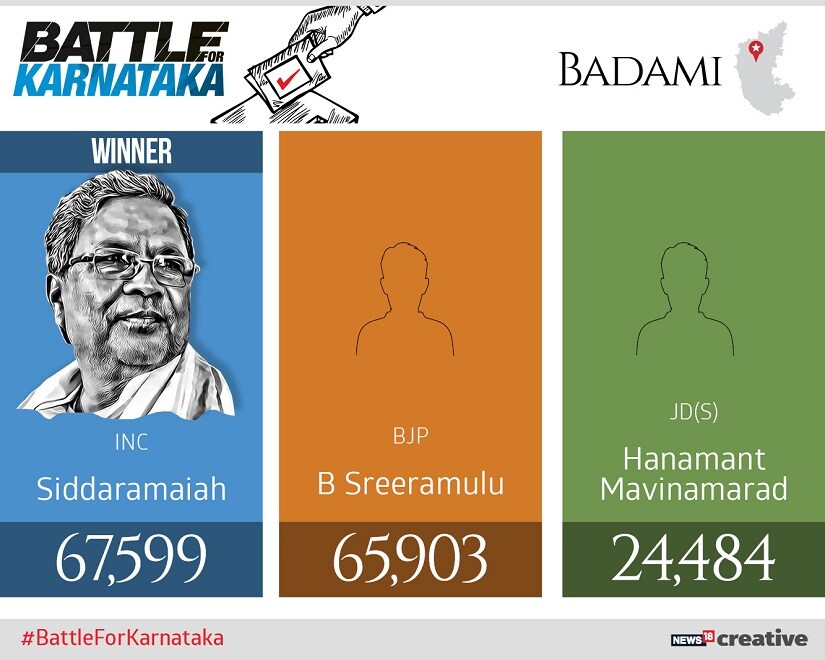 Siddaramaiah
Congress candidate Siddaramaiah emerged victorious in a tight contest in the crucial Badami Assembly constituency with the incumbent chief minister edging past BJP's B Sreeramulu by 1,696 votes.
Siddaramiah received 67,599 votes as against B Sriramulu who received 65,903 votes. JD(S) candidate Hanamant Mavinmarad finished way behind in the race in third place with 24,484 votes.
Badami, which has a population of over 3.3 lakh (census 2011), had an electorate of 1,96,673 in 2013. It was a crucial contest for the Congress as it has a significant presence of scheduled castes, scheduled tribes, Muslims and other backward castes — the bedrock of Siddaramaiah's support base.
Siddaramiah decided to contest from the constituency along with Chamundeshwari. The incumbent chief minister gave up the Varuna constituency for his son Yathindra.
HD Kumaraswamy
Janata Dal (Secular) state chief HD Kumaraswamy won easily from both Ramanagara and Channapatna, the two seats he contested from. Kumaraswamy won in Ramanagara with a margin of 22,636 votes and in Channapatna with a margin of 21,530 votes.
But with Karnataka set for a hung Assembly, political circles are abuzz with the possibility of a Congress-JD(S) tie-up. The JD (S) has sought the chief minister's seat for HD Kumaraswamy. The BJP is currently ahead in 104 seats, followed by the Congress at 78 and JD(S) at 38.
BS Yeddyurappa
BJP's chief ministerial candidate BS Yeddyurappa won in his constituency of Shikaripura by a margin of 35,397 votes. Yeddyurappa has been contesting from the constituency of Shikaripura in Shivamogga district since 1983, having lost only once. He won the seat in 2013 as well— by 69,126 votes — against HS Shanthaveerappagowda of the Congress.
Yeddyurappa won the constituency with 86,983 votes ahead of Congress' Goni Malatesha, with 51,586 votes.
GT Deve Gowda
JD(S) leader GT Deve Gowda won from the Chamundeshwari constituency, defeating Siddaramaiah by over 30,000 votes. While Gowda got a total of 1,21,325 votes, Congress nominee Siddaramaiah polled 85,283 votes. BJP candidate SR Gopal Rao got 12,064 votes.
During the initial stage of the counting of votes, Siddaramaiah was seen trailing in both Badami and Chamundeshwari from where he was seeking re-election. While Deve Gowda surged ahead soon after the counting began, a JD(S) victory became a certainty after the twelfth round of counting when he led by a margin of 12,000 votes.
S Yathindra
Siddaramaiah's son Yathindra won by a margin of over 50,000 votes in Varuna. Yathindra's victory comes after his father Karnataka chief minister Siddaramaiah vacated the Varuna seat for his younger son.
A doctor, Yathindra stepped into politics after the death of his brother Rakesh and is seen as Siddaramaiah's successor. Yathindra was going to take on BS Yeddyurappa's son, BY Vijayendra, in Varuna but the BJP fielded Basavaraju instead at the last minute.
With the win, this is the third election the Siddaramaiah family has won from Varuna after the 2008 and 2013 Assembly elections when Siddaramaiah had won the seat by a convincing margin.
The Congress won the Varuna seat in the 2013 Karnataka Assembly election with a margin of 29,641 votes (18.45 percent) securing 52.53 percent of the total votes polled. In 2013, the seat witnessed a voter turnout of 82.43 percent, reported News18.
DK Shivakumar 
Veteran Congress leader DK Shivakumar won the Kanakapura constituency by 79,909 votes. Shivakumar defeated JD(S) candidate Narayana Gowda, who got 47,643 votes. He had also won the Kanakapura constituency in Karnataka Assembly elections in 2013 and 2008 as well.
Reddy brothers
The Reddy brothers from Bellary, it seems, are back in business. BJP candidates G Somasekhara Reddy and G Karunakara Reddy comfortably won from Bellary City and Harapanahalli respectively.
Somasekhara won against Congress candidate Anil Lad, also a mining baron, by over 16,155 votes, and Karunakara won over Congress candidate Ravindra by 9,647 votes.
The brothers, including former BJP minister Gali Janardhana Reddy and their aides, were among the key accused in the alleged illegal mining racket between 2008 and 2013 when Yeddyurappa briefly served as chief minister till 2011.
KS Eshwarappa
BJP leader KS Eshwarappa won the Shivamogga City constituency by a margin of 46,107 votes. The 69-year old veteran politician has held Cabinet positions in previous BJP governments in the state and served as the deputy chief minister in the Jagadish Shettar-lead government from 2012 to 2013.
G Parameshwara
Dr G Parmeshwara of Congress won in the Koratagere constituency by a margin of 7,619 votes. JD(S) had fielded PR Sudhakar Lal and the BJP had given a ticket to YH Huchaiah.
Parameshwara was born in Gollahalli of Tumkur district of Karnataka. The Congress candidate from Koratagere is also the President of KPCC. He also served as home minister of Karnataka from 2015 to 2017.
BS Sreeramulu
Sreeramulu is certain to win in Molakalmuru constituency. He is leading (as of 18:07 pm) with a healthy margin of 42,045 votes. Sreeramulu is touted as the rising star of BJP in Karnataka. The Bellary MP came to limelight after he worked closely with senior leader Sushma Swaraj during her run for Lok Sabha elections in 1999.
S Kumar Bangarappa
BJP's S Kumara Bangarappa won the Sorab constituency with 72,091 votes against his brother Madhu Bangarappa of the JD(S), who has 58,805 votes. Bangarappa and his younger brother, sons of the former chief minister S Bangarappaare faced each other in Sorab constituency.
| | | | |
| --- | --- | --- | --- |
| List of prominent winners |   |   |   |
| Constituency | Winning Candidate | Losing Candidate | Vote Margin |
| | | | |
| Badami | SIDDARAMAIAH | B SREERAMULU | 1,696 |
| Ramanagaram | HD KUMARASWAMY | IQBAL HUSSAIN HA | 22,636 |
| Channapatna | HD KUMARA SWAMY | CP YOGEESHWARA | 21,530 |
| Shikaripura | BS Yeddyurappa | GONI MALATESHA | 35,397 |
| Chamundeshwari | GT DEVE GOWDA | SIDDARAMAIAH | 36,042 |
| Varuna | YATHINDRA S | T BASAVARAJU | 58,616 |
| Kanakapura | DK SHIVAKUMAR | NARAYANA GOWDA | 79,909 |
| Bellary City | G SOMASEKHARA REDDY | ANIL H LAD | 16,155 |
| Harapanahalli | G KARUNAKARA REDDY | MP RAVINDRA | 9,647 |
| Shimoga | KS ESHWARAPPA | KB PRASANNA KUMAR | 46,107 |
| Koratagere | DR G PARAMESHWARA | PR SUDHAKAR LAL | 7,619 |
| Molakalmuru | B SREERAMULU | B YOGESH BABU | 42,045 (lead) |
| Sorab | S KUMARA BANGARAPPA | S MADHU BANGARAPPA | 13,286 |
With inputs from agencies.
Click here to follow LIVE updates on Karnataka Election Results 2018
Click here for detailed coverage on Karnataka Assembly Election 2018
Updated Date: May 15, 2018 18:17:37 IST