Karnataka Election 2018: Disgruntled with Congress' list of candidates, partymen take to streets, vandalise district offices
Disgruntled with the first list of candidates in the upcoming Assembly Elections in Karnataka, Congress party workers took to streets on Monday chanting anti-Siddaramaiah slogans, burning tyres and effigies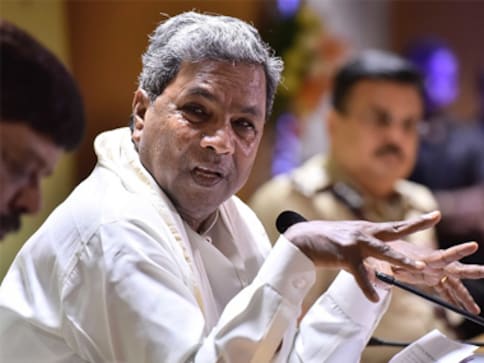 Disgruntled with the party high command's first list of candidates in the upcoming Assembly Elections in Karnataka, Congress party workers took to streets on Monday to express their anger. Media visuals showed party workers chanting anti-Siddaramaiah slogans, burning tyres, effigies etc on the streets.
Things turned little uglier in Mandya where angry Congress workers vandalised the party's district offices. CNN-News18 tweeted videos showing party workers breaking office furniture, tearing papers and shouting slogans inside party office. Similar protests were held in Chikmagulur were party workers broke chairs.
The chikmagulur seat was given to Vokkaliga leader BL Shankar. Congress leader KS Shanthe Gowda had lost the seat durig the 2013 Assembly polls against BJP's CT Ravi. Reports claimed that partyworkers were not happy with the change in candidate.
According to News18, in Mandya, party workers are reportedly uhappy with the Congress leadership deciding to nominate incumbent Congress leader Ambareesh. The actor-turned-politician had reportedly not shown much interest in the welfare and development of the constituency.
In Nelmnagala, supporters of ticket aspirant Anajana Murthy reportedly staged a protest after he was denied ticket from the constituency. The protesters burnt tyres on the highway and shouted slogans.
In Mangaluru, Congress workers marched to the party's office against the first list of candidates. Voices of dissent were also heard from heard from Hangal, Mayakonda, Jagalur, Tiptur, Kunigal, Kolar, Kollegal, Belur, Badami, Kittur and many other constituencies, Times of India reported.
While in Hangal, supporters of sitting MLA Manohar Tahsildhar staged a protest over denial of the party ticket to their leader, in Kittur, supporters of five-time MLA DB Inamdar were up in arms, the report said. The party high command is reportedly planning to field Inamdar's relative Babasaheb Patil from the seat.
Jagalur incumbent MLA HP Rajesh reportedly rushed to Bengaluru late Sunday night to meet chief minister Siddaramaiah after his name failed to figure on the list.
The current rebellion within Congress' Karnataka unit is being linked to growing differences between senior Congress leaders Mallikarjun M Kharge and D Shivakumar.
However, the party state leadership has underplayed the angst, stating the response was expected.
"These will settle down. These things do happen. Within the next few days, you will see the issues settling down. Congress is a huge family, and we can always accommodate them (those who have not been named in the current list) in other positions. The party will look after you, take care of you," Karnataka Prades Congress Committee working president D Gundu Rao told CNN-News18.
Karnataka Congress' new media coordinator Brijesh Kalapa was also among those who voiced their dissent over the first list. Speaking about Kalapa, Rao said that the Karnataka Congress media coordinator came very late to aspire for the seat.
The party has been accused of nepotism in the list with Siddaramaih's son Yathindra contesting from the Varuna constituency, a seat traditionally held by the chief minister.
Rao also defended the party's decision to field Yathidra and the allegations of nepotism. "If someone's son and daughter are going to be good candidates for a constituency, why shouldn't they be fielded? Yathindra has been managing Congress' social media, and has also been involved in the party functioning," Rao said.
Siddaramaiah, 69, will contest from Chamundeshwari in Mysuru, where he had contested seven times since 1983 and won five times.
BJP also reacted to the ongoing rebelliion among Congress workers, with party leader DV Sadananda Gowda accusing the party of giving preference to family members.
Congress on Sunday declared 218 candidates for the 12 May Assembly elections, withholding names for remaining six seats of the 224-member House.
According to Congress general secretary Mukul Wasnik, who released the list in the national capital, the candidates were selected by the party's Central Election Committee from the names its screening committee recommended after a two-day meeting in New Delhi on 9 and 10 April.
The party has given tickets to 15 women candidates, including Women and Child Welfare Minister Umashree from Tardal, Lakshmi Ravindra Hebbalkar from Belgaum Rural, Anjali Nimbalkar from Khanapur, Soumya R from Jayanagar and Sushma Rajgopal Reddy from Bommanahalli.
The party is yet to name candidates for Shantinagar segment in Bengaluru Central, Kittar, Nagthan, Sindgi, Raichur and Melukote.
The Congress returned to power after a decade in 2013, winning 122 seats and Siddaramaiah breaking a 40-year-old record to complete the five-year term as Chief Minister.
The Opposition BJP released its first list of 72 candidates on April 8, while Janata Dal-Secular (JD-S) named 126 nominees on March 27. The BJP's second list of BJP is expected to be released on Monday afternoon.
With inputs from IANS
India
Looking at ensuring seamless air-travel for passengers, initially those travelling on the domestic route, the project will permit travellers to pass through various checkpoints at airports through paperless and contactless processes using only their facial features to establish their identity
India
The border dispute dates back to 1957 after the reorganisation of states on linguistic lines. Maharashtra laid claim to Belagavi which was part of the erstwhile Bombay Presidency as it has a sizeable Marathi-speaking population. It also laid claim to 814 Marathi-speaking villages which are currently
India
Chief Minister Basavaraj Bommai had recently said serious discussions were going on for implementing the UCC in Karnataka