Jammu and Kashmir local body polls: At least 25 Pandits from Jammu elected on BJP tickets from Valley
There are at least 25 Kashmiri Pandits from Jammu who have been elected on BJP tickets from Kashmir in the urban local body polls.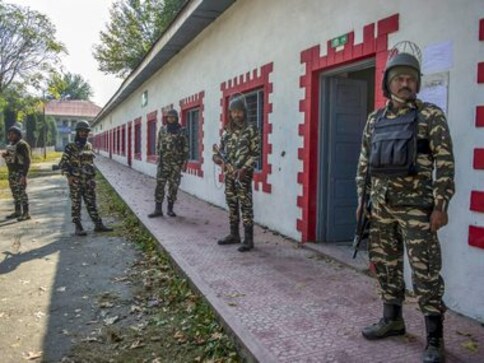 Srinagar: He was the BJP candidate for the seat of Pahalgam in south Kashmir in the 1996 Assembly elections. Now, years later, Rakesh Koul, a Kashmiri Pandit who lives in the Janipur area of Jammu, has been elected unopposed in one of the wards of the Mattan Municipal Committee. He is hoping to be its chairman after the results for the elections to the urban local bodies (ULB) are announced on 20 October. Two other Kashmiri Pandits have also been elected uncontested to the municipal committee, and Koul is also expecting the support of others in the municipal body.
Koul's win is remarkable, as he migrated to Jammu along with other Hindus after armed militancy erupted in Kashmir in 1989. Though he lives in Jammu, which is at a distance of at least ten hours from Mattan, he said he will try to "carry out development in the area" from which he has won. " We first migrated to Jammu and later to Delhi. I live in Jammu, but I would work for the development of Mattan area. In Mattan, while three persons were elected unopposed, five others contested on BJP tickets," he said.
Like Koul, there are at least 24 other Kashmiri Pandits from Jammu who have been elected on BJP tickets from Kashmir. On counting day, the migrant voters could seal the fate of many contestants, as in many wards, only 2-3 percent votes were cast. The authorities had allowed Pandits to vote through postal ballots.
Rattan Lal Bhan, the chairman of All India Kashmiri Hindu Forum, said that nearly 3 lakh Kashmiri Pandits were eligible for voting in elections to municipal bodies in Kashmir. A large number of migrants registered to cast their ballot. For instance, in the Muthi migrant camp in Jammu, nodal election officer Virender Sathoo said that at least 600 postal ballots were issued.
Bhan said that the contesting of Kashmiri Pandits was a step towards the return of the migrants to Kashmir. " We are Kashmiris and so have a right to vote and contest on the wards in Kashmir," he said.
The voting rights to the Kashmiri Pandits who migrated out of the Valley, however, drew criticism from Kashmir-based political parties, who see this as another ploy by the BJP to control the municipal bodies in the region. In contrast to Jammu, from where the BJP won 25 Assembly seats in the 2014 elections, from Kashmir, it didn't even win a single seat.
But due to the boycott by the National Conference and Peoples Democratic Party (PDP), 80 BJP candidates have been elected unopposed in the urban local body polls, 33 percent of whom are migrant Hindus.
BJP's state general secretary Ashok Koul said that the party fielded at least 35 Kashmiri Pandit candidates on different wards in Kashmir, of whom around 25 have been elected unopposed. "In Srinagar, there is a contest on three seats on which Kashmiri Pandits have filed nominations. Likewise, in other parts, Kashmiri Pandits are in contest with others."
Former minister and senior National Conference leader Ali Mohammad Sagar, however, said, " These elections are a big sham in the name of democracy. In 2005, when former chief minister Mufti Mohammad Sayeed got the elections conducted, the votes of Kashmiri migrants were in Jammu, which was done through a decision of the state cabinet. But this time, without a cabinet decision or any consultations, the Kashmiri Pandit migrants were made voters for urban local bodies in Kashmir."
He said that it was for the first time that the polling percentage was a mere 3 percent, and remarked, "How can they carry out development in Kashmir when they have migrated to Jammu?"
Hakeem Yaseen, MLA from Khan Sahib and People's Democratic Front (PDF) leader, said that Kashmiri Pandit migrants contesting on seats in Kashmir have "turned the election into a joke."
He said, "Even though previous governments had promised jobs to the migrants in Kashmir, they were not ready to return. How can a candidate who got elected unopposed or on a thin margin work in Kashmir, when the government has been claiming that the security situation is not conducive for the return of migrants?"
However, Koul said that the BJP fielded Kashmiri Pandit migrants in Kashmir as their names were registered in urban local bodies in the Valley, and not in Jammu. "Although state subjects can contest from anywhere, a proposer for a candidate has to be a voter from the concerned ward," he said.
World
Police identified the gunman as a 21-year-old resident of east Jerusalem. There has been no indication that he had prior involvement in a militant activity or was a member of an established Palestinian armed group
World
According to the Observatory, which has a vast network of sources inside Syria, the strikes destroyed a convoy of six refrigerated trucks carrying Iranian weaponry in the Albu Kamal border region
Opinion
One must admire the audacity of the British establishment which has taken to the most egregious slander against Prime Minister Narendra Modi on the BBC, trying to incite Muslim revolt in India with blatant lies, even as it is negotiating the FTA