Jammu and Kashmir local body polls: Panchayati raj institutions fail to take wing; locals blame 'political interference'
Political interference by the Jammu and Kashmir state government seems to have played spoilsport with respect to the institution of panchayati raj.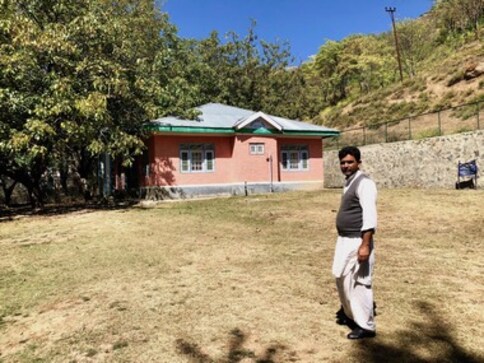 Editor's note: With municipal and panchayat elections round the corner in Jammu and Kashmir, Firstpost will run a series of ground reports on different aspects of the polls, as well as the state of panchayati raj institutions and how they can empower democracy at the grassroots. The series will also look into the state of security arrangements, as voters and candidates face threats of attacks by militants.
***
Watlab, Sopore: Political interference by the Jammu and Kashmir state government seems to have played spoilsport with respect to the institution of panchayati raj and empowerment of democratic governance in the state.
Despite militant threats and calls for boycotting the panchayat polls, it would have been likely that at least people in north Kashmir would have participated in the election. The region has witnessed a semblance of peace, in contrast to the turmoil in south Kashmir. However, the step-motherly approach of the state and central government with respect to the elected representatives, bureaucratic hurdles and political interference have damaged the institution. During the last election, over 79 percent of the electorate exercised their right to vote. The process stretched over 17 phases, with 5.07 million voters electing a total of 4,130 sarpanchs (village heads) and 29,719 panchs.
Bashir Ahmad Magray, a former sarpanch of the Watlab village of Sopore in north Kashmir, said that people had participated in the electoral process because they expected some changes in terms of infrastructure development and prompt delivery of basic services. However, this did not happen, according to him. This region had witnessed a heavy turnout during the panchayat elections in 2011.
Magray, 54, says that the government constructed a panchayat ghar at a cost of Rs 22 lakhs, but no one was employed to take care of it, "When I realised that miscreants may burn it down in case the situation turns volatile, we raised funds, purchased computers and books for children, and set up a gym for youngsters, who subsequently felt a sense of ownership towards it. Whatever we bought, it was out of our own goodwill," Magray said.
Magray said that even the honorarium of Rs 2,000 for sarpanchs was not paid to them for 21 months, despite dozens of sarpanchs having met the former and the present governor for the release of payments.
"We were treated like outcasts by the very government which was supposed to help us in undertaking infrastructural development in villages," Magray said.
To improve infrastructure and deepen participatory democracy at the grassroots level, the Jammu and Kashmir government enacted the Village Panchayat Act in 1958, which replaced a legislation enacted in 1951. Another legislation — the Jammu and Kashmir Panchayati Raj Act was introduced in the Assembly in 1988, and passed in March 1989.
The first elections under the Act were held in 2001, twelve years after the legislation was enacted. But due to widespread violence, the institution of panchayati raj failed to take off.
"If you just look at the number of representatives and their impact on the ground level in terms of strengthening democracy, it is phenomenal. But corruption and ego wars made the panchayati raj similar to other institutions of the state which are defunct. Everyone blames conflict for this, but that is not the case," Noor Mohammad Baba, a noted political commentator, says.
Every Halqa Panchayat consists of not less than six panchs and a sarpanch. This reporter spoke to 12 panchs and sarpanchs in Baramulla, Sopore and Bandipora in north Kashmir. Each one of them complained of political interference by local MLAs or bureaucrats. "MLAs pressurise block development officers to give work to their favoured persons, rather than through panchs or sarpanchs," Magray said.
Ali Mohammad Sagar, former panchayat minister in the Omar Abdullah-led government, agrees that there is political interference. "We first saw the dream of building grassroots institutions for local development. Then, the same institutions were destroyed by our own people," Sagar said.
The 4,098 panchayat bodies in the state — including 2,145 in Kashmir and 1,953 in Jammu — were defunct for two decades before the delimitation of panchayats. Subsequently, 280 new panchayats and 4,000 panch segments were constituted.
After the delimitation early this year, the number of the existing panchayat bodies rose to 4,378. The number of panch segments has gone up by about 4,000, taking the total number of panch constituencies to 33,402. There were 29,402 panch segments in the state prior to delimitation.
Jehangir Rasool Reshi — who lives some 17 kilometres north of Watlab village — also believes that the panchayat institutions do not function properly because of political interference. He is so desperate to get rid of the title of 'sarpanch' from his name that he wants someone, anyone, to submit a form and fight the upcoming election.
"We jumped into a fire to pull our village out of backwardness. There was no road, water or electricity. However, because of political interference, we could not do anything," Reshi said.
He further said that people had expectations, but "we could not fulfil them because of MLAs and bureaucrats".
"People will not participate in the exercise now. Hardly anyone is ready to submit the form, leave alone voting in the elections," Reshi said. "Until and unless the Panchayat Act is amended and full powers are given to sarpanchs, there is no point participating in the election."
Anil Sharma, state president of the All Jammu Kashmir Panchayat Conference (AJKPC) says that twelve of its members have been killed till now. He says, "They should ensure that the three-tier Panchayati Raj system is put in place by holding polls to Block Development Councils (BDCs) and District Planning and Development Boards (DPDBs) to strengthen democracy at the grassroots level."
"There should not be a repeat of the 2011 panchayat polls, when promises were made to constitute BDCs and DPDBs, but no such initiative was taken. This disempowered the people and encouraged corruption." Sharma said.
However, there are some optimists too. Fayaz Ahmad Pandit wants to fight the election again this time if the situation remains peaceful in Baramulla. Pandit, a resident of Gantmulla area, is a driver by profession. However, he was able to carry out some development works in his area with the support of a local MLA.
"Footpaths, protection walls, graveyard fencing, solar lights and housing for the poor, this is what it is all about. It has nothing to do with the larger Kashmir problem. So why be scared?," Pandit says. He adds, "If I don't, someone else will do it. That person may ask for bribes from villagers to carry out developmental works. I don't want that to happen."
Read Part II: Jammu and Kashmir local body polls, Part II: Few women seek office in face of violence from militants, govt apathy
Explainers
From claiming traffic congestion causes divorce to jumping to the defence of Maharashtra governor Bhagat Singh Koshyari amid the Chhatrapati Shivaji Maharaj row, Amruta Fadnavis has shown a penchant for making news
Explainers
Lalit Patidar, 17, from Nandleta village, said he was diagnosed with the condition at the age of six. Less than 50 cases of hypertrichosis have been recorded since it was first documented in 1648
World
Despite its successes, Ukraine has only reclaimed 55 per cent of the territory taken by Russia since the February invasion