Jammu and Kashmir cabinet reshuffle: BJP inducts pro-Hindutva faces, MLA who defended Kathua rape accused
The BJP compounded the difficulties for Mehbooba Mufti by inducting some of the pro-Hindutva faces into the Council of Ministers, including Rajiv Jasrotia.
Srinagar: The BJP on Monday compounded the difficulties for Jammu and Kashmir chief minister Mehbooba Mufti, by inducting Rajiv Jasrotia, its Kathua MLA – who took part in the rally organised by Hindu Ekta Manch (HEM) seeking a CBI probe into the rape and murder of eight-year-old girl – into the Council of Ministers, along with some other pro-Hindutva faces.
Besides Jasrotia, another BJP MLA from Hiranagar constituency, Kuldeep Raj, and former ministers, Chaudhary Lal Singh and Chander Prakash Ganga, had taken part in the rally which was organised by HEM in Kathua.
President of HEM, Vijay Sharma, said that Jasrotia had been among the vocal supporters of the CBI probe in the rape and murder of an eight-year-old girl in Kathua. "The Rasana area falls under Hiranagar constituency, so besides the local MLA, Jasrotia, Lal Singh and Ganga, participated in the rally which was taken out in favour of CBI probe in Kathua," he said.
The party also chose to induct Kavinder Gupta as deputy chief minister, replacing Nirmal Singh. Gupta was inducted even after he flaunted his RSS ideology and had said earlier that he was a proud RSS man as Speaker. He also took part in the rallies taken out by the right-wing group while he was Speaker and blamed Rohingya Muslims for the attack on the army camp at Sunjwan earlier in February this year, in which six army men and four militants were killed while many others were injured.
Eight Ministers were administered an oath of office and secrecy by Governor NN Vohra in Jammu, including six from BJP and two others from PDP.
The BJP also elevated its Kishtwar MLA, Sunil Sharma, as a cabinet Minister and inducted its Doda MLA, Shakti Raj, as minister of state to give representation to the Chenab Valley region, where the party had gained votes and trounced NC and Congress in the 2014 Assembly elections.
The party romped home in view of the polarisation after the disruption of an Eid procession in Kishtwar in 2013 where Hindus and Muslims clashed with each other and the communal frenzy led to the killing of three people. The Kishtwar MLA was accused of stoking the unrest in the region.
The party also inducted Devinder Manyal, Samba MLA, representing the SC community in the Council of Ministers, besides its state president, Sat Sharma. Sharma's tenure as BJP state president is ending in December this year, but the party is looking at holding the elections for the position before that. Even as BJP inducted Manyal, it dropped Bali Bhagat, another MLA elected on SC seat, from the Council of Ministers.
In contrast to Nirmal, Gupta is seen to be a strong pro-Hindutva voice in the Council of Ministers and earlier took part in the rallies which were organised by the RSS in Jammu. Gupta, who remained as mayor of Jammu city before getting elected as MLA from Gandhi Nagar Assembly constituency after defeating former minister and Congress leader Raman Bhalla, had courted controversy as he took part in the RSS rally which was taken out in Jammu on 26 October, 2015.
The rally had passed through many areas of Jammu city and was also attended by the party's Jammu East MLA, Rajesh Gupta. On the contrary, Nirmal was not considered to be vocal on issues which formed the core ideology of the party and was made to apologise by former chief minister Mufti Mohammad Sayeed, in the Assembly after the attack by BJP MLAs on independent lawmaker, Engineer Rashid, for organising a beef party at the MLA hostel in Srinagar.
Even as Mehbooba was attacked by the Opposition parties with former chief minister and NC working president, Omar Abdullah, taking to Twitter and accusing BJP of being "confused" as it inducted Jasrotia and dropped Lal Singh and Ganga from the Council of Ministers, the chief minister, however, tried to check the dissensions within her own party by bringing in Sonwar MLA, Mohammad Ashraf Mir, as a cabinet minister. He was dropped by Mehbooba even as he had defeated Abdullah from Sonwar Assembly constituency in the last Assembly elections and was a minister of state (MoS) in Sayeed's Council of Ministers.
The PDP also inducted Pulwama MLA, Mohammad Khalil Bandh, as a minister to gain a foothold in the southern part of Kashmir, where people are disrupting the anti-militancy operations by taking part in stone pelting during the encounters.
Find latest and upcoming tech gadgets online on Tech2 Gadgets. Get technology news, gadgets reviews & ratings. Popular gadgets including laptop, tablet and mobile specifications, features, prices, comparison.
India
In her first media interaction in over 14 months, Mufti added that the Gupkar Alliance will make a final decision on whether or not the constituent parties will contest the District Development Councils polls
Politics
'Jammu and Kashmir is an integral part of our country, so only one flag can be hoisted in Jammu and Kashmir and that is the national flag,' Ravinder Raina said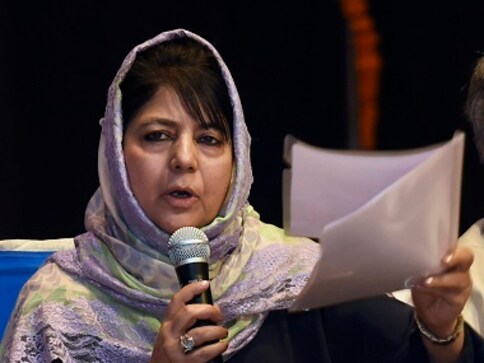 India
Former chief minister Omar Abdullah, welcoming Mehbooba's release, called her detention "a travesty" and said it was "against the basic tenets of democracy".