'Kathua case just a small incident': Jammu and Kashmir deputy CM Kavinder Gupta causes stir hours after being sworn in
Jammu and Kashmir's new deputy chief minister Kavinder Gupta created a stir just hours after being sworn in by claiming that the rape and murder of an eight-year-old girl in Kathua was just a 'small incident.'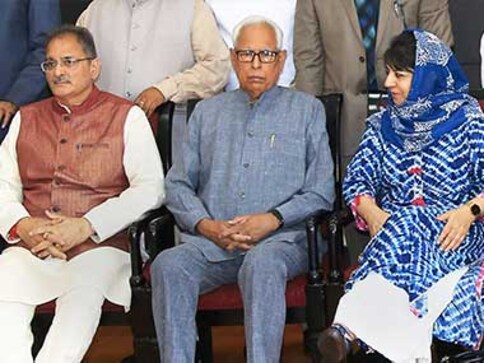 Jammu and Kashmir's new deputy chief minister Kavinder Gupta created a stir just hours after being sworn in by claiming that the rape and murder of an eight-year-old girl in Kathua was just a "small incident."
The former Jammu and Kashmir Assembly speaker and seven others were on Monday sworn in as ministers in the state's PDP-BJP government led by Chief Minister Mehbooba Mufti. Gupta replaced Nirmal Singh, who submitted his resignation late Monday night.
News18 reported that Gupta said, "The Kathua incident was a small thing, it shouldn't have been given all this hype. We should ensure that incident like this should not be repeated again. We need to get the girl (the Kathua rape case victim) justice. These are some of the biggest challenges before the government today".
After the comments sparked outrage, Gupta went on to issue a clarification and said people should stop debating the matter. "Kathua issue is sub judice. The Supreme Court will decide on the matter, continuously debating on the issue is not right. Giving this matter weight is not a good thing. I said that there are a lot of issues like this and people should not try to spark anger over it (the comments)", he told ANI.
The cabinet reshuffle was due ever since two BJP ministers, Choudhary Lal Singh and Chander Prakash Ganga, were asked to resign due to a controversy over their participation in a Hindu Ekta Manch rally in support of the accused in the Kathua rape and murder case.
However, BJP national general secretary Ram Madhav earlier said that the cabinet reshuffle has nothing to do with the Kathua incident. "Our government has completed three years and we decided to give a chance to new faces. Five members of the party will be sworn in as ministers", Madhav added.
The victim of the Kathua rape case, belonging to a Bakarwal Muslim family, was kidnapped on 10 January. Her body was found on 17 January near Rasana village in Hiranagar tehsil in Kathua district.
Police investigations revealed she was held captive inside a temple, sedated and repeatedly raped before her murder. Police has filed a chargesheet against eight persons. The gruesome nature of the attack sparked outrage across the nation and led to a social movement against sexual crimes.
With inputs from agencies
World
Last year, the court upheld a constitutional change that allows the military to continue in law enforcement duties until 2028, ruling against appeals that argued law enforcement should be left to civilian police forces
India
A two judge bench of the apex court had on October 13, last year delivered opposing verdicts in the hijab controversy, and urged the Chief Justice to constitute an appropriate bench to adjudicate the case that stemmed from a ban on wearing of Islamic head covering in Karnataka schools
World
Justice Alexandre de Moraes granted the request from the prosecutor-general's office, which cited a video Bolsonaro posted on Facebook two days after the riot which claimed Luiz Inácio Lula da Silva wasn't voted into office but rather was chosen by the Supreme Court and Brazil's electoral authority