Gujarat Assembly Election: Narendra Modi addresses 4 rallies in poll-bound state, continues attack on Congress, avoids GST
Modi, who started his two-day visit to his home state with a rally in Kutch district's Bhuj town on Monday, held four rallies in different towns of the poll-bound state.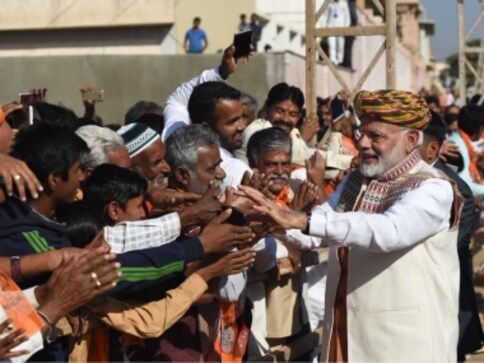 Intensifying the BJP's campaign in Gujarat, Prime Minister Narendra Modi sarcastically thanked the Congress for "mud-slinging" against him, saying that it will only help the "lotus bloom".
"I am grateful for all the kichad (muck) being thrown at me. After all, a lotus blooms only in kichad. So, I don't mind if more is thrown at me. Those slinging mud on us will help the lotus bloom even more," Modi said while addressing a rally in Bhuj.
The prime minister was unsparing in his criticism for his opponents, even as he tried to hard-sell his government's track record on development policies.
In several veiled — and some not so veiled — attacks, he slammed the Congress party over the recent 'chaiwallah' comments made by the party's youth wing on social media, and also its stand on demonetisation and GST, and the party's alleged "hatred for Gujaratis".
The prime minister's speeches were mostly a mix of  'Gujarati asmita' (Gujarati pride) spiced with tinges of nationalism and clever one-liners.
The lesson on nationalism
He asked Rahul Gandhi why did the Congress applaud the release of a terrorist in Pakistan, and why he hugged the Chinese ambassador during the Doka La standoff.
Modi, who started his two-day visit to his home state with a rally in Kutch district's Bhuj town on Monday, held four rallies in different towns of the poll-bound state. "You are happy to hug the Chinese ambassador, you are clapping the release of Hafiz Saeed, you cannot respect Indian Army's 'surgical strikes'. But why did you speak up about it? You could have just remained silent," he said.
Gandhi had recently put out a mock tweet taunting Modi after Lashkar-e-Taiba founder and Mumbai terror attack mastermind Hafiz Saeed was released in Pakistan.
Narendrabhai, बात नहीं बनी. Terror mastermind is free. President Trump just delinked Pak military funding from LeT. Hugplomacy fail. More hugs urgently needed.https://t.co/U8Bg2vlZqw

— Office of RG (@OfficeOfRG) November 25, 2017
"Recently, Pakistani court released a terrorist, I cannot understand why these Congress people are clapping here," Modi said.
Taking a dig at the Opposition party which is trying to end BJP's 22-year-long reign in Gujarat, Modi asked, "When our soldiers... were standing eye-to-eye against the Chinese soldiers for over 70 days, at that time you were hugging the Chinese ambassador here... For whose benefit did you do this? I am asking you," Modi said, without taking any name.
He referred to the 2008 Mumbai terror attacks and the attack in Uri and asked what was the difference between one government and another, one leader and other. The meaning of living and dying for the country can be known by the response, Modi said.
"They killed our soldiers in Uri, our soldiers went inside their territory, conducted a surgical strike and came back. The next day a newspaper said they (in Pakistan) carried bodies in trucks," he said.
Modi alleged that the Congress raised questions about the surgical strike. "They could not respect Indian Army, they asked questions like 'None of our soldiers was injured', 'None of them died', 'Have you any photo or video evidence', 'Had they gone to shoot a movie in Pakistan'," he said.
Gujarati asmita
At Kutch and Rajkot, which have a sizeable population of Patels, he invoked Sardar Patel. Without naming Rahul, he took a dig at the Congress leader, saying, "People are coming here and saying all kinds of things and trying to malign the image of the state."
He alleged that Congress had always mistreated Gujaratis in the past. "They speak about Sardar Patel but I don't want to dig out their history. They should turn the pages of Maniben's (Patel's daughter) diary, may be that will help them recollect how they treated him. Then, Morarji Desai, a Gandhian, became the prime minister and they conspired against him too. Indiraji had removed him from the Cabinet overnight. The truth is Congress hates Gujaratis," Modi said.
Addressing a rally in Kadodara near Surat, he said that Congress has only showed disrespect and hatred for Gujaratis and now they have the "guts" to come and ask for support in the same state. "In Uttar Pradesh, Congress was feeling so confident about victory. They started calling Gujaratis donkeys. And now they are coming here to Gujarat to seek support. Nobody can insult the people of Gujarat like this. They mistreated Sardar Patel, Morarji Desai, who were legendary leaders from Gujarat. Their past and present shows they hate Gujaratis," Modi said.
He also alluded to allegations made by Congress leaders, including Rahul Gandhi. "This Gujarat son has no stains in his public life. You come to the state and level baseless allegations about the sons of the soil... the people of the state will not forgive you," he said.
During his campaign in the state in the last few days, Gandhi had trained his guns at the Modi-led government over the Rafale fighter aircraft deal. The prime minister hit back at him, asking, "When you go to the house of the poor and eat rotis, you ensure that you are filmed, but does that mean that a surgical strike should be filmed?"
After addressing further rallies on Tuesday, Modi will oversee a series of campaign meetings on Wednesday in Saurashtra and South Gujarat, which go to polls on 9 December. The second phase of elections to the 182-member Gujarat Assembly will be held on 14 December. Votes will be counted on 18 December.
With inputs from agencies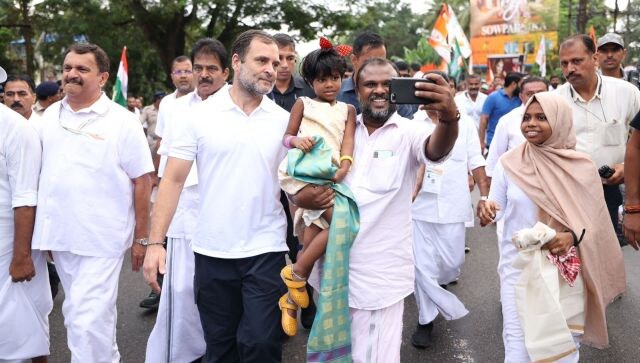 India
The 3,500-km march from Kanyakumari to Kashmir will be completed in 150 days and cover as many as 12 states. From Kerala, the Yatra will traverse through the state for the next 18 days, reaching Karnataka on 30 September. It will be in Karnataka for 21 days before moving north
India
A total of 18 states are under the BJP rule since Narendra Modi took over the mantle of prime minister and going by the election trend, the saffron wave is set to continue
India
India of the 21st century will get a new momentum from the cities in the country, PM Modi said while stressing the need to develop twin cities