Gaslighting India: Rahul is not Trump, Modi is not a novice and India is not America
Of late, it seems like Congress president Rahul Gandhi has been making determined efforts to hone his skills in gaslighting India.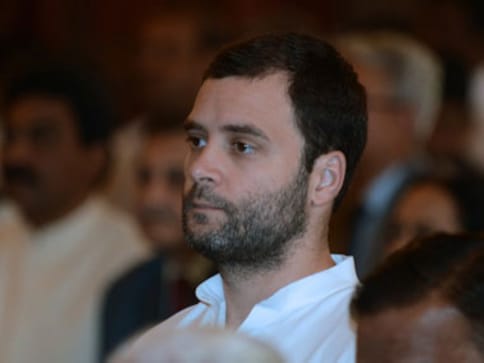 Gaslighting is an insidious technique of deception and psychological manipulation politicians use in order to exercise overweening influence on citizens, especially voters. Narcissist autocrats the world over are known to have perfected this technique into a fine art as superbly etched out by Amanda Carpenter in relation to Donald Trump in her latest book Gaslighting America.
Of late, it seems like Congress president Rahul Gandhi has been making determined efforts to hone his skills in gaslighting India.
Look at the manner in which he held the press conference after BS Yeddyurappa threw in the towel on Saturday. Yeddyurappa was heading the single largest party which missed the majority mark by just seven seats. The very act of trying to form a government was perfectly in conformity with constitutional propriety. If there was any impropriety in the way he tried to achieve that, it was clear he failed miserably.
There was nothing wrong if Rahul tried to score political points by attacking the BJP for these efforts. But he went way beyond. He said, "prime minister is corruption" and referred to BJP president Amit Shah as an "accused in murder". From a public platform, he brazenly lied on both counts, betraying a sense of entitlement that he could get away by saying anything.
Coming from the man who heads India's Grand Old Party — the Indian National Congress — Rahul has been claiming to speak for the "truth" which is not just rich but a patent lie.
"Prime minister is corruption" is not an accusation which can be levelled casually. Every trick the BJP may have tried to shore up its numbers — all learnt over decades of watching Congress' fine art of political perfidy — it is reasonable to assume the Congress and JD(S) countered successfully only by their political saintliness. It's inconceivable to think that while Shah was promising legislators Rs 100 crore each, Rahul was merely reading them lessons in political morality. And even more incredulous that his exhortations were so forceful that they actually worked. Obviously, it helps sell Rahul's lies better to pretend like he does not know about the existence of a certain DK Shivakumar, that Congress philanthropist who convinces legislators to stick with the party — no matter what the temptation — just by giving them free stay at his Eagleton resort every once in a while. In Rahul's book, if "Modi is corruption", Shivakumar must be an angel.
It seems like Rahul did not hear of "cash for votes" either in which MPs were bought by none other than the then prime minister Manmohan Singh with the full backing of the then Congress president Sonia Gandhi. That was in UPA-I, Rahul's years of political sleepwalking. There is no point in trying to jog Rahul's memory about his party's shenanigans in the shameful story of the Jharkhand Mukti Morcha (JMM) bribery case in which the then prime minister PV Narasimha Rao was personally involved. Why even mention the various shady persons Rahul's grandmother Indira liked to surround herself with, such as Yashpal Kapoor because only "Narendra Modi is corruption"?
Similarly, his description of Shah as "murder accused". It is an attempt at psychological manipulation of people's opinion. Shah was made an accused in an encounter-killing by the Gujarat Police when he was the state's home minister. This was done at a time when Rahul's party was at the helm in Delhi and the Central Bureau of Investigation (CBI) was being used to implicate the then chief minister Narendra Modi. Shah was collateral damage in the Congress' overzealousness to crush Modi.
Shah was exonerated after a special CBI court in Mumbai dropped all charges. He is not "accused" in any crime in any police stations anywhere in the country except in Rahul's estimation. To call Shah a "murder accused" is certainly defamatory but Rahul is least bothered because if Shah presses charges, Rahul would leverage it for political advantage. That is precisely what he did when he accused the RSS of having a hand in the killing of Mahatma Gandhi.
Perhaps the Congress president has been led to believe that his aggression combined with bluster would be a sound political strategy to hide the electoral drubbing his party received in Karnataka, the first under his charge as Congress boss. He is increasingly relying more on semantics and less on substance. Missing from public space since 15 May, when his party lost the last big state, he appeared within the hour of Yeddyurappa's defeat to grab all credit for "victory". What he claims as victory in Karnataka is as untruthful as his allegations against Modi and Shah.
Look at the manner in which Congress ceded political ground to a party, JD(S), which has less than half the size of the Congress in the state Assembly. In a so-called Congress bastion, the party would be playing second fiddle to a small regional party. Congress' history of coalition politics show that it has irretrievably lost ground in Uttar Pradesh, Bihar, West Bengal and wherever else it ceded space to regional players.
Rahul has a lot of worrying to do about the future of coalition politics and where it will leave his own party. Spreading aggressive falsehoods about Modi and Shah will not be enough to manipulate people's psychology, like Amanda Carpenter says Donald Trump has succeeded in doing with America. But Rahul is not Trump, Modi is no political novice and India is not the United States.
Photos
The second and final phase of polling for the Gujarat Assembly elections saw big names from across the state come out to exercise their democratic duty. From Prime Minister Narendra Modi to former cricketers Irfan and Yusuf Pathan, the heavyweight voters were all smiles as they cast their vote
Opinion
Against the backdrop of waning US influence, Israel, similar to India, seeks to stake its claim on the continent. Despite lacking clear direction, at least since the Netanyahu administration, Africa has begun to receive sufficient attention in Israel's foreign policy
Politics
The G20 is a major forum for international economic cooperation that represents 85 percent of global GDP, more than 75 percent of world trade and two-thirds of the world's population