Congress workers burst crackers, distribute sweets as Jharkhand Assembly elections trends show Congress-JMM alliance ahead of BJP
Congress was ahead in 13 seats and the JMM in 23, according to the Election Commission while BJP was trailing with leads in 27 seats, indicating that it may cede power to the opposition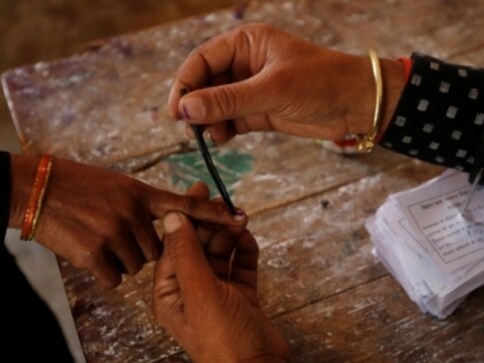 Congress party workers bursting crackers, distributing sweets as trends for Jharkhand assembly elections showed Congress-JMM alliance ahead of BJP

Congress was ahead in 13 seats and the JMM in 23, according to the Election Commission

BJP was trailing with leads in 27 seats, indicating that it may cede power to the opposition
New Delhi: Christmas seemed to have come early at the Congress headquarters on Monday with party workers bursting crackers and distributing sweets as trends for the Jharkhand assembly elections showed the Congress-JMM alliance ahead of the ruling BJP.
The Congress was ahead in 13 seats and the JMM in 23, according to the Election Commission. The BJP was trailing with leads in 27 seats, indicating that it may cede power to the opposition.
The RJD was ahead in five seats and the AJSU in three.
Follow LIVE updates on Jharkhand Election Result 2019
"People have voted for change," Congress spokesperson Pranav Jha told reporters at the Congress office, anticipating a victory for the opposition alliance. Elections were held over five phases between 30 November and 20 December.
also read
Opinion
Rahul Gandhi has in the US shared space with people working with Soros-sponsored organisations who are hell-bent on inducing a regime-change in India and with Islamists such as the Indian American Muslim Council
World
Amid efforts back home to galvanise the rival political forces against the BJP government at the Centre with an eye on next year's Lok Sabha elections, Congress leader Rahul Gandhi on Thursday said the Opposition in India was "pretty well united"
Opinion
The party and the government it led in Karnataka not just failed to protect Hindutva activists, but also didn't do enough to look after the families of those killed during the previous Congress dispensation