Chirag Paswan, in the running to inherit father's kingmaker legacy, gets unexpected ally in Tejashwi Yadav
The two young politicians, despite having positioned themselves on opposite ends of the political spectrum, seem to have left enough maneuvering space to unite against a common foe — Nitish Kumar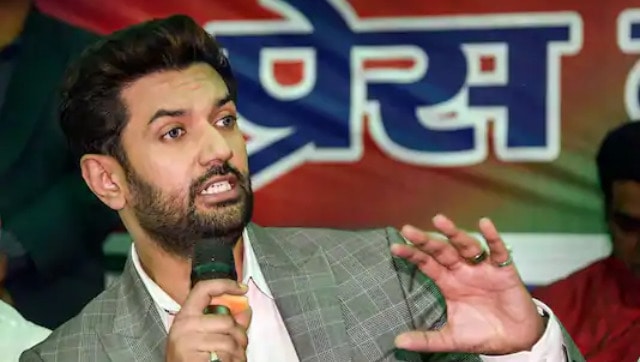 The Bihar Assembly election 2020 is testing the mettle of the scions of the two foremost political dynasties in the state -- the Yadavs and the Paswans. In particular, Tejashwi Yadav and Chirag Paswan are fighting a gruelling electoral battle to protect and preserve the formidable legacies of their fathers.
Tejashwi Yadav, the articulate younger son of Rashtriya Janata Dal supremo Lalu Prasad Yadav, has been the state's deputy chief minister for a couple years. But this time, he will, for the first time, face the electorate without his charismatic father by his side  — Lalu is serving time in a Ranchi jail after his conviction in the fodder scam. Chirag Paswan, to whom his father Ram Vilas Paswan had passed on the baton of the Lok Janshakti Party (LJP) in November last year, is ploughing a lonely furrow in the absence of the wise counsel of his father, who passed away a few days ago.
Tejashwi, the young chief ministerial aspirant, now helms a five-party Grand Alliance which was coming off its seams just months before the elections. Chirag, meanwhile, faces the daunting task of carrying forward the legacy of his father, who had friends across the political divide.
The two young politicians, despite having positioned themselves on opposite ends of the political spectrum, seem to have left enough maneuvering space to unite against a common foe: Bihar chief minister Nitish Kumar.
Tejashwi says he is not averse to alliance with LJP
Tejashwi Yadav has been going easy on Chirag since before Ram Vilas Paswan's death, while his choicest attacks are reserved for friend-turned-foe Nitish and the BJP.
On Monday, he slammed Nitish for being 'unfair' to Chirag who recently lost his father. "
"Nitish Kumar's attitude towards Chirag Paswan was not right. He was unfair to him. Chirag Paswan needs his father more than anything right now, but sadly he is not among us anymore", Tejashwi Yadav was quoted as saying by Deccan Chronicle.
Tejashwi made the comment after Chirag told NDTV in an interview that Nitish had ignored his greeting at the airport when Ram Vilas Paswan's body was flown in from Delhi.
"I touched his feet and he ignored me. Everyone saw that. I am shocked that because of our personal feelings, we even forget basic shishtachar (courtesy)," Chirag was quoted as saying.
Later, Tejashwi stunned everyone by stating he is not averse to seeking support from Chirag in order to keep Nitish out of power.
"If required we will seek support of the LJP during government formation," Tejashwi said during a rally in Jamui on Monday.
Many see this newfound bonhomie as part of a larger scheme, especially when both young dynasts are navigating the power corridors, outside of their fathers' shadows for the first time.
RJD is primarily hoping to turn the tide in Bihar riding on an anti-incumbency wave. It has nothing to gain but everything to lose by burning bridges with Paswan junior, who is likely to benefit from the sympathy wave owing to his father's recent demise. Although LJP is a small party that has mostly played the role of kingmaker, Paswan senior's name still enjoys wide currency in the state.
RJD cannot afford to upset the Dalit votebank by being antagonistic to Chirag, who just ended the formal period of mourning on Tuesday and plans to start campaigning from Wednesday.
Chirag Paswan keeps RJD close, but BJP closer
Meanwhile, Chirag, walking the tightrope of playing Opposition while still trying not to upset the BJP, has been responding cautiously to the RJD's overtures.
Paswan junior walked out of the NDA in Bihar when his father was on the deathbed, and has been furiously attacking Nitish, who is also the JD(U) boss and the ruling coalition's chief ministerial contender.
However, he has been all the while professing his loyalty to Prime Minister Narendra Modi and calling himself his 'Hanuman'. He even went ahead and brushed aside the BJP's criticism, saying he is open to accepting any harsh words that are said because BJP wants to stay true to its responsibility as an alliance partner.
नीतीश कुमार जी को भाजपा के साथियों का धन्यवाद करना चाहिए की वे मुख्यमंत्री के ख़िलाफ़ इतना आक्रोश होने के बावजूद गठबंधनधर्म निभा रहे है और हर दिन नीतीश कुमार जी को प्रमाणपत्र देते है की वे चिराग के साथ नहीं है।

— युवा बिहारी चिराग पासवान (@iChiragPaswan) October 18, 2020
मैं नहीं चाहता की मेरी वजह से प्रधानमंत्री @narendramodi जी किसी धर्मसंकट में पड़े। वे अपना गठबंधनधर्म निभाए।आदरणीय मौजूदा मुख्यमंत्री @NitishKumar जी को संतुष्ट करने के लिए मेरे ख़िलाफ़ भी कुछ कहना पड़े तो निस्संकोच कहे।

— युवा बिहारी चिराग पासवान (@iChiragPaswan) October 18, 2020
Meanwhile, he also has not categorically distanced himself from the RJD.
While in an earlier interview, he termed Tejashwi his younger brother, the Paswan scion has remained silent on the sudden outpouring of support from the RJD.
The party did make a half-hearted attempt to discourage rumours of a tacit understanding between LJP and RJD with a senior functionary stating that Tejashwi's call for support 'means nothing'.
However, LJP is a family-run party and the Paswans are considered the face and the voice of the organisation. No one from the family has commented on RJD's offer yet.
Chirag's game plan, much like his father's, seems to be to emerge the king-maker in these elections.
With the support of his numerically small but assertive Paswan community, the LJP president hopes to clinch enough seats in the 243-member Bihar assembly to stay relevant in state politics. The party had won six Lok Sabha seats in the 2019 elections, largely because of the alliance it had with the BJP and JD(U). It had won just two seats in the 2015 Assembly polls.
In case the NDA fails to get a majority and the BJP stays reluctant to ditch Nitish in favour of Chirag, an LJP-RJD alliance is not completely inconceivable. This is partly because Lalu and Paswan's association goes back to the time of the anti-Emergency socialist movement. Secondly, if anyone in Bihar has had a history of smoothly transitioning from one camp to another, it is the LJP.
If Chirag does manage to forge a post-poll alliance with the Mahagathbandhan because BJP decided to stick it out with JD(U), he will only be carrying on the legacy of his father, who was dubbed the political meteorologist by poll watchers and the media.
With inputs from PTI
Opinion
The BJP cannot simply be cast into the western framework of right-wing or left-wing, nor can it be identified as a 'conservative' or a 'liberal' party
Opinion
The Congress leader wasn't dropping a 'truth bomb', he was name-calling and ridiculing a journalist who was trying to do his job
India
A day after being convicted in a 2019 criminal defamation case, Rahul Gandhi has now lost his Wayanad seat after being disqualified as an MP. The Congress leader needs a stay on his conviction if he wants to return as a lawmaker