On the second day of the Bharatiya Janata Party's (BJP) national executive meeting in Delhi on Sunday, Prime Minister Narendra Modi called for "Ajey Bharat, Atal BJP" (Invincible India, Resolute BJP) and launched a strong attack on the Opposition, Law Minister Ravi Shankar Prasad said.
"Parties that could not see eye to eye earlier are now being forced to embrace each other. This is the biggest vindication for us," Prasad quoted Modi as saying during his address after the meet.
The prime minister added that the alliance of Opposition parties is characterised by an absence of leadership, unclear policy and corrupt ethical standards, Prasad said.
Earlier on Sunday, the BJP projected the Lok Sabha polls as a battle between a "daydreaming" Opposition and the National Democratic Alliance, whose leader Narendra Modi has an "approval rating" of over 70 percent and is set to build a "New India" by 2022.
"The prime minister said it is important to have an Opposition in a democracy, so that it holds the government accountable. However, he remarked that those who had been failures in power had also turned out to be failures in Opposition," Prasad said.
Modi also said that the Opposition should challenge the government on issues of ideology and policy, but rued that it challenges the government based on "lies".
"Repeating lies has become a habit of sorts for the Opposition," Prasad quoted the prime minister as saying.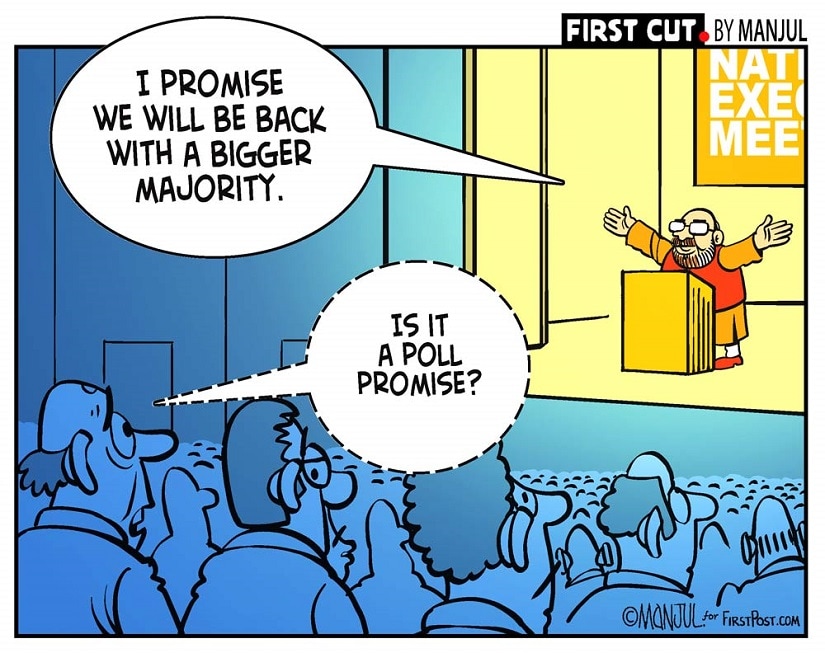 During the meet on Sunday, BJP president Amit Shah said, "We will win the 2019 polls, and after victory in the 2019 polls, nobody will be able to remove us for the next 50 years. We are not saying this out of pride but on basis of our work."
Modi also recalled the contribution of former prime minister Atal Bihari Vajpayee in glowing terms, saying that he took took the ideology, culture and leadership of the BJP to new heights. "Today, our sun is no more, but we should be like stars who spread the light of our ideas," he said.
BJP National Executive meet saw extensive discussions on many subjects. Party colleagues expressed their insightful views.
Our Party is humbled by the strong support across India. In the spirit of 'Ajay Bharat, Atal Bhajpa' we will continue working tirelessly for India's growth. pic.twitter.com/aWsNxkQwaM

— Narendra Modi (@narendramodi) September 9, 2018
On Saturday, BJP president Amit Shah had touched upon a number of pressing issues, including the floods in Kerala, the arrests of 'urban Naxals' and the 2019 Lok Sabha elections, in his address during the national executive meet. He had said that while the BJP is focussing on "Make in India", the Congress is working on "breaking India".
The political resolution passed by the BJP national executive said that while the prime minister was building an India of "no poverty, casteism, corruption and communalism", the sole agenda of the "frustrated" Opposition was "roko Modi" (stop Modi), Union minister Prakash Javadekar told reporters.
With inputs from agencies
Updated Date: Sep 09, 2018 21:12 PM