BJP ends alliance with PDP in J&K: Mehbooba Mufti resigns as chief minister minutes after announcement
The BJP said it was untenable for the party to continue in alliance in the Jammu and Kashmir government.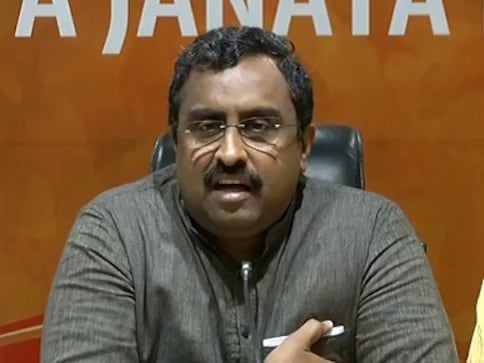 The Bharatiya Janata Party (BJP), on Tuesday, ended its alliance with the Peoples Democratic Party (PDP) in Jammu and Kashmir, effectively pulling out of the coalition government. Soon after, Chief Minister Mehbooba Mufti submitted her resignation.
BJP general secretary Ram Madhav announced the party's decision at a press conference in Delhi, soon after party president Amit Shah held an emergency meeting with Jammu and Kashmir ministers and other top leaders in the National Capital.
"In the last four years, we discussed how many of the objectives we had planned earlier were achieved," Madhav said, "After a lot of discussions, the prime minister, Amit Shah and other BJP leaders decided that it has become untenable for the BJP to continue in the alliance in Jammu and Kashmir."
He added that the the present scenario in the Valley cannot be handled by the present government in the state. "We had to respect the people's mandate (when the BJP-PDP) coalition was formed after the last Jammu and Kashmir elections)," he said.
In the 89-seat Jammu and Kashmir Assembly, the PDP holds 28 seats and the BJP, 25. The coalition completed three years in February 2018.
"Jammu and Kashmir has faced several ups and downs," Madhav said. "There was a rise in violence and terrorism in the past, as well. All I'm saying is that we came to the conclusion that the present scenario cannot be handled by the present government at this juncture. And our presence in this government is totally untenable."
Signs of strain in the alliance were visible after two BJP ministers participated in a rally the Hindu Ekta Manch had organised earlier this year in support of the accused in the rape and murder case of an eight-year-old girl in Jammu's Kathua district. The BJP had asked both ministers to resign from state cabinet.
However, the final straw that snapped the alliance could be the BJP's decision to not extend the suspension of anti-terror operations in the Valley, which was announced at the onset of Ramzan.
"We had implemented the suspension of counterinsurgency operations from a position of strength, but they were not ready to accept this," Madhav said. "Law and order is managed by the state. In Jammu and Kashmir, action against terrorists had been taken by both the state and the Centre, which has produced results."
The BJP on Tuesday sent a letter to Governor of Jammu and Kashmir NN Vohra, informing him of its decision to pull out of the state government. Minutes after the party went public with its decision, Mufti called for an emergency meeting of the PDP at 4 pm, which will be followed by a press conference at 5 pm.
India
"I assure you that the work started by Modi saheb will not just double but increase the income of every farmer many times in another 10 years. Only two cooperative societies for export and organic products will help increase farmers' income many times," Amit Shah said
India
Amritpal's dreams became ambitious at every step after his return from Dubai in 2022 and he started dabbling with the affairs of 'Waris Panjab De', an organisation formed by actor Deep Sidhu. The actor died in February last year
India
Jammu and Kashmir Lieutenant Governor Manoj Sinha at the opening ceremony said that about 68 varieties of tulips will bloom in the garden this year