Attempted murder attack on Jagan Mohan Reddy triggers fear of revival of political violence in Andhra Pradesh
In both Andhra Pradesh and Rayalaseema, the story of Telugu politics is rife with both staged attacks by party sympathisers, as well as a long trail of actual murders.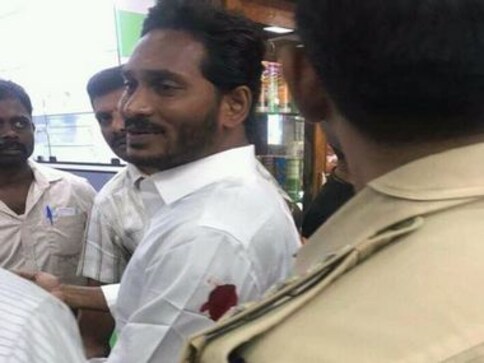 The Andhra Pradesh Police on Sunday submitted a remand report to the VII Additional Metropolitan Magistrate Court in Visakhapatnam, formally conceding that cafeteria waiter Janipalli Srinivasa Rao had attacked YSR Congress Party (YSRCP) leader YS Jagan Mohan Reddy on 25 October with the intention to kill.
This report, thus, dismisses the political narrative of the ruling Telugu Desam Party (TDP) government that it was a "staged attack" aimed at increasing Jagan's popularity by garnering sympathy, ahead of the elections next year.
Political accusations
Rao attacked Jagan last Thursday at the Visakhapatnam airport. Bizarrely, the accused purportedly requested Reddy for a selfie and even took it before stabbing him in the arm with a sharp object. Reddy escaped narrowly and providentially.
The YSRCP called the attack a "conspiracy by the TDP and N Chandrababu Naidu" aimed at eliminating the Opposition leader, whose continuing padayatra (march) of over 3,000 kilometres has augmented palpable anti-incumbency. The YSRCP is sensing a victory in the polls next year and is gearing up to dethrone Chief Minister Chandrababu Naidu.
However, the TDP countered the allegation, calling it a "staged drama" that was part of a conspiracy by the YRSCP in cahoots with the BJP to garner sympathy for Jagan.
With the state police acknowledging in court that the attack was a serious one, even saying that had the attack been executed as planned, it could have been fatal, it has triggered a wave of panic across Andhra Pradesh and its politics because after a hiatus of nearly 14 years, murder politics might have staged a comeback.
Real murders, staged attacks
The story of Telugu politics is rife with both fake attacks staged by party sympathisers, as well as a long trail of actual murders in both the Andhra Pradesh and Rayalaseema regions of the state. Murder politics, of which both the Congress and TDP are guilty, has kept politicians and their followers at risk and the state at an emotive and hysterical edge in phases.
On 9 January, 1984, during the first anniversary celebrations of the formation of the TDP, its founder and cine idol NT Rama Rao was attacked by a 22-year-old assailant, Mallela Babji, with a pen-knife. NTR had escaped with a minor thumb injury, but the attack, in glaring public view at the Lal Bahadur Shastri Stadium in Hyderabad, set the precedent.
It was subsequently proven conclusively that it was a staged attack aimed at creating a wave of public sympathy for NTR. The Justice C Sriramulu Commission report stated that the attacker was an NTR fan, and worse, his subsequent death by hanging from a ceiling fan was not a suicide but a murder aimed at suppressing the embarrassing truth. The report held the then TDP government responsible for "suppressing the homicide".
The report also concluded that the now-deceased sub-inspector investigating the case, J Sambasiva Rao, had misled the inquiry to shield the names of NTR and his son-in-law N Chandrababu Naidu, who were both named in a letter by Babji. In this letter, the supposed assailant had called NTR's injury "self-inflicted", adding that he was offered Rs 3 lakh for the attack but only paid Rs 30,000.
Ironically, it is the public memory of this staged attack that has given credence to the fusillade of statements bolstering the TDP theory that Jagan, too, had staged an attack on himself using a "fan" — as mentioned in the police report — to carry it out, using a "harmless" instrument and causing a minor injury.
Trail of murders
Political attacks and murders are not new to the politics of Andhra Pradesh. In the mid to late 1980s, Vijayawada was in the grip of rowdies who ran organised crime with political patronage. In some cases, these gangsters joined and rose in political ranks, having penetrated both parties, transforming gang wars into political murders.
In the most dramatic case, Vangaveti Ranga Rao, a Congress MLA and gangster with a huge caste following in the Kapu community, was murdered by a rival gang led by TDP leader Devineni Rajasekhar "Nehru" when he was fasting unto death. Earlier, the same rival gang had also killed his brother Vangaveti Radhakrishna.
Devineni Rajasekhar "Nehru" had entered politics after the TDP was formed, and his elder brother, Devineni "Gandhi" was killed. Subsequently, his younger brother Murali was also killed as a revenge for the murder of Ranga Rao.
The death of Ranga Rao had led to large-scale violence against businesses owned by TDP leaders, particularly those held by leaders from the dominant Kamma caste, including the Eenadu media house. A statewide curfew was imposed for weeks, and buses stopped plying between cities after sunset.
Perhaps it was the deep scars in the collective memory of the event that led to controversy over the release of Vangaveeti, written and directed by Ram Gopal Varma. The families of both rival gangs had objected to many a scene and dialogue in the movie.
Rayalseema faction killings
In the neighbouring hot-headed province of Rayalaseema, with its own long history of faction violence and family feuds spanning generations, TDP legislator P Siva Reddy was killed in a bomb attack on 7 August, 1993. A day before his death, he had asked for additional security from the then Congress government in the Assembly.
Making political currency out of the bomb attack, NTR had rushed to the crime scene, prevented the police from moving Siva Reddy's body, and instead, led a procession to Raj Bhavan, seeking dismissal of the Congress government. Taking an "oath" to never enter the Assembly until he was elected chief minister, NTR had used the bombing to make a successful comeback the next year.
Between the late 1980s and mid-1990s, Andhra Pradesh was caught in a web of political murders and subsequent retaliations and revenge killings. These murders were not restricted to just political leaders; several followers were also killed.
A particularly gruesome killing was of former MP Madduru Subba Reddy, who had also served as a minister in PV Narasimha Rao's cabinet in the state in 1973. Killed on 20 June, 1996, at the age of 83 — having undergone a bypass surgery a few weeks earlier — the bus in which he was travelling to Kurnool was attacked with bombs. He was beheaded and only his torso was left behind at the bus station. The killers had taken his severed head as a trophy.
This had led the Congress, which reportedly had lost over 50 leaders that year, to accuse the Chandrababu Naidu government of having given his party cadre the green signal to eliminate political rivals, a charge he refuted.
YSR family and Naidu
The most infamous, bloodiest and fiercest of rivalries featured TDP minister Paritala Ravindra, a former Naxalite, and a failed attempt to kill him with a car bomb in 1997 at a film studio in Hyderabad. This had led to the death of over 40 people, including six TV journalists covering the event Ravindra was attending.
He was at the studio to launch a movie on his father, Sri Ramulayya. Ravindra was pushed to a career in insurgency and murder after his father and brother were killed in separate incidents. Former TDP MP and actor Mohan Babu had escaped unhurt in the attack.
A year later, miner and factionist YS Raja Reddy, father of former chief minister YS Rajasekhara (YSR) Reddy and Jagan's grandfather, was murdered on 23 May, 1998, by bombs and knives as part of a long factionist feud.
On 24 January, 2005, months after the TDP was defeated and the Congress came back to power in Andhra Pradesh after nearly a decade, TDP leader Paritala Ravindra was shot dead at point-blank range at the party office. Jagan was accused of having supported the conspiracy, or perhaps even having masterminded the plan to kill Paritala, forcing his father, the then chief minister YSR, to order an inquiry by the Central Bureau of Investigation, which had acquitted Jagan of all charges.
Movies and politics
The horror of the rivalry had prompted Ram Gopal Varma to direct a multi-lingual movie in two parts — Rakhta Charitra, in which Vivek Oberoi had played the role of Paritala on screen. Subsequently, all major political killings stopped, despite the odd sporadic gang war or faction killing.
With the attack on Jagan, the politics of Andhra Pradesh has been jolted out of complacency. The fear that murder politics are back after a long gap of nearly 14 years is real.
While it is unlikely there will be any objective conclusions to whether Jagan pulled an NTR and staged the attack on himself, or whether the TDP sent an assailant to get rid of the Leader of Opposition before the elections, fear is truly back in the politics of Andhra Pradesh.
And Ram Gopal Varma must have started work on his next movie script.
Entertainment
K Viswanath was born in February 1930. With 50 movies under his credit, the celebrated filmmaker was known for his films like Kaamchor, Sankarabharanam, Saptapadi and Swati Mutyam.
Entertainment
The first to feature in the Grand Masters series is the newsy globetrotter SS Rajamouli who has definitely taken the song-and-dance tradition of Indian cinema to the West with RRR.
Entertainment
The song from RRR has been nominated in the Best Original Song category and recently won the Golden Globe as well. All eyes on March 12 now.