Andhra Pradesh needs unusual alliance of TDP and YSRCP, creative cooperation can replace confrontation
Naidu and Reddy both want special category status and therefore are fighting with each other for it, while neither has the power, or even is aspiring for the power, to make it a reality for the state.
Hyderabad: Regional politics, like war-zone diplomacy, oft prefers the narrative cloak of a zero-sum game as its standard uniform. Everyone ranging from pragmatic analysts, journalists, and politicians often play the game to its rules, with no one questioning that it need not be so.
Yet, continued confrontation between two principal rivals aspiring to a state's throne is an accepted truism, elevated to the level of an inevitable price to sustain democratic politics and enable electoral battle lines. During times of crisis, its simplicity is debilitating and crushing, but the two or more rivals must constantly engage in the theatrics we see in our political ecosystem for people to enjoy the power of deciding their future.
Take Andhra Pradesh for example. The state is facing a shutdown over the issue of special category status, a key promise made by the central government when Telangana was carved out of undivided Andhra. The bandh was called by the principal Opposition party, YSRCP led by YS Jaganmohan Reddy, the challenger to N Chandrababu Naidus's chief ministerial ambitions in the next Assembly election.
A few days ago, Naidu's party MPs pressed for a no-confidence motion against the Narendra Modi government for the same reason: special category status for Andhra Pradesh. However, a slightly apolitical analysis will leave us astounded because beyond the optics, there is no rational basis for the actions of Naidu and Jagan, save being stuck with the mindset that continued confrontation is a prerequisite to fulfilling their political ambitions.
Naidu and Reddy both want special category status and therefore are fighting with each other for it, while neither has the power, or even is aspiring for the power, to make it a reality. The people of Andhra are divided between them, and thus logically, against each other. In this game, only one of them can win, and the people of Andhra Pradesh will always lose.
Politics generates relatively lower returns over a sustained period because of the continued confrontation, which eliminates the infinite possibility arising out of creativity, disruptive innovation, and nips the birth of newer solutions.
In contrast, businesses create more sustained value because key players can easily cooperate instead of competing. From joint ventures in technology and research, to movie stars coming to have multi-starrers, a higher value creation is always possible with creative fusion.
If Naidu and Reddy calculated a bit along the Game Theory, they will both lose a lot more by fighting in 20 years than if they choose to cooperate.
The bifurcation of Andhra Pradesh was done by Congress, which was wiped out by the people in the 2014 elections: The party lost 200 seats (25 Lok Sabha and 175 Assembly seats).
The BJP, which both Naidu and Reddy argue have betrayed the state has almost no stake. Therefore, both Naidu and Jagan play a game where no matter who wins, the party which betrayed Andhra will come to power at the Centre: The BJP or Congress.
One of them will lose at the state level, and the other would find himself in the same position as before, and both will together be weaker in front of the Centre, and the people will most certainly lose.
Let us apply the yardstick of creative cooperation instead, and play the game again.
Let's assume a scenario where Naidu, who with his no-confidence motion, emerged as a key leader in the non-BJP prime ministerial candidates list, gets the support of Reddy for 25 MPs, and in return, he assures Jagan the support of 175 MLAs in the next election. In essence, Naidu pitches for Jagan as chief minister, and Reddy pitches for Naidu as prime minister.
They fight elections in a friendly manner, save the large monies, which would be spent on elections instead to drum up support and build Naidu's image the way Modi built his. With Andhra Pradesh seats safely in their pockets, Naidu and Jagan can travel across the country and create the first block of 125-150 seats from states such as Tamil Nadu, West Bengal, Bihar, and Uttar Pradesh. It could be a general election focussed on the special category status for these states.
If Modi falls below 220 seats in 2014, both Jagan and Naidu win. The latter as prime minister could give the former the special category status for their state, with both claiming victory. And the people win in every eventuality.
A public address at Tirupati where both principal rivals jointly address the people of their state will elevate their status, give the country something to look up to and change our politics. That is how things look when creative cooperation opens up the possibilities beyond the mindset of confrontational lock-up.
Sriram Karri is the author of Autobiography of a mad nation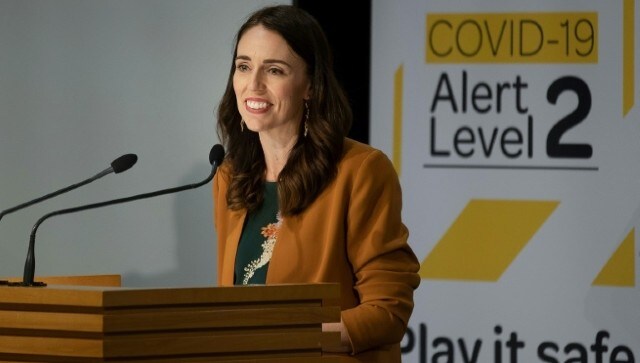 World
Recent events in the Indo-Pacific left New Zealand behind. But the island nation has used APEC 2021 effectively to enhance its stature
India
While some adolescents have access to necessary information and services, many are not adequately supported to make a successful transition from childhood to adulthood
India
At least 17 express trains were cancelled on the Chennai-Vijayawada grand trunk route as the flood overflowed on the railway track at Padugupadu. Three other trains were partially cancelled or diverted