Why Nirmala Sitharaman's handloom endorsement is 'neces-saree'
On Budget Day this year, the pre-speech 'Nari Shakti' photo-op the two ladies provided must have made handloom lovers smile, for the president wore classic Gopalpur tussar silk from Odisha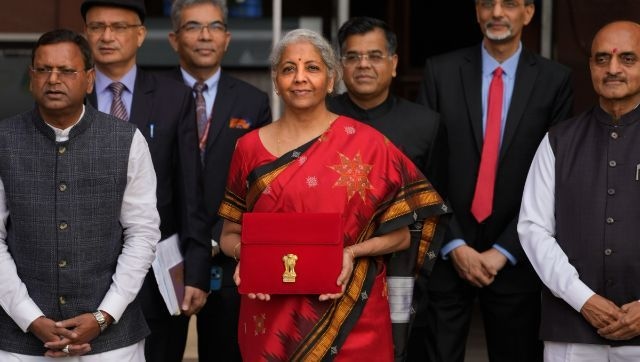 There are lots for many Indians to cheer for in this Budget—especially in headline-grabbing sectors such as capex outlay and personal income tax alleviation—but Indian crafts and handloom lovers specifically have two reasons to rejoice this time. The first is the proposed setting up of Unity Malls in the capitals and tourist hubs of every state to sell handicrafts from every district of their own states as well as Geographical Indicator (GI) products from all over India.
And the other is Finance Minister Nirmala Sitharaman's ode to India's amazing handloom and handicrafts by wearing a custom-made deep madder red silk ilkal saree with kasuti embroidery from the Artikrafts in Dharwad, for her Budget Day speech of 2023. At 11am on February 1 every year, the eyes of the nation are fixed on the FM. The opportunity for visual messaging presented by that moment is huge but none of Sitharaman's male predecessors ever utilised it!
Indira Gandhi, who held charge of the portfolio as prime minister and presented the 1970 Union Budge—like the men who held the post before and after her—stuck to messaging via the provisions of the document only rather than any sartorial indications. The photos of that time are too blurry to discern what saree she wore that day though it was undoubtedly handloom. Back then, however, there was no direct telecast and hence little chance for visual pointers.
But India's first fulltime woman finance minister had the nation focused on her for the fifth time and again she wore handloom, this time an Ilkal saree with kasuti embroidery from Karnataka, the state from where she is a Rajya Sabha member. These are woven in villages around the town of Ilkal and have a distinctive border and pallu, Rangoli-like Kasuti embroidery is also a speciality of North Karnataka and looks the same on both sides. Interestingly, both Ilkal and kasuti have GI tags.
On previous Budget days, too Sitharaman has worn mostly vibrant south Indian handloom silks but chose an ikat from Odisha last year. Ikats now have another prominent woman endorser in President Droupadi Murmu, of course. On Budget Day this year, the pre-speech 'Nari Shakti' photo-op the two ladies provided must have made handloom lovers smile, for the president wore classic Gopalpur tussar silk from Odisha with a contrast temple border and woven ikat pallu.
Women and Child Development minister Smriti Irani is another high-profile woman in public life today, and she too always wears choice handloom weaves. And Trinamool Congress Lok Sabha MP Mahua Moitra is known as much for her acerbic speeches and tweets as her eclectic taste in sarees—only linked by minimalism to her party chief's choice of white, narrow-bordered sarees which are more associated now in Bengal with Mother Teresa than the masses.
Prominent women everywhere face scrutiny about their choice of clothes, a practice dubbed sexist as their male counterparts are hardly ever judged sartorially. But in a nation like India whose traditional hand-made products face pressure from mass-manufacture and synthetic processes even though traditional attire (sarees, salwar-kameez or other indigenous outfits) still dominate, focussing on the ensembles of women in public life can be a huge force for good.
For a long time, Indira Gandhi and her daughter-in-law Sonia Gandhi were the cynosures of handloom enthusiasts, activists and weavers. The cognoscenti still recount stories of the senior Gandhi's fascination for rare weaves and prints and her efforts to give them a fillip. Her daughter-in-law was a worthy successor. In the limelight first as prime minister Rajiv Gandhi's wife and then as Congress president and UPA supremo she always sought out unusual, less-known handloom sarees.
But a generational shift (along with a political one—coincidentally or otherwise) had created an inspirational vacuum, so to speak, for handloom lovers of today. And the twin forces of our new president and current finance minister, with their impeccable saree choices have come together serendipitously to take forward India's rich handloom legacy. More and more Indians must talk, discuss, research—and perhaps eventually also buy—the sarees they bring into the spotlight.
Every dress and designer Michelle Obama chose while in the White House witnessed enormous public interest and sales. Ditto for the choices of both the current Princess of Wales and her sister-in-law the Duchess of Sussex (Kate and Meghan to the uninitiated!) in the UK and the US. Admittedly none of these women have held elected offices but they are female public personalities with great clout as the constant stories of their sell-out ensembles bear out.
The commercial success of clothes choices can and should be redirected by Indian women with similar heft towards an eminently worthy social cause—the survival of our amazingly diverse but seriously threatened handloom traditions. India's predominantly young population prefers visual messaging. That is why Indian film stars and other celebrities exert a vast influence on this cohort when it comes to fashion. But they cannot be the only female sartorial role models.
Corporate India, at the younger (as in junior) levels, are not that attuned to sarees unlike law and the bureaucracy. Yet these are educated women with a significant disposable income, and their contributions to the cause of handlooms could be the crucial factor that can keep our magnificent tradition alive in an increasingly difficult time. If Indian handlooms are reduced to occasional—read, wedding and party—wear, millions of weavers and families will be fatally impacted.
Weavers are responding to changing preferences in design and colours thanks to the efforts of textile designers. But their survival depends on women with the means and the appreciation pleating up to keep sales ticking over. The argument that sarees are unsuited to modern realities—difficult to manage and maintain—is belied by the women that wear them at opposite ends of the spectrum: the elite and the poor. But it's those in between that need to readopt sarees too.
Men in India are a 'gone case' (to use an Indianism) when it comes to being regular wearers of handloom these days. Churidar-kurtas and dhoti-kurtas, handloom or otherwise are simply not acceptable office wear in India now and surface mostly during holidays, festivals and weddings. Women in India—whether in offices, at home or anywhere else—simply cannot follow suit (pun intended) and discard sarees, especially the handloom ones.
A powerful message is sent out when the women holding two of the highest posts in India consistently endorse handloom sarees. Rather than not talk about their sarees due to some misplaced western sense of political correctness, the opposite should happen. Those who don't know should inquire about their sarees, learn to discern one weave from another, hone their preferences and help our weavers by regularly wearing timeless handlooms themselves, for work and leisure.
The author is a freelance writer. Views expressed are personal.
Read all the Latest News, Trending News, Cricket News, Bollywood News,
India News and Entertainment News here. Follow us on Facebook, Twitter and Instagram.
Explainers
Amritpal Singh and his aide Papalpreet Singh have been on the run for the past seven days. They were last located in Haryana's Kurukshetra. Baljit Kaur, the woman arrested by Haryana Police for sheltering them, told interrogators that the duo confided in her that they might move to Uttarakhand next
India
Jammu and Kashmir Lieutenant Governor Manoj Sinha at the opening ceremony said that about 68 varieties of tulips will bloom in the garden this year
World
Sri Lanka's High Commissioner Milinda Moragoda met India's Finance Minister Nirmala Sitharaman during which he discussed steps to attract Indian investments to his country