Weather Report: After a relatively 'cool' May, temperatures are set to rise in north and central India
In the upcoming week temperatures are set to rise across Punjab, Haryana, Delhi NCR, Chandigarh, Uttar Pradesh, Rajasthan, Madhya Pradesh, Chhattisgarh, Gujarat, Maharashtra, Telangana and Andhra Pradesh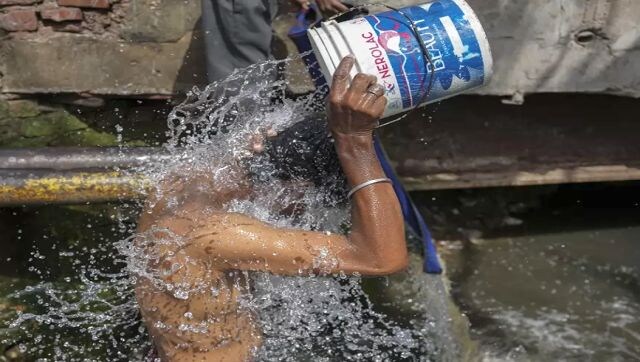 The month of May ends on an abnormally cool and wet note for various parts of India especially for the northern regions that experienced severe storms and rainfall events which kept the heatwave conditions away which usually occur around this time of the year.
During May 2023, the country as a whole received 67.5 mm rainfall which is 10 per cent more than its Long Period Average of 61.4 mm based on data of 1971-2020. Rainfall over the homogeneous region of Northwest India (67.3 mm) was 3rd highest since 1901 after the years 1987 (95 mm) and 2021 (68.2 mm). Among the four homogeneous regions, East and northeast India received 111.3 mm of rainfall, which is 3rd lowest since1901. Prior lowest rainfall years were 1907 (108.1 mm) and 2012 (109.6 mm).
The well known driest state of the country Rajasthan clocked one of the highest rainfall figures in May this year.
Rajasthan recorded a total of 62.4 rainfall in May, 2023 against normal rainfall of 13.6 mm , this is the highest rainfall recorded in May after 100 years, however unable to break the all time record of 71.9 mm in May 1917.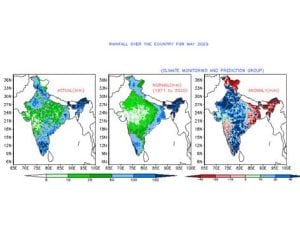 Himalayas also experienced record precipitation and temperatures, Solan and Kangra have recorded the highest monthly rainfall 157.3 mm and 189.8 mm respectively, Dharmshala recorded the lowest minimum temperature 8.4°c, Further Shimla and Bhuntar recorded the highest rainfall in the past 30 years.
June kicked off with heavy to very heavy rains in Himachal Pradesh and Uttarakhand as the impact of western disturbance continues to prevail.
Uttarakhand rainfall in the span of 24 hours till 8:30 am on 1st June:
Nagthat: 134.0mm
Chakrata: 124.0mm
Nainbagh: 123.0mm
Mussoorie: 121.2mm
Dhanaulti: 107.0mm
Koti: 94.0mm
Purola: 81.5mm
Barkot: 57.0mm
Himachal Pradesh
Dharampur: 86.6mm
Kasauli: 80.0mm
Kahu: 74.5mm
Jatton Barrage: 73.2mm
Una Rampur AWS: 68.0mm
Sangraha: 58.0mm
Naina Devi: 54.4mm
Solan: 52.0mm
Rajgarh: 49.0mm
Kandaghat: 47.0mm
Ghamroor: 45.4mm
Khadrala: 44.6mm
Dehra Gopipur: 43.0mm
Tiuni: 53.8mm
Haripur: 52.6mm
The national capital saw a wet month, the base observatory Safdarjung recorded 111.0 mm against the monthly normal of 80.3 mm the departure from normal stands at +262 per cent above normal, It also turned out to be the coolest May in the last 36 years with the average maximum temperature of 36.7°c.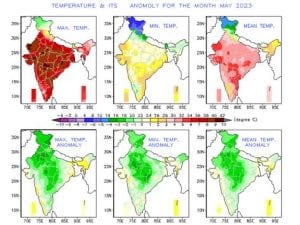 Not just the north, parts of southern India saw record breaking rains, Bangalore city observatory records the wettest May in recorded history by receiving a rainfall of 301.3 mm in the entire month broke the previous record of 287.1 mm from May 1957, to note the average monthly rainfall in the city is just 128.7 mm.
On paper the Monsoon 2023 has started, June to September is a four month long rainy season in India, it's a slow start except in parts of north west India where rainfall has been recorded amid western disturbance.
It's just 3 days since the season has started, in the period of 1st till 3rd June the country as a whole recorded a total of 5.2mm against the normal of 8.4mm, -38% departure from normal.
Subdivision wise seasonal rainfall till 3rd June, 2023:
• Southern Peninsula: Actual 4.1mm against the average of 11.3mm, -63% departure from normal.
• East and North East India: Actual 5.5mm against the average of 21.4mm, -74% departure from normal.
• North West India: Actual 10.7mm against the average of 3.6mm, +197% departure from normal.
• Central India: Actual 0.7mm against the average of 5.0mm, -85% departure from normal.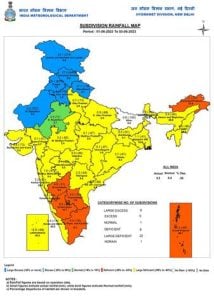 What is the current status of Monsoon as on 3rd June?
• The monsoon is delayed; the onset of the monsoon is not yet observed over Kerala till date against the normal date of onset which is 31st May.
• The Northern Limit of Southwest Monsoon continues to pass through 10°N/65°E, 9°N/70°E, Minicoy, 7°N/81°E, 11°N/87°E, 14°N/90°E, 17°N/93°E & 19°N/95°E.
Weather upcoming week
The flow of south west winds are very favourable for the bay of Bengal branch to advance further.
The cross equatorial winds in the Arabian sea are still weak.
A developing low pressure in South Arabian Sea will keep the south winds enveloping the system to its core and a weaker portion of the south west winds will make it to Kerala coast.
Currently the required heat in central and north west India is largely insufficient to form a favourable Monsoon gradient over the thar desert to pull over the monsoonal flow in the country, this raises concern around slow advancement of this year's monsoon season.
In a nutshell, possibly a weak Monsoon current will move into Kerala around 5 – 7 June, further advancement is largely gonna depend on the tropical disturbance in Arabian sea and it's projected track.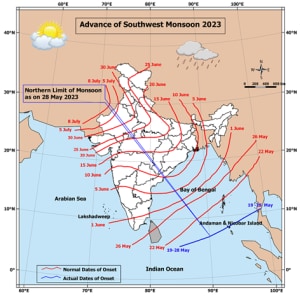 Current synoptic weather features influencing weather in India as on 3rd June:
• The western disturbance now seen as a trough in mid-tropospheric westerlies with its axis at 5.8 km above mean sea level roughly along Long. 76°E and to the north of Lat. 30°N.
• A fresh western disturbance is seen as a cyclonic circulation in mid-tropospheric westerlies over Iran & neighbourhood and is likely to affect western Himalayan Region from night of 05 June.
• The cyclonic circulation over southwest Rajasthan & neighbourhood extending upto 1.5 km above mean sea level persists.
• A cyclonic circulation lies over south Chhattisgarh & adjoining Telangana at 0.9 km above mean sea level.
• A north-south trough runs from north Bihar to the cyclonic circulation over south Chhattisgarh across Jharkhand at 0.9 km above mean sea level.
• The cyclonic circulation over east central Bay of Bengal off Myanmar coast persists and now seen between 3.1 & 7.6 km above mean sea level.
• A cyclonic circulation is likely to develop over Southeast Arabian Sea around 5 June. Under its influence a Low Pressure Area is likely to form over the same region during subsequent 48 hours.
• The cyclonic circulation over south Odisha & neighbourhood has become less marked.
Heatwave to make a comeback next week?
In the past week only some parts of Bihar, Jharkhand, West Bengal, Odisha experienced heatwave conditions when maximum temperatures hit close to 42°c, while hot weather continues to remain absent from north and central India.
In the upcoming week temperatures are set to rise across Punjab, Haryana, Delhi NCR, Chandigarh, Uttar Pradesh, Rajasthan, Madhya Pradesh, Chhattisgarh, Gujarat, Maharashtra, Telangana and Andhra Pradesh but heatwave will not arrive as such since the maximum temperatures will barely cross 43°c mark though it is likely to be hot in the day time
The westerly trough associated with the western disturbance will remain intact, this can result in isolated to scattered rains and thunderstorms in parts of Rajasthan, Haryana, Madhya Pradesh, Maharashtra, Delhi NCR during the evening to early morning hours in the next week although the spread of the rains is expected to be much lesser compared to the previous week.
The author, better known as the Rohtak Weatherman, interprets and explains complex weather patterns. His impact-based forecasts @navdeepdahiya55 are very popular in north India.
Read all the Latest News, Trending News, Cricket News, Bollywood News,
India News and Entertainment News here. Follow us on Facebook, Twitter and Instagram.
also read
Opinion
Monsoon withdrawal is likely to be significantly delayed this year and September appears to be ending with normal rainfall patterns
Opinion
Revival of rains in Kerala, Tamil Nadu, and the south interiors of Karnataka is expected around 10 October