Telltale signs that China is prepping for war
This March, China decided to create execution blacklists of Taiwanese dissidents who are to be hunted down by Chinese forces following Taiwan's invasion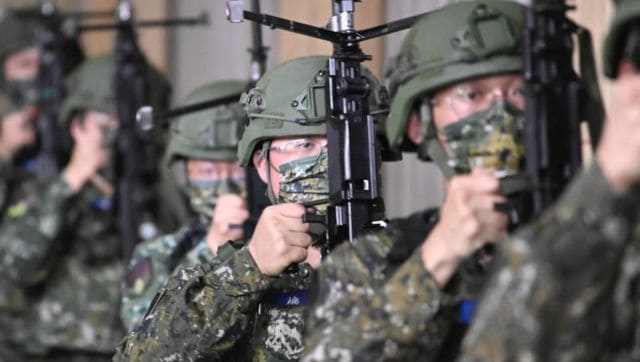 New Delhi: If Chinese President Xi Jinping says he is preparing for war, there is no reason for the world to take him lightly.
Repeating a theme, he introduced last year October at the five yearly Communist Party Congress—Xi Jinping had told party faithfuls 'dare to struggle, dare to win'—the Chinese president, at the annual meeting of China's parliament and its top political advisory body early March 2023, reiterated war preparedness.
Xi Jinping had already given a call to become self-reliant in food security. According to the Chinese state media, last year, Jinping said China needed to be independent in seeds to achieve food security, reiterating mounting concerns about China's reliance on food imports.
According to magazine Foreign Policy, one of the biggest hints at Xi Jinping preparing for war came in the form of an essay published in the theoretical journal of the Chinese Communist Party titled "Under the Guidance of Xi Jinping Thought on Strengthening the Army, We Will Advance Victoriously."
The essay argued that "the modernization of national defence and the military must be accelerated."
The essay also called for the intensification of the process of private companies and institutions to be harnessed for the military aims of the Chinese State.
Already, Beijing is strengthening its legal framework that would allow it to tap into its reserve forces more effectively and easily. On December 30, last year, China's legislature adopted the 'Reservists Law'. This, incidentally, is the country's first ever law for reservists. Foreign Policy argues that the law might have been framed keeping in view Russia's failures in the Ukraine War.
This, though, is not the first legal provision aimed at war. Two years ago, the National Defence Law and the Military Service Law were amended. The operative part is that while the older version of the Military Service Law said that the purpose of wartime conscription was to deal with "sudden attacks of the enemy and to resist invasion", the newer version (2021) changed the purpose to countering threats to the country's sovereignty, unity, territory, integrity and development interests" apart from resisting invasion.
This February, China adopted a resolution that gives military powers to change how the criminal law applies during wartime, giving sweeping powers to the Chinese armed forces to curb any sort of decoupling with its war goals, gagging all and every dissent and criticism.
According Chinese state media, "It allows the military during wartime "to adjust the application of provisions including those relating to jurisdiction, defence and representation, compulsory measures, case filing, investigation, prosecution, trial and enforcement"."
According Foreign Policy, "Although it is impossible to predict how the decision will be used, it could become a weapon to target individuals who oppose a takeover of Taiwan."
"The PLA might also use it to claim legal jurisdiction over a potentially occupied territory, such as Taiwan. Or Beijing could use it to compel Chinese citizens to support its decisions during wartime."
The preparation for war preparedness doesn't end here. This March, China also decided to create execution blacklists of Taiwanese dissidents. The figures in this list are to be hunted down by Chinese forces following the invasion of Taiwan. Incidentally, this list was created on the suggestion of ultranationalist blogger Zhou Xiaoping.
According to media reports, Zhou elucidated upon this list on Chinese social media cite Weibo, saying: "Taiwan Province Separatist Forces Blacklist to be posted publicly, according to a translation of his post by Han. This would be a list of Taiwanese individuals to be hunted down and killed in the aftermath of an invasion. The CPPCC's annual meeting began over the weekend."
The people on this kill list would be ordered to stop advocating Taiwan's independence, "confess their crimes," and surrender, Zhou added.
"If these people persist in their wrong and continue to create division and cause cross-strait conflict, then during our special operations against Taiwan, anyone can arrest or kill them, not only without any responsibility, but also receive the Medal of Honour for Promoting Unification."
China has already opened several National Defence Mobilization offices (actually recruitment centres) across the country under the Central Military Commission. Including Beijing, where the initiative is headquartered, such centres have come up in Fujian, Hubei, Hunan, Inner Mongolia, Shandong, Shanghai, Sichuan, Tibet, and Wuhan.
But, above all, figure this: The Chinese government has announced—though it often underreports its defence spending—a 7.2 per cent hike in China's defence budget. The defence spending, therefore, stands doubled over the last one decade or so.
Read all the Latest News, Trending News, Cricket News, Bollywood News,
India News and Entertainment News here. Follow us on Facebook, Twitter and Instagram.
also read
World
China claims Taiwan as its own and has not renounced the use of force to ensure eventual unification.
World
In a recent demonstration of Baidu's Ernie AI bot, people found that the it will dodge questions about Covid-19's origin, or any role that China may have had to play. It was also found that the bot would ban users who asked a bad question about President Xi Jinping
World
China's Xi Jinping focused on boosting trade and economic ties as he met the premiers of five Central Asian nations – Kazakhstan, Kyrgyzstan, Tajikistan, Turkmenistan and Uzbekistan. This meeting comes at a time when G7 leaders are holding their own summit in Japan