Right Word | How RSS deals with caste conundrum
There have been repeated attempts to drag the RSS' name in controversies related to caste. But its detractors have been unsuccessful to stop its expansion, especially amongst, socially marginalised sections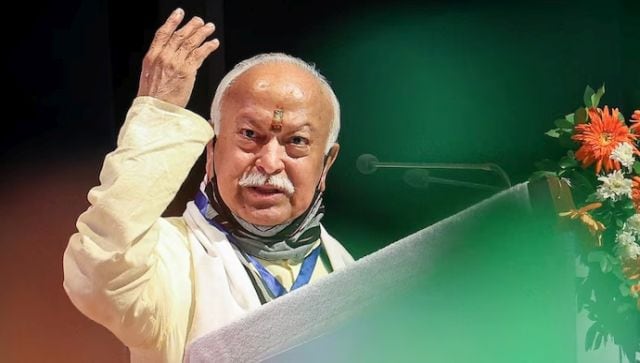 A recent statement by Rashtriya Swayamsevak Sangh (RSS) sarsanghchalak Mohan Bhagwat on casteism in Bharat was misinterpreted. What Bhagwat said at a function in Mumbai on the 647th birth anniversary of social reformer Sant Shiromani Ravidas was: "Scholars who talk about caste-based social hierarchy by taking recourse to scriptures are wrong." Bhagwat was speaking in Marathi and hence he used the word 'Pundit' for scholars. As the word 'Pundit' also means 'Brahmin,' so many misconstrued it as a remark against Brahmins. The RSS also cleared the air with an official statement issued by its Akhil Bharatiya Prachar Pramukh (National Head of Media Publicity) Sunil Ambekar.
This controversy is an opportune moment to take a look at the way RSS views Bharat's caste conundrum and how often RSS' stand is deliberately misinterpreted by its detractors. It is significant to note that the function and the structure of the RSS itself shun any kind of caste-based discrimination.
Due to its efforts to end caste-based discrimination right since its inception in 1925, Mahatma Gandhi was all praise for the RSS when he visited its camp in Wardha, Maharashtra, in 1934 and witnessed that all the volunteers were eating together. None of them were bothered about the caste of the swayamsevak sitting next to him. Mahatma Gandhi recalled this visit when he addressed an RSS meeting on 16 September 1947 in the sweepers' colony in Delhi.
Harijan, a weekly newspaper published by Mahatma Gandhi reported this event on 28 September 1947. The report said: "Gandhi ji said that he had visited the Rashtriya Swayamsevak Sangh camp years ago at Wardha, when the founder Shri Hedgewar was alive. The late Shri Jamnalal Bajaj had taken him to the camp and he (Gandhi) had been very well impressed by their discipline, complete absence of untouchability and rigorous simplicity."
"Since then, the Sangh has grown. Gandhi ji was convinced that any organisation, which was inspired by the ideal of service and self-sacrifice, was bound to grow in strength," the report added.
One of the fiercest opponents of caste-based discrimination and the architect of the Bharatiya Constitution BR Ambedkar was also deeply impressed by the way RSS volunteers demonstrated equality for all castes through their behaviour.
The first formal interaction of Ambedkar with the RSS took place in 1935. He had gone to Dapoli near Pune for some work where he visited an RSS shakha. In 1939, he was invited to an RSS training camp in Pune. There he also met RSS founder Dr KB Hedgewar.
There were more than 500 RSS volunteers at that camp when Dr Ambedkar reached there. Ambedkar was quite impressed by the fact that there was no discrimination on the basis of caste. In June 1953, senior RSS functionaries Moropant Pingley and Balasaheb Sathey met Ambedkar in Aurangabad, Maharashtra, where the latter asked for detailed information about the outreach of the RSS.
Earlier, in 1948, the Congress government at the Centre had banned RSS by falsely implicating it in the assassination of Mahatma Gandhi. After the ban was lifted the second sarsanghchalak of RSS MS Golwalkar went to Delhi in September 1949 to meet Ambedkar to express his gratitude for the help he had offered in lifting the ban on the RSS.
The second sarsanghchalak of the RSS, MS Golwalkar, inspired the setting up of Vishwa Hindu Parishad (VHP) to end caste-based discrimination in all spheres of life. The VHP was founded in 1964 on the occasion of Janmashtami at Sandeepni Ashram in Mumbai in the presence of 40 leading lights of Bharatiya society. The VHP was set up after the RSS realised that caste discrimination is a major fault line of Hindu society and it is being exploited for religious conversions especially by Christian missionaries. Earlier the RSS inspired setting up of Vanvasi Kalyan Ashram in early 1950s to work among Scheduled Tribes who had become easy prey for the Christian Missionaries due to their marginalisation within the Hindu society.
The RSS, in recent times, has set up a full-fledged vertical called 'Samajik Samrasta'. This can be broadly translated as a vertical for 'Social Equality'. This vertical specifically works to end any kind of discrimination faced by the socially marginalised sections of the society.
Millions of volunteers come together everyday in over 60,000 RSS Shakhas every day irrespective of their caste, creed, religion, social or economic status. The volunteers address each other by their first name only. Their surnames which often indicate the caste in our society are not given any importance by anyone in the organisation. Every RSS shakha organises 'Sahbhoj' (community dinner) at regular intervals where every volunteer brings food from their home. All the food items are put together and everyone eats the same food.
The central axis of the RSS' worldview on the caste discrimination in Bharat is best depicted by a lecture delivered by the RSS' third Sarsanghchalak Balasaheb Deoras at the Vasant Vyakhyanmala in Pune in 1974. This is a much cherished lecture by the RSS volunteers and they consider it to be the guiding framework for its efforts to eradicate social inequality.
Deoras said, "Untouchability is a… saddening and unfortunate aspect of our social inequality. Some thinkers opine that it was non-existent in the olden times, but at some stage, during the passage of time, it gatecrashed into our social system and took root. Whatever be its origin, all of us consider that untouchability is a terrible folly and it must, of necessity, be thrown out lock, stock and barrel. There are no two opinions about it. Abraham Lincoln, who abolished slavery in America, said, "If slavery is not wrong, then nothing is wrong." Similarly, it is for all of us to declare, "If untouchability is not wrong, then nothing in the world is wrong!" Every one of us must, therefore, aim at eradicating social inequality in each and every form. We must clearly explain to the people at large how our society became weak and disorganised on account of social inequalities. We must also show them the way to get rid of them. It is necessary that every individual must make his or her contribution in this effort. That would remove a stumbling block in the way of Hindu Consolidation."
In a nutshell, there have been repeated attempts to drag the RSS' name in controversies related to caste. But its detractors have been unsuccessful to stop its expansion, especially amongst, socially marginalised sections as the RSS volunteers practise more than they preach when it comes to the issue of social equality among others. As an old saying goes, 'Actions speak louder than words.'
The writer, an author and columnist has written several books, including 'Know About RSS' and 'The Saffron Surge: Untold story of RSS Leadership'. He tweets @ArunAnandLive. Views expressed are personal.
Read all the Latest News, Trending News, Cricket News, Bollywood News,
India News and Entertainment News here. Follow us on Facebook, Twitter and Instagram.
Opinion
The BJP cannot simply be cast into the western framework of right-wing or left-wing, nor can it be identified as a 'conservative' or a 'liberal' party
World
The statue that gifted by the Indian Government, was doused with paint and graffiti written around the base of the statue.  
Opinion
Setting out to rejuvenate Indian nationalism in the 1920s, the RSS had lots of precedents to draw on. And one example from a country suburb south of Berlin resonates more than any other