Renaming a British-designed sham Mughal Gardens as Amrit Udyan is apt
The reason our colonial rulers named a garden conceptualised by two Britons as Mughal rather than, say, Windsor, is far from altruistic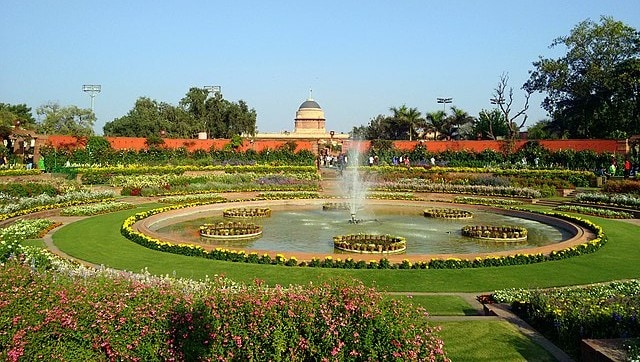 Criticism of the Mughal Gardens of Rashtrapati Bhavan being renamed Amrit Udyan as part of the celebrations of 75 years of India's Independence is inevitable. But consider this: when there are so many exquisite 'original' Mughal Gardens commissioned by emperors of that dynasty around India—including Delhi—why should a fake Mughal Garden be allowed to retain that name simply because the British decided to call it that? Is that not inexcusable?
The reason our colonial rulers named a garden conceptualised by two Britons as Mughal rather than, say, Windsor, is far from altruistic. Having vanquished an incumbent empire and replaced it with its own, the British clearly intended that Indians should be constantly reminded of that subjugation even in a brand-new city. Hence its pinnacle on Raisina Hill included sandstone allusions to the internally ravaged Qila Mubarak (Red Fort) and an ersatz Mughal Garden.
It is not that the British had any great regard for the charbagh style of Mughal gardens, as there is enough evidence of them running roughshod over existing ones or even doing away with them. Only now, for instance, has Red Fort's Mehtab Bagh — arguably the most hauntingly beautiful moonlit garden of the imperial Mughal family—been resurrected from the shroud of macadam laid over it by the British for the parade ground of their post-1857 permanent garrison there.
The victorious British remorselessly mowed down the trees and vines of night-blooming white flowers carefully planted to enchant the Mughal royals who came out to enjoy the moonlight. That charbagh was no small patch—recent excavations have revealed an area of 135m X 135m—so its deliberate destruction conveyed a distinct message. Thus, planning a British 'Mughal Garden' in the backyard of the seat of the Raj 60 years later also conveyed a message.
It should also be remembered that the British destroyed another Mughal Garden inside Red Fort called Hayat Baksh (Life-Bestowing), uprooting the greenery but retaining the pavilions—a small mercy given that they demolished so many of the original buildings commissioned during Shahjahan's reign. Lord Curzon had some parts of the garden restored but it never regained its former magnificence. So much for the British Raj's supposed love for original Mughal gardens!
Few people realise that the gardens laid out by the Mughals in parts of their empire—particularly salubrious Kashmir—have been mostly restored after independence. Even during Lord Curzon's stint as Viceroy the British way of restoring those gardens showed scant interest in staying true to the Persianised aesthetic of the Mughal dynasty. Sir Edwin Lutyens had his own take on gardens and found a kindred soul in Gertrude Jekyll for many of his projects.
But for the Viceregal Palace, he collaborated with William Mustoe, Delhi's Superintendent of Horticulture Operations at the time and they were supposed to have been 'inspired' by the Mughal era gardens in Kashmir and Agra. But they were not, it seems, influenced by (or perhaps even aware of) the many gardens that dotted Mughal Delhi—Shahjahanabad and its outskirts—including Tis Hazari Bagh, Roshanara Bagh, Shalimar Bagh, Qudsiya Bagh and more.
Those gardens built by the wives and daughters of Shahjahan and of later Mughal rulers had little value for the British. In fact, they even converted Roshanara Bagh from a charbagh into an English garden for colonial officials to relax in the summer. Then in 1922, just before Mustoe's fake Mughal Garden on Raisina Hill was about to be laid out, the British set up the Roshanara Club for British civil servants and Delhi's Indian elite— in an actual Mughal-era garden!
Mustoe's design divided the area into the Rectangular Garden (the venue of the Viceroy's and now the Rashtrapati's 'At Home' reception), the Long Garden and the Circular Garden. And it incorporated the charbagh and water channels, English bowers, hedges and shrubbery, European formal flowerbeds and lawns. In short, very little of it is actually Mughal. So why then did the British decide to misname this decidedly hotchpotch garden layout as 'Mughal'?
Most people today do not even know that the Indian subcontinent had developed an indigenous idiom for gardens long before Muslim dynasties introduced and executed their own ideas of verdant paradise. Several of the famous gardens in Kashmir, for instance, pre-date the Mughal era ones. Right from ancient times there are descriptions—including in Kalidasa's works— of traditional vatikas full of flowering trees, aromatic shrubs and lotus-filled water bodies.
Thereafter, the Muslim dynasties that preceded the Mughals also laid out gardens, notably Alauddin Khilji in and around Siri Fort and the tank at Hauz Khas. Indeed, Amir Khusrau eulogised Khilji's greening initiative as comparable "to the Garden of Aram in Paradise". Contemporary chroniclers give similar credit to Firozshah Tughlaq, especially his era's profusion of flowers. Therefore India, particularly the Delhis built down the ages, had abundant royal gardens.
But those who conceptualised and approved of the plans for the vast rear gardens of the Viceroy's imperious 'House' in the newest Delhi did not bother to incorporate aspects of India's arboreal history earlier than that of the immediate predecessors of the Raj. What could be a possible reason for this curious oversight on their part considering they found space in the garden even for European elements? Certainly not ignorance; could it be political amnesia, then?
In the 75 years since the British handed over their 'Mughal' Gardens, occupants of Rashtrapati Bhavan have made enough changes to render the original name even more incongruous. The first Indian Governor-General, the redoubtable C Rajagopalachari grew wheat in one section, as a gesture of solidarity with independent India's battle to feed its millions, rather than retaining it as a pleasure garden. Our first President Rajendra Prasad continued the practice.
Later, APJ Abdul Kalam added a section with herbs and indigenous plants used in Indian medical systems and initiated a Spiritual Garden in another area by planting trees revered by different religious traditions. Pranab Mukherjee created a wetland segment to attract birds. Clearly, that space behind the Rashtrapati Bhavan has evolved far beyond whatever the British creators of the faux Mughal Garden intended. So there's even less reason to retain that name.
Renaming a British-designed sham Mughal Garden as Amrit Udyan is apt. It is easy to pronounce, it is contemporary, it is non-denominational and it is not named after a person or a dynasty—unlike far too many other things in India—but after a new era. This is the place where the Rashtrapati invites guests on the two premier national days: Independence Day and Republic Day. The name of the garden should certainly reflect these key aspects of India's identity.
The author is a freelance writer. Views expressed are personal.
Read all the Latest News, Trending News, Cricket News, Bollywood News,
India News and Entertainment News here. Follow us on Facebook, Twitter and Instagram.