Pakistan economic crisis: Military, political leadership cut sorry figures as Islamabad drowns in debt
Pakistan's tumultuous history has seen it hovering on the brink of crisis several times, but this is the first time it's slipping into possible default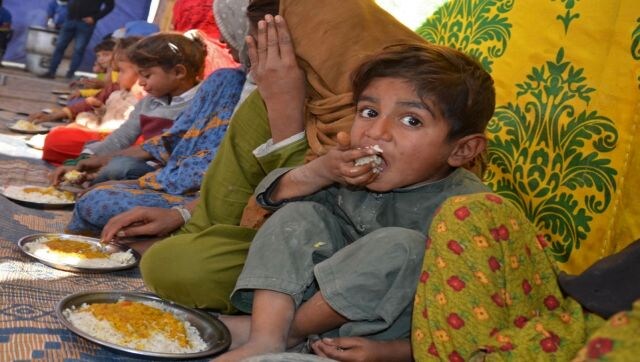 Things are serious. There is a very real possibility that Pakistan could fall, and fall badly. A country that is well-resourced, with a hard-working population, and strategically placed, could actually sink, due to a series of decisions by both politicians and military overlords who prioritised political manoeuvring and institutional and personal power over the well-being of its people. Forty years of such policy has turned a once thriving state to beggary, with unknown consequences for India, and the region.
A mountain of debt – the figures
Pakistan's tumultuous history has seen it hovering on the brink of crisis several times, but this is the first time it's slipping into possible default. As its media points out "in only 22 years, the nation's gross public debt has increased over 1500% with successive governments – military or civilian or hybrid – doubling public debt at the end of its tenure". The nature of debt has also shifted away from project loans to short and expensive programme loans, many now maturing, which leads to the possibility of default. Pakistan is already allotted Rs3.5-Rs3.9 trillion – i.e 4.5 per cent-5.0 per cent of GDP – for interest payment this year, a rise of 20 per cent over last year. With gross debt of some $99 billion, repayment on time is ruled out, simply put, Pakistan doesn't have the money. Tax revenues have fallen sharply in a sluggish economy, while non-tax revenue fell to Rs1.6 trillion as against Rs 2 trillion budgeted last year. The Pakistan Stock Exchange suffered its worst year, with the KSE -100 index, the worst performing in the world in dollar terms. The year also saw a 22 per cent fall in the rupee's value.
Depressing indicators for 2023
For a bottom-up review, start with the report on Human Development Indicators for 2021-22, which has seen Pakistan drop a precipitous seven slots, ranking 161 out of 192 countries. For a comparative insight, Bangladesh was at 129, while India was at 132.
It's true that many have seen a drop in indicators due to the pandemic, climate change and the war in Ukraine. But Pakistan is now bracketed with war-torn countries like Nigeria and Sudan. That's new. Now take the Fragile States Index which shows a drop in all indicators including that of social cohesion and economic inequality. India's indicators have also dropped but from far higher rankings. Go on from there to World Health Organisation's health indicators also show a lowering trend in its indicators. And then there's the highest inflation that Pakistan has ever seen standing at 24.5 per cent at the end of the year. In sum, Pakistanis at all levels are hit.
Infrastructure breakdown
The complete power breakdown across the country is now in the news with the concerned minister noting it would take days for nuclear plants and others to be restored to full capacity. No one knows what went wrong. Meanwhile, possibilities of enemy hacking into the system are being explored – a possibility of very low likelihood since much of the system is manual. Prime Minister Shehbaz Sharif had to apologise to the nation for a crisis that affected every area including army cantonments and hospitals. Pakistan's aged power transmission system, managed by the National Transmission and Despatch Company (NTDC) – which has no regular managing director – is well known. But this year has also seen a debilitating shortage of cooking gas affecting even the middle class.
Pakistan has had no new gas explorations for 20 years since no one is willing to invest. Meanwhile, Russia has agreed to provide oil – though it's not certain at what rate – starting in March, to be paid for in 'currencies of friendly countries'. That gives Pakistan a foreign policy edge, and if a discount fructifies an economic bailout. Meanwhile, officials say that the infrastructure doesn't exist to handle imports of gas, nor the pipelines to transport it. Meanwhile, the Oil Companies Advisory Council has warned of a severe shortage in petrol and high-speed diesel, worsened by delays in issuing LCs (letters of credit) due to the severe forex crunch. The irony? Even as companies struggled to get their papers through, the government cleared the import of 2,200 luxury vehicles. That leads one to the next problem.
Political and other institutions are off the rails
Even as the threatened default loomed and the power situation went off the rails, Imran Khan's close confidante and party leader Fawad Chaudhry was picked up under tight security on the charge of 'inciting violence against constitutional institutions'. The political chaos in Pakistan has climbed to ridiculous levels as provincial assemblies in Khyber Pakhtunkhwa and Punjab were dissolved in a complicated chess game. Major parties like the Pakistan Muslim League ( Nawaz) has lost ground even in its home state, while the Pakistan People's Party is being challenged by the Jiye Sindh as well yet another grouping of factions of the
Muttahida Quami Movement, cobbled together by the establishment.
Even traditional religious parties like the Jamaat have taken a beating, while Imran Khan continues his disruptive progress. The other 'party' that has taken a beating is the Khyber Pakhtunkhwa army itself, with its image in tatters as rage against it erupts in all provinces, barring Punjab. It seems the people have begun – quite justifiably – to see the army as the source of all their problems. Simply put, there is no one who seems to be capable of holding the reins at a time of severe disarray.
The violence factor
According to a report by a prominent think tank, terror attacks in the country increased by 28 per cent, with 376 attacks in 2022 in which 533 people were killed and 832 others were injured. The country has also witnessed four times more suicide attacks in 2022 than in 2021. In 2022, Pakistan faced at least 15 suicide bombings while in 2021, only four suicide attacks were reported. This is the highest number of suicide attacks in a year since 2018. These figures are the worst ever since 2018, with Islamabad under threat from a resurgent Tehrik-e-Taliban that seems to operate with impunity in Khyber Pakhtunkhwa, while multiple groups are active in Balochistan. Both provinces have witnessed attacks against Chinese personnel.
Climate hazards
A 'monsoon on steroids' caused the worst floods in decades, leaving a third of the country under water. The early warning had put Pakistan in the fifth spot on the list of countries most vulnerable to climate change. In part, this is due to its geographical location, where it is prone to extremes in weather including drought and flooding with an increase in glacier lake formations in mountainous areas. But as experts point out, the crises get worse because Pakistan has done nothing to alleviate the effects of such disasters. Meanwhile, some $10 billion has been pledged ( not committed) for flood aid, with 90 per cent of this as project loans. That's no good for a country that is already sinking into debt. With more extreme climate events expected, Pakistan as a primarily agricultural country, could find itself in serious trouble in 2023 and beyond.
It is against this reality that the International Monetary Fund has made further disbursements contingent on raising taxes and fuel prices among other reforms, all likely to be politically risky for a government under siege by Imran Khan and sliding towards elections. A new disbursement however hardly solves anything.
Graphs show that Pakistan's debt repayment is already far more than IMF's disbursements. Meanwhile, another blow fell as the World Bank delayed the approval of $1.1 billion in loans pending changes in energy debt and tariffs. There is a second way out which could be a solution or strangulation. According to analysts, while multilateral debt accounted for 42 per cent of total debt, bilateral debt is approximately 38 per cent. The largest share is of China ($23 billion) and including the loans of $6.7 billion obtained from Chinese banks, Beijing emerges as Pakistan's largest creditor.
Reports suggest another $4 billion is in the pipeline, which makes the whole sum far more than owed to the IMF. Last year, Pakistan owed $6.7 billion in commercial loans through June 2022, relative to $2.8 billion over the same time period. China has so far refused to roll over its debt – note that it has provided just $100 million in flood aid – which means that Pakistan is already in default to China. New disbursements will have to pay Chinese loans ( as before), or China may offer to write off unsustainable loans in return for further ingress into the country, particularly the far north that abuts Xinjiang and Kashmir.
It's a toss-up exactly what Beijing will ask. A Pakistan completely at the mercy of China is not in Islamabad's own interest, never mind that of Delhi. It just may mean that declaring sovereign default to international creditors may be preferable, pushing Pakistan into much-needed reforms and a realistic exchange rate. Creditors will want to see their money work, which also means the end of a security-dominated state. Not a bad thing overall. It just might be the making of the state of Pakistan.
According to a report released by the United Nations Development Programme (UNDP), Pakistan has dropped seven slots in the Human Development Index (HDI)2021-2022.
The country now ranks 161 out of 192 countries. Switzerland is on top, Norway and Iceland rank at second and third positions, respectively, while India stands at 132 in the HDI. The report stated that life expectancy at birth in Pakistan is 66.1 years, expected years of schooling are eight while the gross per capita national income is $4,624. Life expectancy at birth in India is 67.2 years, expected years of schooling are 11.9 while the gross per capita national income is $6,590. Bangladesh stands at 129 in the index. Life expectancy at birth in Bangladesh is 72.4 years, expected years of schooling are 12.4 while the gross per capita national income is $5,472.
While there is an acute shortage of gas, Musadik Malik informed Pakistan's Parliament that 0ut of the total of 3,200mmcft of gas produced, 200 were used for extraction and 1,400mmcft went directly from the wells to power and fertiliser sectors, the minister noted. Shockingly, 680mmcft was supplied to domestic consumers in Punjab and Khyber Pakhtunkhwa in the months of December and January against the demand of 1,400mmcft.
The author is a Distinguished Fellow at the Institute of Peace and Conflict Studies, New Delhi. She tweets @kartha_tara. The views expressed in this article are those of the author and do not represent the stand of this publication.
Read all the Latest News, Trending News, Cricket News, Bollywood News,
India News and Entertainment News here. Follow us on Facebook, Twitter and Instagram.
World
In the video, Pakistani citizens can be seen sprinting behind a truck delivering free wheat flour, and later on the locals plundered the truck before it reached the distribution center
Opinion
Pakistan has always faced threats arising from within itself, and it is crucial for its leaders to acknowledge this reality and take necessary steps to address the internal turmoil
World
A letter, addressed to the Pakistani prime minister, is circulating on social media in which one "FBR officer" said that he is planning and fully convinced that he must engage in corruption, so that he can earn more money to fulfill his basic needs