Jolly good time ahead for India and Canada as Melanie Joly's New Delhi visit melts ice of distrust
Bilateral ties have been effectively stalled in recent years, in no small measure due to India's anger at periodic high-profile activities by Khalistani supporters in Canada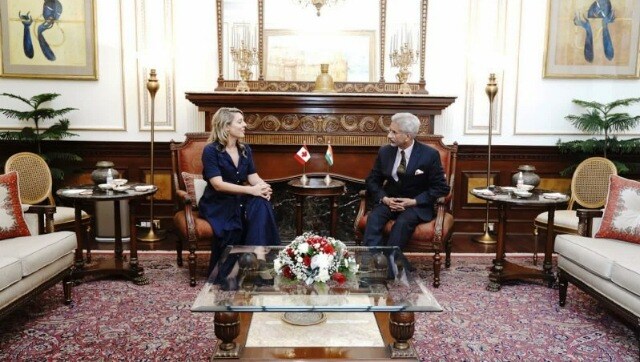 As Ottawa digs out from temperatures that plunged below -40°C last week, Canada's Minister of Foreign Affairs Melanie Joly arrived in New Delhi just as bilateral ties between India and Canada appear set to emerge from the deep freeze this year.
Canada's Indo-Pacific Strategy, unveiled in November 2022, is a key factor in improving relations between Canada and India. The strategy, aimed at advancing Canada's presence in the Indo-Pacific region, is expected to bring local benefits, economic growth, and better job opportunities to Canada. During her first official visit to India, Canada's Minister of Economic Development and Official Languages, Mélanie Joly, met with Indian counterpart S Jaishankar and business and civil society leaders to further advance the strategy. Joly also singled out the IPS ahead of her first official visit to India, saying, "The rise of the Indo-Pacific can create extraordinary local benefits, as well as opportunities for prosperity, economic growth and better-paying jobs across Canada."
India's former High Commissioner to Canada, Ajay Bisaria, welcomes Canada's new Indo-Pacific focus: "It speaks of India as a critical partner and China as a disruptive power," he says. "Like many other major and middle powers, Canada is questioning China's aggressive behaviour and unruly rise. This is a welcome expression of Canada's Pacific personality, which has for too long been excessively Euro-centric."
Bilateral ties have been effectively stalled in recent years, in no small measure due to India's anger at periodic high-profile activities by Khalistani supporters in Canada. A memorable flashpoint was Canadian prime minister Justin Trudeau's visit to India in 2018, which was dogged by various complaints on this front. Between then and the spring of 2022, there were no ministerial visits on either side, except for Jaishankar's trip to Canada in December 2019.
Almost as if making up for that hiatus, there are several engagements lined up this year, also helped by India's presidency of the G20. Defence Minister Anita Anand is expected in New Delhi later this year to meet her counterpart, Rajnath Singh. Mary Ng, in charge of international trade, was the first Canadian minister to visit India after Trudeau's official visit, and she has driven the bilateral economic engagement through her talks with India's minister for commerce and industry, Piyush Goyal. She will be in India again this year, as well Joly, among eight members of Canada's cabinet, including Trudeau, Finance Minister (and Deputy Prime Minister) Chrystia Freeland, and others who are all expected to visit India for various G20 verticals, with likely bilateral interactions on the side.
"There is no question the G20 will put a bright spotlight on India and showcase the country like never before. Hopefully more Canadian businesses that haven't been engaged will take more notice of the upside," says Victor Thomas, President and CEO of the Canada-India Business Council, or C-IBC.
A major target for both sides is the completion and signing of the Early Progress Trade Agreement or EPTA. Bilateral trade continues to languish around the Canadian $10 billion or Rs 61,000-crore mark, even though Canadian firms like Brookfield and Fairfax, as well as big pension funds, have invested over $70 billion in India in recent years. "I was encouraged when EPTA negotiations were re-initiated last March and I am still hopeful that a win-win agreement can be reached between Canada and India this year," says Thomas, adding, "When governments demonstrate a desire to work together, it produces confidence in the private sector to engage in bilateral dealings." Adds Bisaria, "India is clipping at close to 7% rate of growth as the fastest growing large economy in the world, offering a stable polity and a predictable policy environment. We can expect greater energy and innovation in the India Canada economic corridor." The C-IBC estimates that a more ambitious trade deal under the Comprehensive Economic Partnership Agreement or CEPA, which stalled after talks began in 2010, could nearly double bilateral trade.
India is currently the primary source of new immigrants to Canada, at a time when the Trudeau government is ramping up its immigration targets, aiming to add half a million entrants every year by 2025. There are 1.8 million Canadians of Indian origin, with India seeking higher mobility between the two countries. "As the relationship grows in complexity we will need to deal with more irritants, particularly in security and mobility. We would need to coordinate closely on these issues and not allow ourselves to be distracted by noise from a section of the Indian diaspora," says Bisaria.
With the added impetus of Canada's Indo-Pacific strategy and India's G20 presidency, 2023 could be the year to move bilateral ties from the freezer to the front burner.
The author has over two decades of experience in print and television journalism. Views expressed are personal.
Read all the Latest News, Trending News, Cricket News, Bollywood News,
India News and Entertainment News here. Follow us on Facebook, Twitter and Instagram.
World
Greeting Trudeau at Parliament Hill in Ottawa before addressing Canadian lawmakers, Biden told his counterpart 'we're lucky, we have Canada at our north and despite occasional disagreements there is no fundamental difference in the democratic values we share'
World
The revised Safe Third Country Agreement (STCA) will be discussed on Friday at an official face-to-face between US President Joe Biden and Canadian Prime Minister Justin Trudeau in Ottawa, with the announcement likely afterward
World
A sharp increase in asylum seekers entering Canada through unofficial crossings has increased pressure on Prime Minister Justin Trudeau to negotiate an agreement with US President Joe Biden to close off the entire land border to most asylum seekers