Budget 2023: Centre's vision for 'Amrit Kaal' is a technology-driven, knowledge-based economy
With emphasis on AI, 5G and technology and a focus on Green Growth, the Union Budget 2023-24 has emphasised on creating opportunities with sustainability. This is a very forward-looking budget and will most certainly help key stakeholders utilise opportunities for higher growth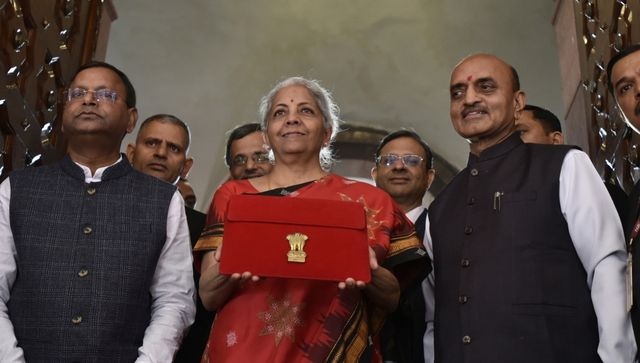 Finance Minister Nirmala Sitharaman presented a blueprint for an improved economy and reiterated her intention to bring the fiscal deficit below 4.5 percent of GDP by 2025-26.
With India steering a $3 trillion economy through major tax reforms and steady capital expenditure, one of the predominant factors that boosted and fuelled the GDP since the pandemic, has been SMEs and startups. Technology-based startups have penetrated almost all sectors throughout the country. Additionally, indigenous technologies have been a strategic moat leveraging not just employment but a key exporter of technology to countries across the globe.
The finance minister announced, "For countries looking for digital continuity solutions, we will facilitate setting up of their Data Embassies in GIFT IFSC."
It is imperative to note that with India being the founding member of the Global Partnership on AI alliance, the entire sector pines for support through subsidies on AI adoption across industries. This will not just boost the startup ecosystem, but also be an important tool in improving the institutional framework.
The government continually has acknowledged the importance of innovation and research by startups and academia.
Over 70 percent of Indian businesses implemented some form of AI during the pandemic which precipitated a demand for a dedicated law on technology and data protection. With colossal amounts of data available, a pressing need was felt for compliance, new policies, and schemes to be augmented for better proficiency and safety. The announcement of a National Data Governance Policy to safely access non-personal and anonymised data to support the research and innovation ecosystem is a positive development for the industry.
Proposals for job creation, youth upliftment
A renewed Pradhan Mantri Kaushal Vikas Yogna 4.0 is proposed with a clear agenda to impart training in AI, robotics, coding, and 3D printing. This will facilitate job creation and upliftment of the youth. Thirty modern state-of-the-art international centres are said to be set up across different states.
As a device of motivation and encouragement, the government has announced that it would provide a stipend to 47 lakh youth through a direct benefit transfer programme. This Yojana would greatly benefit youth across the country with innovative modules easily accessible to all.
Higher outlay for electronics, IT
The government has allocated Rs 16549 crore to the Ministry of Electronics and Information Technology which is 40% higher on year. The Narendra Modi-led government has consciously worked towards a technology-based administration and digitisation using SaaS as a platform to offer services for citizens. The delta between the demand and supply of qualified workforce will hopefully be filled by the three state-of-the-art AI Centres of Excellence (CoE) proposed to be set up via the Unified Skilled India Platform in top educational institutions.
The government is encouraging Cloud services and deep tech innovations across industries by promoting 'Make AI work for India' and 'Make AI in India' with cutting-edge technology that will partner to develop easy-to-adapt solutions.
Boost for entrepreneurship
As stated by the FM, "Entrepreneurship is vital for a country's economic development and India is now the third largest ecosystem for startups globally".
At last count, we had around 77,000 DPIIT-recognised startups in 656 districts with an estimated 107 unicorns, with a total valuation of $ 340.79 Bn. The government, recognising this achievement along with our being second in innovation quality among middle-income countries, has taken several steps to promote startups in various stages. In Budget 2022-23, the government had allocated Rs 283.5 crore for the Startup India Seed Fund Scheme.
In this Budget, they have proposed extending the date of incorporation for startups to March 31, 2024, for income tax benefits. The government has further offered to increase the benefit of carrying forward losses for startups to 10 years, which is a relief for many.
Initiatives for a robust financial sector
The government's vision for the Amrit Kaal is a technology-driven and knowledge-based economy with strong public finances, and a robust financial sector. There have been numerous initiatives taken by the government to improve our game in the global economy with emphasis on AI, 5G and technology and a focus on Green Growth. The Budget has emphasised creating opportunities with sustainability. This is a very forward-looking budget and will most certainly help key stakeholders utilise opportunities for higher growth.
The writer is Head of Finance, VideoVerse-a video tech company. He tweets @VideoVerseHQ. Views expressed are personal.
Read all the Latest News, Trending News, Cricket News, Bollywood News,
India News and Entertainment News here. Follow us on Facebook, Twitter and Instagram.
World
Gaming studios and companies in China are investing heavily in AI generators for AIGC or AI-generated content, and turning away from human content creators. This includes writers, programmers, animation artists, VFX specialists, etc.
World
Tang Yu, an AI robot, was named CEO of a Hong Kong-based video game company called NetDragon Websoft. In addition to outperforming the Hong Kong stock market, the company saw a significant rise in its stock value, all within 8-10 months.
Photos
A digital artist on Instagram harnessed the power of Midjourney AI and Photoshop, and reimagined a world where world leaders from the distant past, would have smartphones, and would post selfies on social media.