In an interview with National Geographic Traveller India, when William Dalrymple was asked why, as a historian, does he think it is important to visit the places one is writing about, the renowned author replied saying it really matters if one's work "is rooted in geography and narrative, as mine is, and places and stories, in the sense I try to write my history." For him, it then becomes absolutely essential to know the landscape and to know the places he is writing about. "It seems to me if you spend your whole time in the library but don't know the landscape, you are as much at sea as if you know the place but don't know the primary sources," he added.
In his latest book, The Anarchy, published by Bloomsbury in September 2019, Dalrymple documents the rise of the East Indian Company in the most rivetting manner. As the publishing house, Bloomsbury puts it: The Anarchy is like "unfolding a timely cautionary tale of the first global corporate power." Emerged from a tiny building in London, five windows wide, three storeys high, the East India Company, slowly and stealthily, dug its anchors deep into the soil and soul of the Indian subcontinent.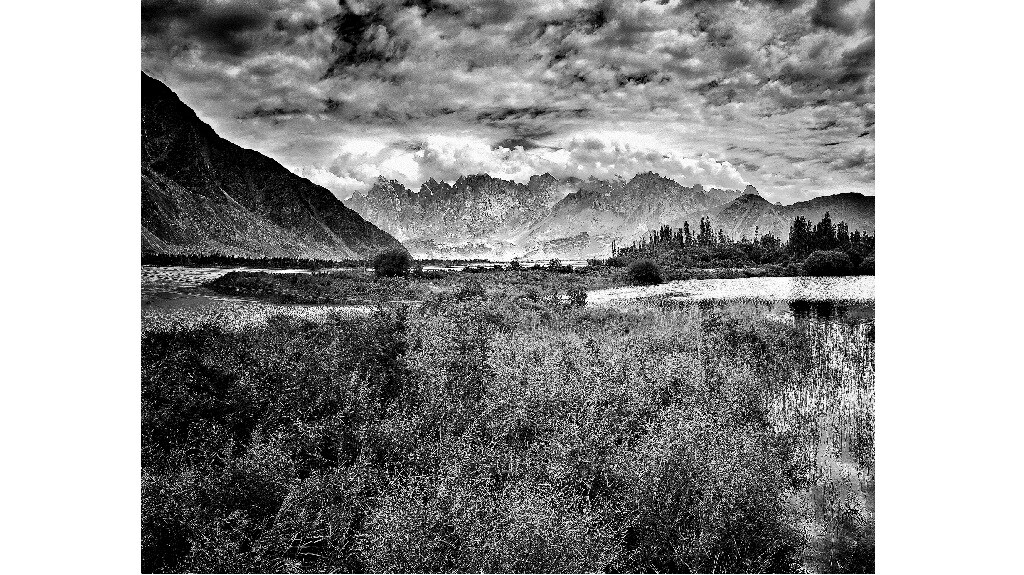 Above: Khaplu, Pakistan | Archival Pigment Print | 15.5" x 20"
Also read on Firstpost: William Dalrymple on writing The Anarchy, his history of the East India Company's conquest of the subcontinent
A recent exhibition titled The Historian's Eye at Delhi's Vadehra Art Gallery presents a photographic record of Dalrymple's travels across the Indian subcontinent over the last two years while researching for The Anarchy. All those photographs have been encapsulated in the form of a photobook also titled The Historian's Eye that was published by HarperCollins India in 2018. Around 40 of those images have been put up on display at the Vadehra Art Gallery exhibition.
Dalrymple's photographs — in black and white — chronicle a unique set of images of the places where art and history thrived in the 18th and 19th century, from not just India but also from modern-day Pakistan.