International Menstrual Hygiene Day: To progress, India must end culture of shame and silence, writes Shabana Azmi
On International Menstrual Hygiene Day, Shabana Azmi writes about the dire need to destigmatise periods and raise awareness about the importance of hygiene
India is a land of contradictions and in no sphere is this more evident than in the status of women. On the one hand we've had a woman prime minister, a woman president, several women in strong leadership roles, and on the other, access to basic human rights is denied to a large majority of them.
Despite India's status as one of the world's fastest growing economies, progress for women remains worrying slow. Nowhere is this truer than in menstrual health, with as many as 82 percent of women continuing to use unsanitary means to manage their periods. Figures show that as few as 18 percent of women in India use sanitary pads, meaning that at 28 percent in 2015, the number of women who owned a mobile phone exceeded the number of women who had used sanitary pads. These figures are shocking, but what is perhaps more shocking is the fact that we live in a society and respect traditions that endorse this.
Indian women and girls face a huge challenge every month when they try to manage their period in an environment of secrecy. From the moment we reach puberty and begin to menstruate, most mothers treat it as a dirty, dark secret not to be shared with anyone. We are stopped from entering temples, even though we are supposed to be goddesses who are worshipped! "Don't enter the kitchen," "Sleep on the floor," "Never let on that you are suffering from stomach cramps, or else everyone will know that you are on your period," are routine instructions given to young women. The culture of silence and shame associated with menstruation has held women back because of widespread, outdated taboos and beliefs about 'impure' menstrual blood.
Unsanitary and dangerously unsafe methods of management have gained traction across various communities – from rags to old cloths and even hay, the lack of conversation around periods has led to dangerous habits being passed down from generation to generation, as the cycle of shame and silence continues.
A woman in Mijwan, a tiny village in Azamgarh where I work, tells me, "I wash the cloth I use during my period and reuse it, but I do not dry it in the sun because it is recognisable. So it is a common practice to dry it under the mattreses on our cots." Little wonder that 70 percent of rural women suffer from reproductive tract infections. What a crying shame that in 21st century India, a large number of women do not have a patch of sunlight to call their own!
The stigma and taboos attached to menstruation are based on little more than superstition, but they serve as obstacles in the path of women realising their potential or acquiring a sense of selfhood. It has led to a severe lack of education and discussion about hygienic menstrual management. A systematic denial and ignorance of female health and wellbeing has left women and girls vulnerable, and this is exacerbated by limited access to WASH facilities.
In fact, this is not just an issue at home. It continues to be emphasised in schools, where from a young age, girls are seen as unclean when they are on their period. Woe betide the girl who stains her uniform! All too often teachers have failed to provide support and educate both genders about menstruation and how natural it is. Schools are also ill-equipped to provide accessible and safe facilities on site. One of the most common reasons for adolescent girls dropping out from school is because there are no toilets.
Moreover, women are not a homogenous category. They are segmented by socio-economic background, access to education, and even disability. There exists a large number of disabled women in India who are doubly discriminated against. Poor menstrual health management can have a negative impact on critical social outcomes like empowerment, education, environment, fertility, physical and mental health and economic independence.
However, as a society, we can come together to give women of all ages the voice to raise awareness and ensure that no girl or woman is left behind.
The Niine Movement, an ambitious five-year plan aimed at raising awareness about the importance of menstrual hygiene and tackling the taboos associated with menstruation, which proclaims "Swachh Bharat ki shuruwat humse [girls and women], hum swachh toh Bharat swachh" is an effort that needs all our support. The Niine Movement is organising the Menstrual Awareness Conclave with government officials, policy makers, activists, stalwarts, NGOs, thought-leaders, and renowned film personalities to discuss the impact that the stigma surrounding menstruation has had on India.
We need to empower adolescents and the youth with access to menstrual health management, family planning services, and healthcare that is dignified and safe. With correct information that destigmatises these issues and a sensitive approach, adolescents can be empowered to realise their potential, be confident of their abilities and prepared to be part of a powerful future.
Today, when my teenaged granddaughter says to me, "Dima, I've just got my period, please give me a sanitary napkin," in front of Javed as naturally as she would say, "Please give me a toothbrush," I know that the process of change has begun.
also read
Explainers
The National Council of Educational Research and Training (NCERT) on 1 June dropped a slew of topics from the Class 10 textbooks including chapters on the Periodic Table, contribution of agriculture to the national economy, challenges to democracy and sustainable management of natural resources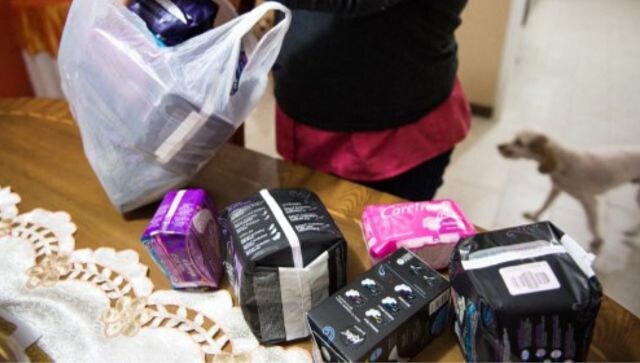 World
The most hit population are those born after 1997 or the Generation Z. As many as 64 per cent of the Gen Z population reported that they are finding it more difficult to cover the costs of menstrual hygiene products like pads, tampons and menstrual cups
India
On Thursday, NCERT announced that it will drop topics like the periodic classification of elements, democracy, political parties and challenges to democracies from class 10th textbooks