Experimenter Curators' Hub 2018: Adam Szymczyk on his expansive yet controversial documenta 14 edition
Adam Szymczyk reflected on some of the ideological consequences of his curatorial paradigm while also addressing the rising climate of hostility and xenophobia and its implications on the display of artistic practices
Adam Szymczyk was the artistic director of a highly unusual edition of documenta 14 that was spread across two European cities (Athens and Kassel) over an extended time frame in 2017. It was a documenta that dared to take risks, particularly in its level of inclusiveness, defying easy expectations of what could be exhibited within the space of the quinquennial, despite the continuing surge of negative criticism and accusations about budget mismanagement from various quarters that continue to plague its legacy.
Over email, Szymczyk reflected on some of the ideological consequences of his curatorial paradigm while also addressing the rising climate of hostility and xenophobia and its implications on the display of artistic practices.
What did you learn/unlearn from Kassel and Athens?
In the process leading up to documenta 14 — from 2013, when I was appointed as artistic director, to 2017, when both acts of the exhibition unraveled in Athens and then Kassel — as well as in our present state of dealing with the aftermath of the project and its political ramifications, while beginning to realise in full the possibilities documenta 14 unleashed, my many collaborators and I went through a tremendous experience of questioning and revising truths we had learned to believe and that we intuitively and consciously rejected.
Both cities, the difference they produced, their specific social fabrics, political circumstances and diverse economic conditions, necessitated and demanded unlearning of most of what we believed to know about how to act politically with means of aesthetic experience, with means of art, both its making and the discourses it generates. Other knowledges — let's call them specific, minor, repressed, indigenous — provided means of resistance, antidotes, cures. Rather than one narration, the exhibition materialised as a dispersed multitude of rituals of the oppressed, responding to variety of instances of repressive state, or dominant class, race, gender or caste ideology exercising their power, sanctioned by the same law those in power proclaim themselves to be the sole guardians of, within the general framework of neoliberal capitalism and its attendant necropolitics that dictates to us how we, anyone, must live and how we, anyone, must die. The artists in documenta 14 sought to expose what Walter Benjamin called "the little crack in the continuum of catastrophe" or the cracks in delusional continuums of absolute power. We've learned — and I mean both the artists and curators and others on the organisers' side of documenta 14 — that there is more to unlearn and the process doesn't end with official ending of documenta 14 exhibition in Kassel in September 2017. I hope we have learned to be less selfish, less possessive, more able to yield.
During your talk at the 2014 edition of Experimenter Curator's Hub, after beginning by invoking the Latin roots of the word curating, you spoke about exhibition as a way of revealing something; bringing to light... 
Etymological inquiry is liberating when it is not meant to be enslaving us within one immutable etymological source of a term. "Curara" is a plant extract poison in Amazonas, "curare" means to cure in Latin — seemingly contradicting, elective etymologies. What's left from the exhibition when display (in French dis-plier means to un-fold) is removed remains a question — an inviting darkness, a fold of not-knowing, perhaps.
Intriguingly, the most enthusiastic vindication for the de-centering, inclusive, and almost rebellious vision of the documenta 14 curatorial team you assembled came from around 250 participating artists, who proclaimed in a joint letter that they understood the exhibition to be a "listening documenta". "The curatorial team took care to listen closely and carefully to artists, rather than imposing a top-down curatorial will… Whether in crisis or inflection point, enquiry was encouraged, challenging the more frequent move of wanting to own the other people's understanding. The curatorial innovation was to create the space for such an encounter, in Athens and Kassel," they wrote in their letter. Did you see their open letter as validation for the efforts you and your team put in? What did it mean for you, as a curator, to read such a document?
It probably means that many artists felt that we showed respect to what cannot be brought under a common denominator, what is odd, singular, personal and political — a remainder that cannot be subsumed within a unified display, contained in one house style chosen for wall texts and neat signage design. We proposed a polyphony instead of one clear curatorial concept and multiplied the so-called main narrative lines of the exhibition. The result was a fragile complexity of voices. I think there is no one meta-language, no science that can be applied to explain all exhibitions. There is no unifying theory of exhibition. Tony Bennett's 1988 essay "Exhibitionary Complex" (republished, with the author's new introduction in the documenta 14 Reader) gets near to it in that it demonstrates exhibitions as a function of apparatus, next to other apparatuses of power as they manifest themselves in institutions of Western European Enlightenment — schools, prisons and clinics, later in the concentration camp. But the phenomenology of exhibitions is yet to be written, their affective power is yet to be understood and, maybe, seized. We acted as if exhibition could be thought anew, with full awareness of documenta's ambiguous role in writing the Western European and US-American canon of modern art since the first documenta in 1955 until documenta X in 1997, which exposed this canon as deeply problematic, and documenta 11 in 2002, which brought the missing global dimension of contemporary artistic production into play.
Certain events specific to documenta 14, for instance, the right-wing resistance to Olu Oguibe's site-specific obelisk at Konigsplatz, the terming of it as "deformed art" by Aktion für Deutschland (AfD, or Action for Germany – a nationalist right-wing party that entered the German Parliament in 2017), reveal much about increasing xenophobia in Europe, and resistance to the very idea of decentering privilege. Within an environment of rising hostility against the more liberal, inclusive, listening space of artmaking, how do you think the role of the curator can be re-envisioned?
Xenophobia and hate come always together with what Pakistani artist and feminist activist Lala Rukh addressed very precisely in one of her Women's Action Forum posters presented in documenta 14 in Kassel: "Unholy Trinity: Men – Money – Masculinity". This was 1985. In our era nationalism is on the rise and politicians ride the wave of ressentiment. Within the framework of sovereign nation state, a locus of essentialist longing is deliberately falsely constructed for the people — such as one religion, one ethnicity, hate towards "strangers within" and those coming from an elsewhere, disregard for "unclear beings", those beyond gender, class and race, soon artists too, as demonstrated in the example of AfD's attack (while the mainstream German parties across the entire political spectrum remained cryptically silent) on documenta 14 and Olu Oguibe's "Monument to Refugees and Strangers", an obelisk built on Kassel's main square, the Königsplatz, which bears a quote (in German, Turkish, Arabic and English) from the Gospel of Matthew: "I Was a Stranger and You Took Me In". Like opium, this toxic mix of ressentiment and megalomaniac projections is offered to all-too-willing voters as temporary cure for their sorrows — forget democracy in crisis, forget exploitation of resources with complete disregard for irreversible environmental destruction on planetary scale, forget the greed of the 1 percent, forget the blinding spectacles, exhibitions of money and power. What shall we, the curators, do? We can try asking ourselves and those who give us jobs how relevant our work is today and how we can make it more relevant in order to widen the cracks in the catastrophe.
This interview is part of an ongoing collaboration between Experimenter Curators' Hub and Firstpost. Visit the ECH blog for more information. 
Also read: Experimenter gallery's Priyanka and Prateek Raja on how they put together the prestigious Curators' Hub
Life
Arun Kuppuswamy's Monday won the 'Special Jury Award (Non-Feature film)' at the National Awards this year. The jury citation read, "A simple and surreal representation of the mechanical and the mundane".
Life
'We have talented women scientists, but the numbers are not in their favour,' says Dr Yamuna Krishnan, who won the Infosys Prize in the Physical Sciences category recently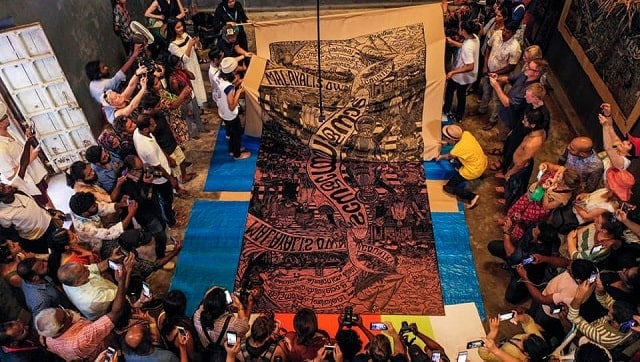 Arts & Culture
What is the role of an art curator at a time when truth has become a major casualty?