Caravan Chronicles: From Dalhousie to Dharamshala, marking the end of a 100-day road-trip
Ankita Kumar and Rohith Subramaniam, the duo that makes up Droom Caravan Chronicles, sent us dispatches from their 100-day road trip across India, in a caravan rebuilt from a '90s Matador | #FTravellers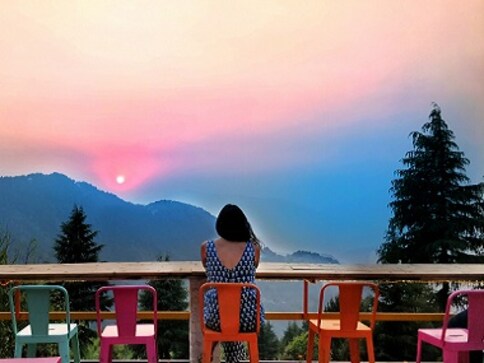 Editor's note: You may have heard the saying 'the journey is the destination', but some travellers actually put that philosophy into practice. Presenting, #FTravellers — on-the-road (or air/sea) dispatches from travel enthusiasts on long journeys.
The first travellers we have on board are Ankita Kumar and Rohith Subramaniam, the duo that makes up Droom Caravan Chronicles. They're on a 100-day journey across India (with 30 halt locations), in a caravan rebuilt from a '90s Matador.
***
100 days | 30 locations | 3 travellers | 1 caravan.
This is post 7 from Droom Caravan Chronicles.
If you missed our first post on Firstpost, where we explained all about who we are and how we got onto an epic road trip through India in our caravan, here's an introduction — we're Ankita Kumar and Rohith Subramaniam, travel enthusiasts and the founders of Caravan Chronicles. We're travelling across India in a caravan that we rebuilt from a '90s Matador, for 100 days.
In this dispatch, we're going to talk to about days 91-100 of our trip. Ready?
Days 91-100
Route/milestones: Charmed by Dalhousie-stymied by Dharamshala-lovely interludes-brake troubles-at journey's end
We set off for Dalhousie from Chandigarh in the wee hours of the morning. Till Pathankot, we made good time, but things started to go downhill just as we began to travel uphill. Our van's radiator began to overheat, requiring us to make a stop every three km, pour at least two litres of water in and on the radiator and cool it down enough so we could cover the next three km. Oh yeah, we had to find hand pumps where we could refill our cans and bottles with enough water.
Thanks to this process, what was meant to be a five-hour journey ended up being a 14-hour drive!
This caravan journey has taught us so much patience. We had to treat Kiro — our van — like a child, give in to its tantrums, wait for it to calm down, and then gently persuade her to go on. We realised that there was absolutely no point in rushing or hurrying the journey. If we tried to push Kiro beyond a point, she was bound to break down. As we dealt with punctures, gear box problems, the accelerator wire breaking, the radiator overheating, we got used to fixing these issues. Problems that would have made us panic at the start of the journey, we could now deal with ourselves. The confidence and joy it brought us was amazing.
We reached Dalhousie at 5 pm. Being in the mountains though was unbelievably refreshing after the heat, dust, traffic and noise of the cities. And then there were the people: from an old couple whose eatery we stopped at on our way for a simple, scrumptious meal; to the 20 villagers who crowded around our van trying to help us when the coolant from Kiro's radiator began to leak. Always ready with a smile, always welcoming in their demeanour…
Dalhousie is a quiet retirement town with a lovely vibe; in the evenings, you'll see elderly couples taking a walk, or sipping chai as they enjoy the sunset. Everything closes down by 7.30 pm.
We were staying at another Go Stops property in Dalhousie, and among its advantages was the bright décor, friendly and knowledgeable staff (all locals), delicious food – and from the balcony, a spectacular view. We sat talking about how much we'd miss all this as the full moon disappeared amid the clouds above us.
When in the mountains, it's mandatory to take in a sunrise, and that's just what we did the next morning. It was also time to set off for our next destination — Dharamshala.
We'd imagined Dharamshala as a quaint little town filled with prayer flags, monks and lots of fresh mountain air. The reality, however, was starkly different. Crowded streets, traffic jams, loud tourists… just crossing a three km stretch took us two hours. We were exhausted, hungry, and cranky.
To add to our woes, we hadn't factored in that the place would be especially packed with tourists as it was the weekend — and a family emergency compelled our host to cancel on us. We finally found accommodation in Dharamkot, after looking about for an hour. At 6.30 in the evening, eating a 'lunch' comprising freshly made momos and piping hot soup, we felt that we'd recovered from the disasters of the day somewhat.
Waking up more cheery the next morning, we set out to explore McLeod Ganj and Dharamkot. While crowded, some parts were still a pleasure to visit. We went to the Illiterati café — a long, exhausting walk — and spent an afternoon there, reading and chatting with other travellers. We also did some quick shopping, met a few friends, and ate a lot of ice cream!
The next day, we stopped at the Tibetan Children's Village on our way out from Dharamshala. The TVC is home to children of Tibetan refugees; some stay with their parents in Dharamshala but many are orphans, or have families who live in Tibet that are unable to visit. The TVC is managed beautifully: the teachers are gentle, caring; the children are assigned to specific homes. Each home houses 14 children, and the TVC assigns parents to act as caretakers. All the children study and eat together. When a child engages misbehaves, a series of committees look into the cause.
In one classroom, amid an art lesson, we saw a five-year-old clinging to the teacher. Seeing how close the children were to their teachers was an incredibly moving experience. And it was commendable how these teachers had devoted their lives to caring for these children.
Saying our goodbyes at the TVC, we next made our way to Norbulingka, which is a Tibetan art institute and monastery where they teach Tibetan youngsters Thangka painting and a few other art forms, in addition to helping them find employment. It was fascinating to see the intricate detailing and work involved in creating each painting. Later, we sat in a small roadside café right outside the institute, and enjoyed some lovely Tibetan butter tea before setting off for Bir.
Bir was our second-last stop before officially ending the trip. The roads were tricky and we had some trouble with Kiro's brakes. With no mechanics to be found, however, and Rohith unable to fix the issue with the limited tools at hand, we had no option but to stop awhile. When we resumed our journey, the van ran perfectly.
The clouds were getting darker and we were expecting heavy rains. Somehow, we managed to reach our next — and last — stop before the downpour began in earnest. Dharamshala had initially tested our patience, but we left it with only the most beautiful memories.
Read more dispatches from Droom Caravan Chronicles on #FTravellers.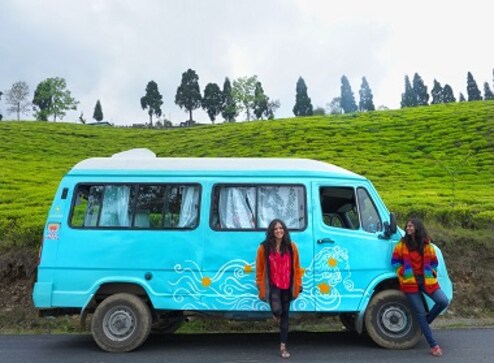 Life
Caravan Chronicles' Season Two is the story of two travellers, Ankita Kumar and Sharanya Iyer, as they spend 30 days in a van, caravanning their days through Sikkim.
Life
On #FTravellers, The reDiscovery Project's Ambika Vishwanath and Hoshner Reporter send us dispatches from the road, as they journey through Uttarakhand
Life
Ankita Kumar and Rohith Subramaniam, the duo that makes up Droom Caravan Chronicles, sent us dispatches from their 100-day road trip across India, in a caravan rebuilt from a '90s Matador | #FTravellers