Caravan Chronicles: Building a home-on-wheels, and setting off on a 100-day road trip across India
100 days | 30 locations | 3 travellers | 1 caravan. #Ftravellers is on board with Droom Caravan Chronicles for their epic road trip across India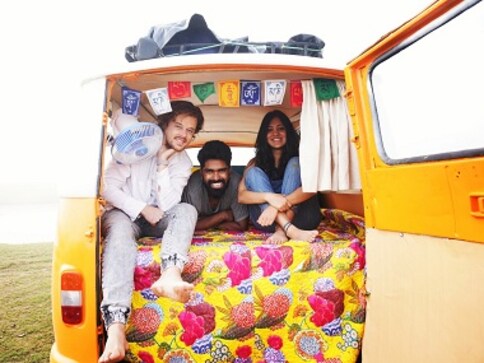 Editor's note: You may have heard the saying 'the journey is the destination', but some travellers actually put that philosophy into practice. Presenting, #FTravellers — on-the-road (or air/sea) dispatches from travel enthusiasts on long journeys.
The first travellers we have on board are Ankita Kumar and Rohith Subramaniam, the duo that makes up Droom Caravan Chronicles. They're on a 100-day journey across India (with 30 halt locations), in a caravan rebuilt from a '90s Matador.  
***
100 days | 30 locations | 3 travellers | 1 caravan.
This is post 2 from Droom Caravan Chronicles.
If you missed our first post on Firstpost, where we explained all about who we are and how we got onto an epic road trip through India in our caravan, here's an introduction — we're Ankita Kumar and Rohith Subramaniam, travel enthusiasts and the founders of Caravan Chronicles. We're travelling across India in a caravan that we rebuilt from a '90s Matador, for 100 days.
In this dispatch, we're going to talk to about how we built our caravan, and our first 10 days on the road. Ready?
Calling Kiro
We found the vehicle that would become our home on the road on Droom.in, and drove it all the way from Pollachi in Tamil Nadu to Bengaluru. So far, so good.
Here's where things got tough: As per our carefully planned schedules, we had all of 10 days to completely revamp the van into a full-fledged caravan. Some parts were easy — the exterior of the van, for instance, was a dull shade of green, and we knew we wanted something a whole lot brighter for our time on the road. So out went the green, and in came a bright orange. We had to completely scrape off the paint, prime it and apply two coats of our preferred shade of orange. Then we finished it off with touches of white to give it a Volkswagen feel!
As the paint job was on, we were also looking to refurbish the interior. We sourced all the material ourselves, built everything from scratch, and personally collected all the items that would go into our caravan to make it truly feel like 'home'.
For the interiors, we began by pulling out everything that was inside the van, then began on the basic electrical work — we fixed up two fans, two tube lights, an electric socket panel where we could charge our phones, cameras etc on the go, and we also installed an inverter to reduce the load on the engine.
After this, we built the storage spaces: a four-door cupboard to stack our utensils, books, bedsheets, a first aid kit, and other essentials. We also got a small kitchen unit where we wanted to place a portable cylinder, induction stove and ice box. Then, we built the bed. It was collapsible so it could serve as a sofa during the day and open up for us to sleep on at night. Getting good quality foam was essential — after all we wanted to have a restful night's sleep when on the road! Comfortable pillows, colourful cushions and bedspreads brightened up the van considerably. A few beloved knick-knacks from home, and after 18 hours of nonstop work over 10 days, our caravan was everything we hoped it would be!
We named our caravan 'Kiro' — which basically means crossroads in Japanese. It seemed perfect for her!
Day 0-10
Route/milestones covered: Bengaluru-Mysuru-Hunsur (Gerry Martin Farm)-Bandipur (Rohith's birthday)-our first breakdown
So there we were, with our brand new home on wheels, and raring to go! But what's an epic adventure without at least one false start? A day before we were to embark on our journey, the van's dynamo conked off and Kiro refused to move. There we were, hours away from this epic road trip of ours — with a van that wouldn't start! It was absolute chaos. We called a dozen mechanics, trying to source another dynamo. The problem was compounded by the fact that there just weren't too many spare dynamos for '90s Matadors lying around. We finally managed to source one from an old Indica and installed it in the van. Miraculously enough, it worked!
We left for Mysuru at 5 am on 5 March 2018. The engine gave up on us a million times (okay, maybe not a million), the battery kept draining, the fuel pipe spilled fuel all over, and random screws kept falling off. But as long as the van started and we kept moving, we were okay.
We spent a night at India's first caravan park before making our way to Hunsur to the Gerry Martin Project. The GMP is run by Gerry Martin and his wife Chandni, who are conservationists and teachers. We met colourful snakes, glow-in-the-dark scorpions, cool chameleons and many of the dogs Gerry and Chandni have on their land — some of the animals are being rehabilitated here, while others are just around because of the couple's love for them. We spent two days learning about the GMP's conservation efforts and came away deeply impressed.
It was then time to move on to Bandipur. But before that, we had a broken accelerator wire to deal with! Just as we fixed it, we found we had a punctured tyre as well. There was little to be done but deal with the tyre as well.
So that's what our first few days on the road were like — from being stranded on the roadside, waiting to hitch a ride to unloading and reloading the van a hundred times, there was much to get used to when it came to the van life. We finally did make it to Bandipur — where we brought in Rohith's 24th birthday. Our host Santosh sourced a cake for Rohith from a local village bakery — 20 kilometres away.
As we indulged our sweet tooth (teeth?), there was sense of excitement about the days that were still to come.
Stay tuned for more from Droom Caravan Chronicles on #FTravellers.
also read
Lifestyle
Ambika and Hoshner are doing an in-depth journey through Rajasthan, and will be sharing their travel journals on Firstpost.
Lifestyle
One of the earliest known communities who believe in the sanctity of all life, the Bishnois have fiercely protected nature and animals around them, for over 500 years, allowing them to survive in the harsh Thar desert.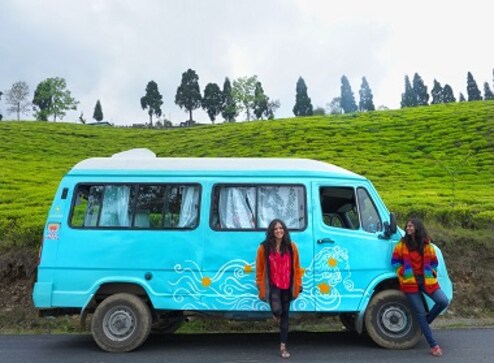 Lifestyle
Caravan Chronicles' Season Two is the story of two travellers, Ankita Kumar and Sharanya Iyer, as they spend 30 days in a van, caravanning their days through Sikkim.