Caravan Chronicles: Adventures in Kerala, plogging in Kodaikanal, and finding heaven in Agumbe
100 days | 30 locations | 3 travellers | 1 caravan. #Ftravellers is on board with Droom Caravan Chronicles for their epic road trip across India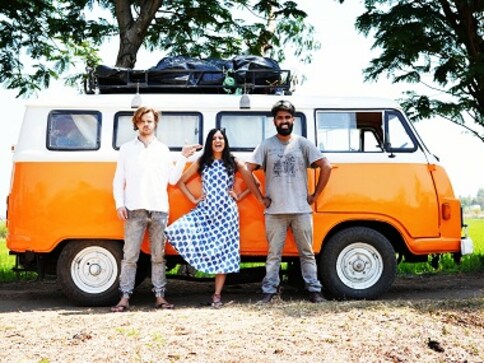 Editor's note: You may have heard the saying 'the journey is the destination', but some travellers actually put that philosophy into practice. Presenting, #FTravellers — on-the-road (or air/sea) dispatches from travel enthusiasts on long journeys.
The first travellers we have on board are Ankita Kumar and Rohith Subramaniam, the duo that makes up Droom Caravan Chronicles. They're on a 100-day journey across India (with 30 halt locations), in a caravan rebuilt from a '90s Matador.  
***
100 days | 30 locations | 3 travellers | 1 caravan.
This is post 3 from Droom Caravan Chronicles.
If you missed our first post on Firstpost, where we explained all about who we are and how we got onto an epic road trip through India in our caravan, here's an introduction — we're Ankita Kumar and Rohith Subramaniam, travel enthusiasts and the founders of Caravan Chronicles. We're travelling across India in a caravan that we rebuilt from a '90s Matador, for 100 days.
In this dispatch, we're going to talk to about days 11-30 of our trip (we covered day 0-10 in our previous one). Ready?
Day 11-20
Route/milestones: A ticket for speeding-Kerala/Wayand-staying at a campsite with infinity pools-cops telling us we had to be related by blood to travel together
We'd made our way to Bandipur after suffering a few breakdowns along the road. Now, it was time for us to head to Kerala. The Karnataka police had never stopped us, but the Kerala police were not quite as generous. We were stopped by them at least three times as our bright orange Kiro made her way through the state's roads. Their reasons? Something as ridiculous as us not being blood relatives, and travelling together in a caravan! A bribe would have saved us some time and effort, but we refused and were promptly escorted to a police station and then an RTO office. We stood our ground, however, and got away without paying a single rupee! Of course, it did cost us half a day, but the moral victory alone was worth it.
As though to make up for the morning's travails, that night, we stayed at a stunning campsite in Wayanad, which had its own infinity pool! It was quite a surprise to find this little gem tucked away in Wayanad.
From Wayanad, it was onwards to Thekkady — a leg of the journey on which we were stopped by the cops for speeding. We were happy to pay the fine, however — it was validation that our old little Matador could actually speed!
One thing we have to point out about our Kerala sojourn was the lack of respect for privacy we encountered. Once we were sleeping inside the van and woke up to find a man peeping in at us. When we asked him what he was up to, he very matter-of-factly asked us to go back to sleep, saying he just wanted to check out the van.
At Thekkady, we halted at an amazing campsite called Camp on the Clouds. It was quite basic — just four bathrooms and an empty ground. We pitched our own tents there. The camping spot was so high up that there were clouds beneath us in the morning! It had little benches perched right at the edge of the cliff that overlooked a massive valley full of tea plantations and little lakes. We cooked our food, brewed our tea, and sat there by the edge of the world sipping on it, while the clouds floated by.
Day 21-30
Route/milestones: Plogging-Malgudi Days-a meal in Mangalore-fan meet-up in Udupi
We made a little detour and went to Kodaikanal for a plogging event organised by our camping partners Campmonk and Jacob Cherian from Misty Mountain Hop. Plogging is basically a Swedish concept that combines jogging and picking up litter along the way. This was a first-of-its-kind event in India where trekking enthusiasts and nature lovers got together to clean up Karuna Farms in Kodaikanal.
We plogged for two days and gathered piles and piles of garbage. Even though this was just a small drop in the ocean of garbage that sullies the hills of Kodi, it was still a step towards a cleaner Kodaikanal. The people that came together for this initiative were some of the most interesting that we had met and everyone was trying in their own way to make this world a better place.
We then drove along the coast to get to Agumbe, which is known for its biodiversity. We stayed at a 350-year-old property called Hingaara — fantastically well preserved by Shashank Hegde (a beautiful soul). This house had been passed down through generations and the antiques had been preserved and looked after meticulously by each. 'Hingaara' refers to the arecanut flower that grows in plenty here in Agumbe. Our stay here was incredibly idyllic — we cooked lunch by the backwaters, visited an amazing government school, played cricket with local boys, had breakfast in a tree house, spotted snakes in the wild, and watched a traditional Yakshagana performance. No wonder then that we found it incredibly difficult to move on!
But move on we did, and made our way to Mangalore and Udupi where we met up with some of our followers and had breakfast with them.
Stay tuned for more from Droom Caravan Chronicles on #FTravellers.
India
The National Testing Agency said it has been decided to postpone the CUET (UG) 2022 for the candidates who will be appearing in cities of Kerala for 4, 5 and 6 August 2022
India
Kerala Health Minister Veena George said that the fifth monkeypox patient in the state is undergoing treatment in Malappuram
India
Ticket holders who get an amount of more than Rs 5,000 should undergo a mandatory verification process. Those who win a prize amount of less than Rs 5,000 need to claim it from any authorised lottery outlet in Kerala