Zika outbreak in Rajasthan: Genetic modification a solution to mosquito menace? Labs are buzzing
Amid the Zika outbreak in Rajasthan, scientists are looking at genetic modification as a probable solution as mosquitoes have developed resistance to the standard ways of extermination.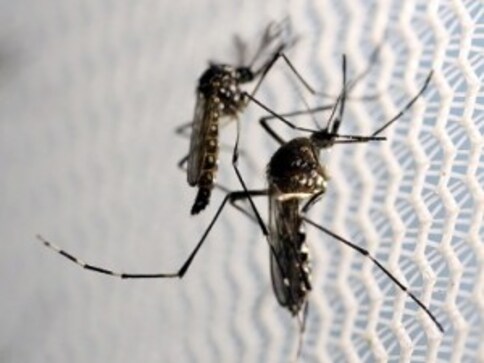 Editor's note: The Zika virus outbreak in Rajasthan has affected around 80 people in the state so far. This article is the second one in a multi-part series which focuses on the causes of the outbreak and the measures taken against it.
***
As mosquitoes have developed resistance to the standard ways of extermination, scientists are looking at genetic modification as a probable solution.
Spraying and fogging, which have been commonly used to check the spread of Aedes Aegypti species (the one responsible for spread of diseases), have failed partly because the species has developed resistance to these chemicals. This has compelled scientists to toy with the idea of genetic modification.
Theoretically, here is how it's supposed to work: male mosquitoes are injected with a self-limiting gene and are released. They mate with females and the progeny inherit the modified genes. With the altered genes, the hatchlings have a reduced lifespan and do not reach adulthood. In theory, this species of mosquitoes would go extinct over two or three generations. This, in turn, will reduce and prevent the spread of mosquito-borne diseases such as zika, malaria and dengue.
Dr Himanshu Jaiswal, state programme officer for Vector-Borne Disease Control Programme in Madhya Pradesh, said experiments with genetic modification of mosquitoes are going on but are at a primary stage. He said currently, experiments are underway on a small number of mosquitoes. For the next stage, permissions from relevant agencies would be sought, he said.
The government of India has set up various committees to deliberate upon the matter, including an ethical committee, technical committee and a committee that looks after conflict of interest. "Generally, such experiments are sponsored by some big pharma giants, and therefore the conflict of interest angle is looked into carefully," Jaiswal informed.
Offering more insights into this mode of checking the spread of mosquito population, he said alteration in genes can reduce the reproduction capacity of mosquitoes. "But there could be some negatives of the experiments that need to be looked into. It is quite possible that decreasing reproductive capacity might increase the lifespan of mosquitoes. What effect it would have needs to be studied too," Jaiswal cautioned.
Dr Ramesh Bhagat, an epidemiologist in Ludhiana's health department, put forward another view. He said the Indian government's focus at present is to curb the outbreak of dengue and malaria and that no major research on genetic alteration of mosquitoes is being carried out.
"Even during the workshops of the Union health ministry, we were told to curb the outbreak of vector-borne diseases. So far, genetic alteration of mosquitoes is not the priority and I do not remember any major research going on on the subject in India," he said.
However, he added that research on this aspect is indeed going on in a few countries and they have recorded positive results. He agreed that with the help of genetic mutation, population of mosquitoes could be checked.
Dr Narendra Gupta, an adviser to NGO Prayas, sounded a note of caution. With limited understanding in the aftermath of releasing genetically modified mosquitoes, going into the dark could be dangerous, he said. Conducting such experimentations is like travelling into uncharted territory, he added.
"We introduced GM in cotton and later in maize and brinjal but had to withdraw, essentially because of possible long-term harmful effects. A bio-medical solution based on technology cannot be a substitute for a natural and socially determined approach to control large-scale reproduction of disease-carrier mosquitoes," he said.
Global research
A report published in journal Nature Biotechnology last month described how a London-based laboratory registered a successful experiment when releasing genetically modified mosquitoes into cages filled with normal mosquitoes led to a virtual wipeout of the insects.
International researchers have dubbed genetic modification of mosquitoes a game changer, an extraordinary weapon and a major development in tackling the mosquito menace. They too have noted that many years of research are required to identify if there could be any side-effects of releasing genetically altered organisms into the environment.
Nevertheless, some parts of the world are already seeing governments going ahead with this method. Last month, news came out that African country Burkina Faso would have 10,000 genetically engineered mosquitoes released to deal with vector-borne diseases, which affected 98 lakh people last year and killed about 4,000. Every year, mosquito-borne diseases kill about a million people across the world.
Inputs by Shahroz Afridi, Arjun Sharma and Dr Valsalan Nair
The authors are members of 101Reporters
also read
Explainers
Tipu Sultan, the 18th Century Mysore ruler, slept in a hammock suspended from the ceiling of his locked bedchamber with this sword by his side. Found in his private apartments after his defeat at the battle of Seringapatam in May 1799, it was previously owned by Vijay Mallya
Explainers
Bernand Arnault, who owns LVMH – which includes luxury brands such as Louis Vuitton, Moet & Chandon, and Christian Dior – saw a considerable drop in his fortune after shares of the conglomerate declined five per cent on Tuesday. Arnault's net worth is currently at $192 billion
Explainers
The term 'comfort women' has been given to people that were forced to work as sex slaves by the Japanese Army during World War II. It comes from the Japanese word ianfu – which combines the Chinese characters 'comfort or solace' (i-an) and woman (fu)